Highlighting Mosaic's Supports for Autism Services
April is National Autism Awareness Month. Recognizing the unique supports that assist people with autism to excel has guided Mosaic's Grow Our Own Clinician program to grow from one clinician six years ago to more than 20 today, and to support more than 100 employees to receive their IBCCES Autism Credential. The program has been successful on several fronts.
We see better outcomes for the people we support, which is the primary goal of the program. 

The clinical resources are becoming available locally to Mosaic agencies and others. Prior to building our Mosaic clinician base, people supported often waited many months – sometimes more than half a year – in order to receive behavioral assessments, planning and support. With our broad range of Mosaic clinicians, we can provide these services to people when they need them.

Our employees appreciate that Mosaic is willing to invest in them, their career and their future. The retention rate for the employees who have received the training is high, creating a more stable and well-trained workforce, which also influences the positive outcomes we see for people.

Providing such needed services and offering in-house support for employees to learn sets Mosaic apart from other providers. We are clear that our goal is to be the recognized leader in high quality services for people with diverse needs.
The program set the stage for Mosaic to create a Clinical Behavioral Services project as part of our latest strategic roadmap, Real life. Real possibilities. The project will expand and broaden our customer base, and make full use of the vast Mosaic network.
This project focuses on the development of:
Scalable clinical tools, systems, and practices to meet increasing demand

Mission-aligned clinicians

Broader funding stream access

Sustainable clinical services for children, adults, and seniors with autism and I/DD
Mosaic is now providing professional behavioral services in Colorado, Delaware, Nebraska, and Illinois. Thankfully, the way we built the model based on our early research enabled us to nimbly transition to telehealth services when the pandemic made in-person services no longer possible.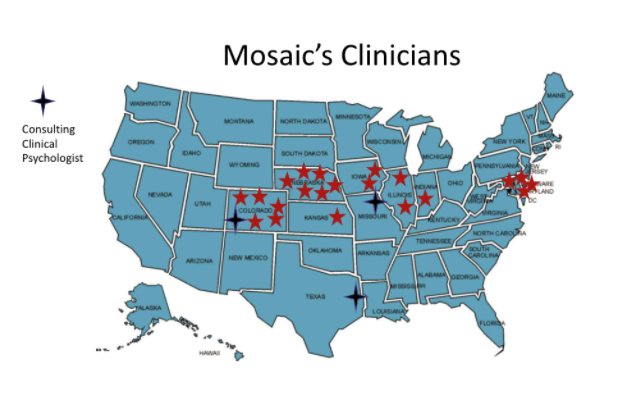 We've also begun to build strong, scalable systems including a bank of clinical job descriptions, standardized branding materials, and accessible and dynamic data systems to continue growing the program. 
Most importantly, this project strives to advance a focused, strategic partnership with our local agencies that enables Mosaic to provide responsive, evidence-based, high impact services for those we serve, fulfilling our mission statement: Embracing God's call, Mosaic relentlessly pursues opportunities that empower people.