"People with CP are People, Too"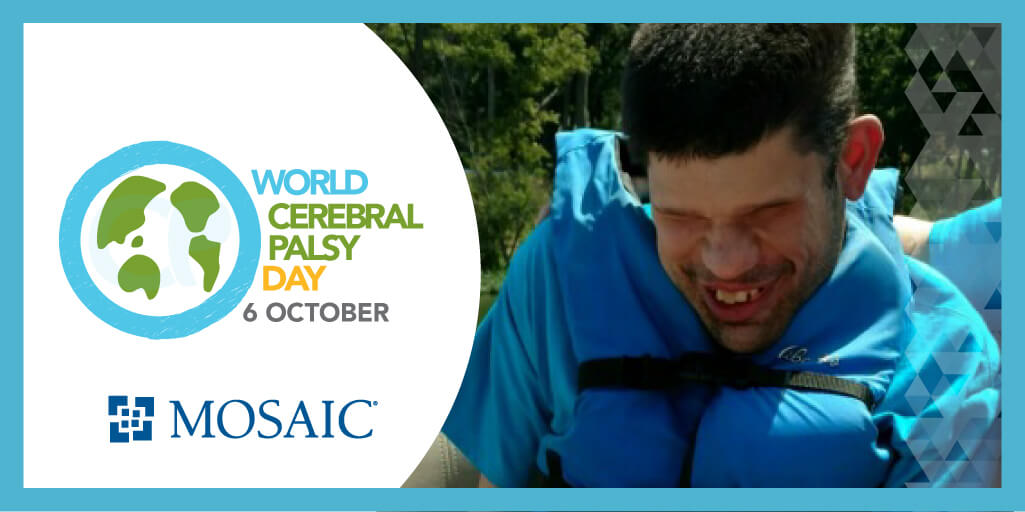 Today we celebrate World Cerebral Palsy (CP) Day. More than just an awareness day, today is an opportunity to celebrate and express pride in the lives and achievements of those with CP.
The World CP Day manifesto reads, in part, "We share the same hopes and dreams. The same interests and passions. We all have a similar hunger to explore thoughts and debate ideas. To contribute. We all have the same commitment to living a life of purpose and meaning."
Sandra Storm, who works closely with Gregg, a person supported by Mosaic in Pontiac, said she knows this to be true.
"People with CP are people, too," Storm said. "Gregg has fears and hopes and dreams just like you and me."
Gregg, who will turn 54 this month, is an Elvis enthusiast. "'Jailhouse Rock' is definitely his favorite song," Storm said. He also enjoys going for walks and taking trips to the vending machine to get his favorite candy bar – Mounds.
Since 2001, Gregg has lived in a group home in Dwight, Ill. with seven roommates. Storm said the experience has helped him grow.
"His roommates have taught him how to share, and he has learned to adapt to other people and their needs and personalities," Storm said. "It hasn't always been easy, but the one thing that has helped is there are a couple direct support staff who have been working with him for about 10 years now. That consistency helps him so much. We know his likes and dislikes, his routine and what comforts him."
Earlier this year, Gregg attended day camp at Timber Pointe Outdoor Center, an inclusive program. He enjoyed going out on the pontoon and hanging in the pool.
While Gregg is both vision-impaired and non-verbal, Storm said, "Don't think you can't interact with him because you might think he's standoffish or unable. He needs relationships just like everyone else. He just has different obstacles in his way, and sometimes he may need your help to get past those obstacles."
There are 17 million people across the world living with CP. Another 350 million people are closely connected to a child or adult with CP. It is the most common physical disability in childhood. CP is a permanent disability that affects movement. Its impact can range from a weakness in one hand, to almost a complete lack of voluntary movement. It is a complex disability: 1 in 4 children with CP cannot talk, 1 in 3 cannot walk, 1 in 2 have an intellectual disability, 1 in 4 have epilepsy. CP is a lifelong disability and there is no known cure. Learn more at worldcpday.org.