We define one of our four core values, "Belonging," as "a sense of fitting in and feeling valued." We put this value into action by intentionally including people who might otherwise be excluded or marginalized; embracing differences and contributing to a shared community of equality; and fostering a climate of honesty and openness—meaning we listen and hear each and every voice.
We're grateful that Kristy Smith, Mosaic's Community Relations Manager in Connecticut, shared this story of belonging with us about the Giguere siblings:
Josephine Giguere was like every other mother. Her first priority was her five children, four of whom were born with intellectual and developmental disabilities (IDD). She devoted her entire life to providing them a full life and excellent care, making every effort possible to keep them together in their family home.
The year 2020 found Josephine in her 90s, in the midst of a pandemic and suffering the loss of her nondisabled son. Mid-summer, she became ill and had to be hospitalized. Josephine agonized over the care of her children with IDD—John, Michael, Marylynn and Theresa—now all in their 50s and 60s, also with varying mobility issues. The siblings were placed in a respite care facility until a plan could be put in place. When it became clear that mom would not recover and the siblings were unable to return to their family home, a Department of Developmental Services (DDS) employee reached out to Mosaic in Connecticut.
After Josephine passed, John, Michael, Marylynn and Theresa eventually transitioned to Mosaic on a respite basis, which soon became a permanent residency at Mosaic's Banbury home. The sisters happily share a room as do their brothers. Although they miss their mother and brother, they are very happy with Mosaic and love their new home. All four take great advantage of the home's accessibility and are eager participants in meal planning, especially breakfast where pancakes are a favorite. These resilient siblings enjoy getting to know and love the amazing staff at Banbury, while developing friendships with their housemates. 
Michael said, "Everything is going great here. We're doing good. I love it here. I meet a lot of people. The staff is great and help us when we need it. I miss my mom and brother sometimes and get emotional, but I can talk to all of the staff, and that helps. We like everyone here."
Theresa chimed in, "And the food is better here, too!" (Her favorites are seafood and pizza).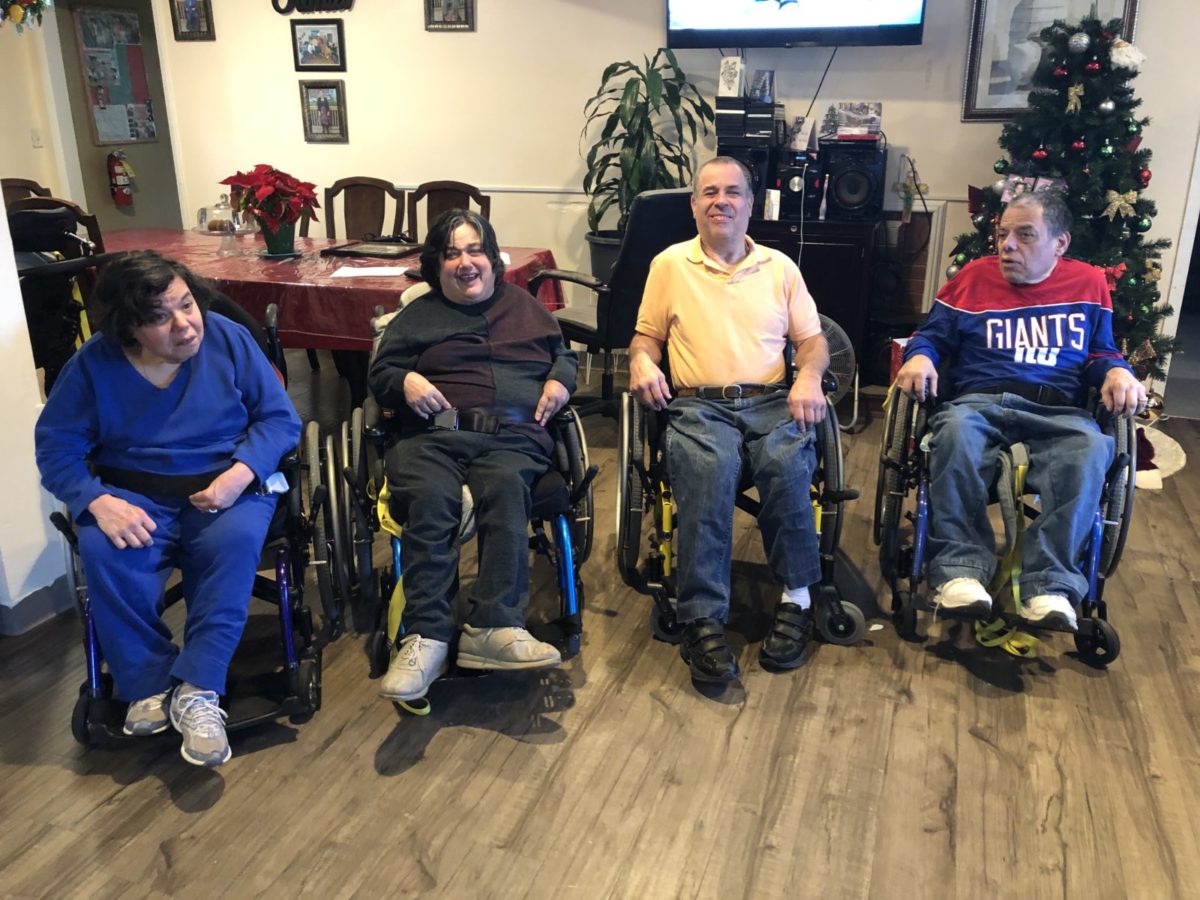 Above, pictured left to right: Marylynn, Theresa, Michael and John Giguere
Their guardian and cousin, David Giguere, sums it up this way: "My cousins have been lucky in love, family and support their whole lives. They were lucky enough to live their entire childhood and the majority of their adult lives at home with their mother, father and brother. Last year brought a series of unexpected sad events for them that turned their world upside down.
"As their family, we were terrified at the prospect of them being separated to different group homes across the state. We were eternally grateful when Mosaic opened their arms to take in the whole family. They were so caring in their detailed efforts to help the siblings adjust and feel at home. It means everything to us to see them settled, accepted and happy."