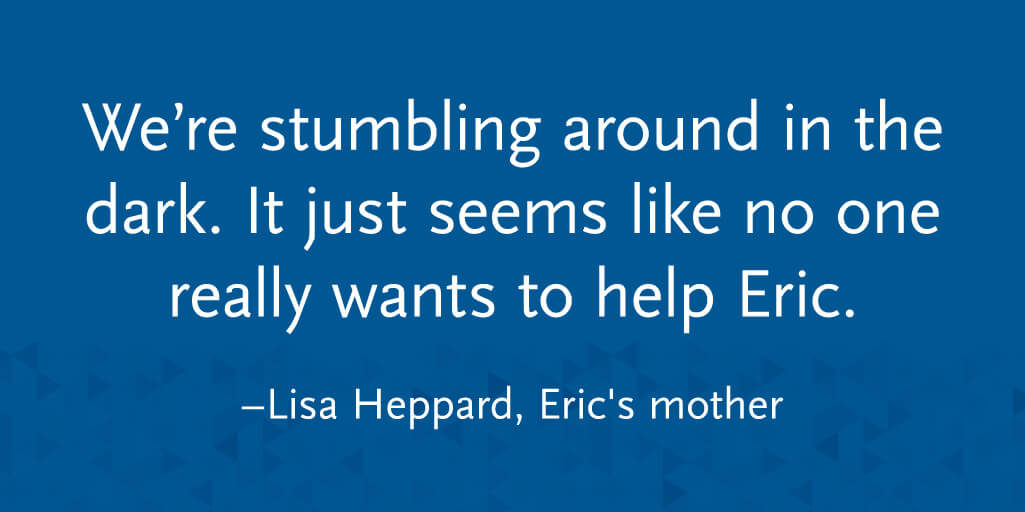 Part of my regular routine includes learning about and sharing what's going on in the field of intellectual and developmental disabilities, so I can lead Mosaic and support people with intellectual disabilities well.
Last month, a colleague forwarded me the following series, which does a great job of digging into some of the issues people with intellectual and developmental disabilities, their families, providers and our nation face.
While this series focuses on Pennsylvania, you could call up any provider in any state and they would say, "This is what we face, too."
It's called: Falling off the Cliff: As children with disabilities age into adulthood and well beyond, their families face a crisis that will impact us all.
The series, from Philadelphia Enquirer Journalist Ronnie Polaneckzy, walks you through some of the heartbreaking things that happen when people with intellectual and developmental disabilities graduate from high school. (Please note there are some serious topics addressed in the series including abuse and death.)
Here are a few quotes from the series:
"The day she (my daughter) turns 21 – boom – the help ends. But it's not like she isn't disabled anymore or you don't need your job! You can't leave her home alone, and if you quit your job to take care of them, you'll go bankrupt. I'm telling you, there's real hardship out there." – Audrey Coccia, a parent speaking about her daughter's transition from high school.
"Even the most committed workforce members are leaving positions and clients they love because they need a family-sustaining wage." – Kathy Brown McHale, speaking on work shortages in the home health care field.
"We're stumbling around in the dark. It just seems like no one really wants to help Eric." – Lisa Heppard, mother of Eric Heppard, who wants a job.
"It will be upsetting enough to Barry to have me gone. It would be awful for him to then have to move in with someone and lose his home. I want his life to remain as stable as possible," – Arnold Korsin, on preparing so his son Barry can be cared for after he dies.
The series hits on so many things we experience at Mosaic:
Staffing shortages
Aging and sick parents caring for children who need more support
Negligent caregivers and providers who harm the people they are entrusted to care for
Changes in funding that make dignity and respect nearly impossible
Waitlists where hundreds of thousands of people wait for support
Unemployment rates for people with IDD in the 60-70% range, despite their deep desire to work.
Sharing stories like these is important as we look forward to potential Medicaid reform and cuts this year. For the people Mosaic supports and millions of others, Medicaid is often the only way they can survive, much less lead a meaningful life. Cuts to an already underfunded system could be disastrous.
How You Can Help:
Sign up for Mosaic Allied Voices, which advocates for adequate Medicaid funding for people with disabilities.
Attend a Discover the Possibilities Tour to learn more about what Mosaic is doing for and with people with IDD in your community.
Subscribe to our blog at mosaicpossible.org to follow along with our upcoming series, "The Waiver Waiting List," which will go into detail about how people with disabilities and their families wait for years to receive services.