Dustin Exemplifies How to Love and Serve
Mosaic's purpose is to "love and serve."
Dustin Behlmann, 34, who Mosaic serves in Kearney, Nebraska, pays that purpose forward often in his community.
Dustin has lived in Kearney all his life with his parents, who own a local towing and car repair business. His mother, Jennifer, said, "Pretty much the entire town knows Dustin. He loves to make friends. When he talks with you, he'll ask a lot of questions because he wants to know how you're doing and what you like doing; he deeply cares about others."
Jennifer characterizes her son as having "a big personality," and another way Dustin demonstrates his care for others is that he loves holding babies. Jennifer shared a picture of Dustin dressed up as Santa Claus holding a newborn, and he looks completely mesmerized by the infant in his arms while being completely quiet and staying still. "He's loved holding babies since he was young," she said.
"Normally Dustin is fairly loud, and he fills the room because he likes to make people laugh," added Jennifer. "But he's a completely different person when holding a baby. He just melts. He becomes a big teddy bear. He's very gentle with little kids in general."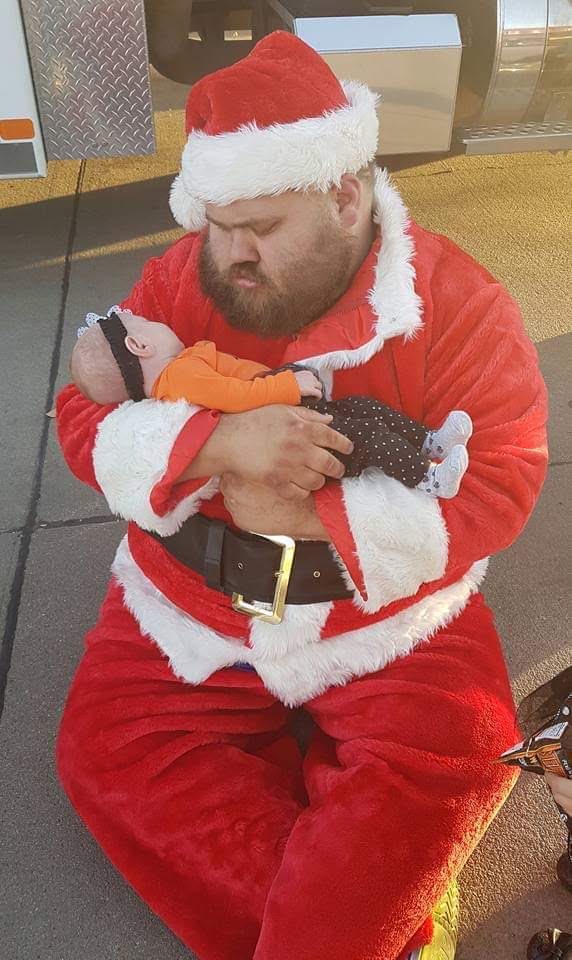 From a young age, Dustin wanted to help others. When he was old enough to donate blood, "he was pretty determined to do it," remarked Jennifer. After the first time he donated, the Red Cross sent a letter to him that his O positive blood type was also Cytomegalovirus (CMV) negative–an extremely rare type of blood that can be given to newborns. "Dustin was so happy. We knew he could save a baby's life."
Dustin doesn't donate his blood just once in a while; he's done it safely and frequently during the last 10 years. In fact, he's donated three gallons of blood so far. "He received a letter of thanks from (Nebraska) Senator Ben Sasse," said Jordan Squiers, Direct Support Manager at Mosaic. "Dustin's really proud of it. He even signed it for me, and it's on display in my office." 
In addition to infants, he can also donate his O positive blood to people with any positive blood type.
It's important to note that with Dustin's loving personality, he "doesn't understand why he keeps getting postcards thanking him for his blood donations and for being a 'hero' to babies," Jennifer said. "He doesn't understand he's unique and why everyone doesn't give blood.
"When he was little, he used to get blood draws routinely for a medication he was on," smiled Jennifer. "It didn't bother him, and it's never bothered him. One of his teachers was getting a blood draw in the same room while he was, and she was obviously terrified of needles. He started to calm her by telling her jokes, and I think it worked."
She added, "Dustin just sees the good in everybody and says 'if only all of them knew what they could do in the world–how they could help other people.'"