A Father's Love And a Son's Joy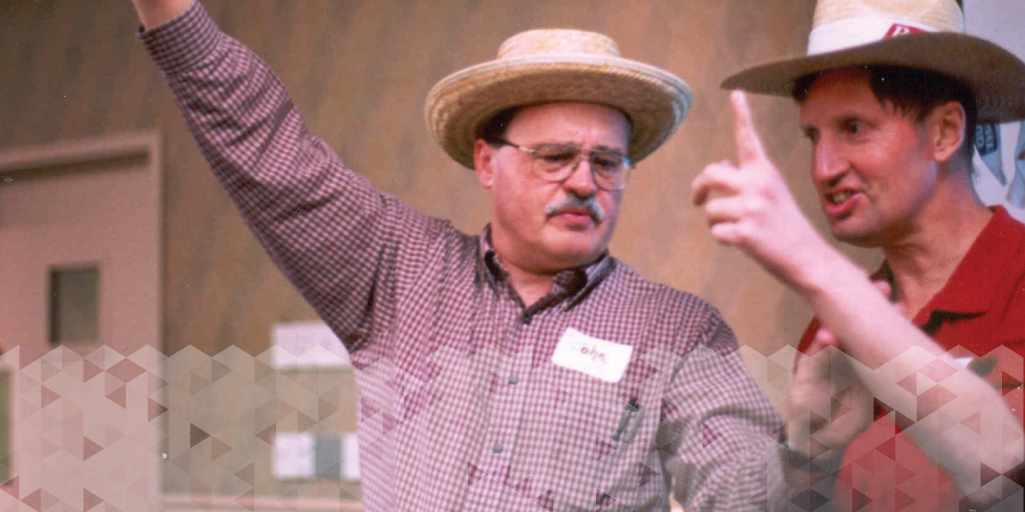 As he tends souls on Mosaic's Axtell, Neb., campus, the Rev. John Gosswein shares the joy he finds in his faith.
One soul, now at rest, provided much of the inspiration behind his work.
His son, Jimmy, was a resident of the school for 14 years, until his death. He is buried in the campus cemetery.
Rev. Gosswein, who has served as the campus chaplain since 1999, works to make the Gospel come to life for all, regardless of abilities, by finding ways to incorporate it in patterns beyond words. He developed that approach, in part, because of Jimmy.
"I was seeking to be a pastor to my son," he said.
Jimmy's hearing, sight and comprehension had all been compromised. "I began to realize there are other sensory ways we are able to share the message of the gospels."
One example happens every week in Zion Chapel.
"We use a big triangle to surround people and help them to remember that they are 'In the name of the Father, Son and Holy Spirit,'" he said. "We are embraced by God."
Rev. Gosswein created Kingdom Parties to bring together everyone from the campus – residents, staff and visitors – to share prayers of joy and concern, to sing together and hear Bible stories. Sometimes, Rev. Gosswein has everyone wear silly hats so all distinctions between residents and staff are removed.
"The playing field is level. It is all of us before God," he said.
While it is his job to teach and share the gospel, Rev. Gosswein said he has learned much from the people he serves.
One day, while he was conducting a small graveside funeral, a resident named Ricky walked by and asked if he could take part.
"I had decided to use the passage of Jesus saying, 'Take my yoke upon you, my yoke is light.' Ricky started repeating everything after me as I was going through the funeral service. I came to the point where I said, 'Jesus said,' and Ricky said, 'Jesus said.' Then I said, 'take my yoke,' and Ricky said, 'What's a yoke?'
"I put my arm around him like a yoke and Ricky said, 'Oh, that's a friend.' I came to realize how differently they see Jesus and how much we need to see Jesus like them."
Rev. Gosswein wants those he serves to know the joy of God. That joy, he said, is easily found on the Axtell campus. That's why he and his wife, Judy, chose it as a home for Jimmy.
"What I looked for was something that allowed him to express joy. We were most happy not that he was safe here, not that he was content, but we feel that it provided a place where he could recognize joy."
To learn more about supporting people with intellectual disabilties in your faith community, please visit rejoicingspirits.org.