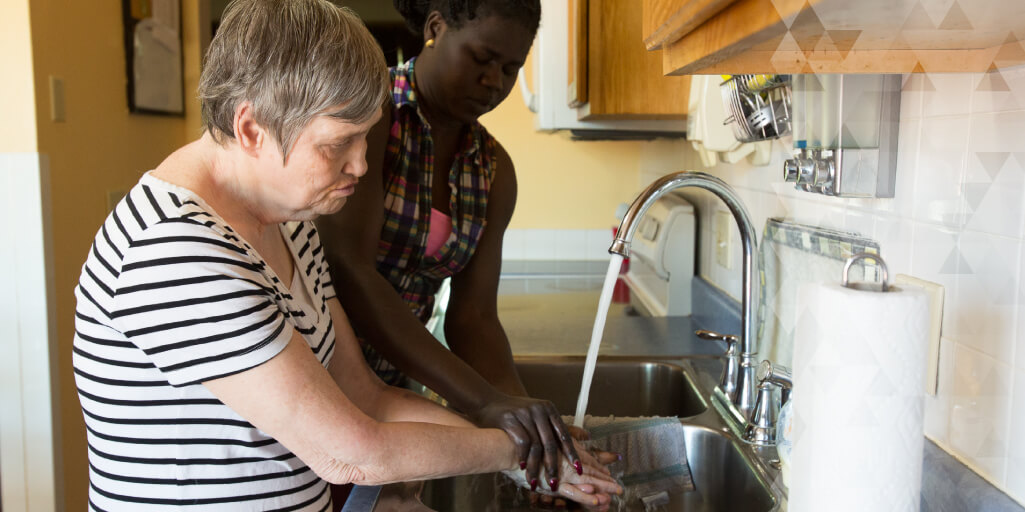 Tell me what's hard about the job.
I asked that question many times while trying to produce a realistic job preview video describing the work of direct support professionals (DSPs). But that question was the most difficult one to get answered.
DSPs are at the heart of Mosaic's work. Whether they are hourly employees or independent contractors, DSPs provide the day-in, day-out assistance to help people stay healthy and active in their communities.
Sounds nice, right? But direct support also sometimes involves tasks that aren't as engaging. Depending upon the level of personal need, direct support may involve cleaning and scrubbing kitchens and bathrooms, helping people use the toilet and shower and, for those Mosaic serves who are incontinent, changing clothes and undergarments several times a day.
Successful DSPs must also develop great people skills. On the job, they learn to redirect people's negative behaviors (such as hitting themselves or others) toward positive behaviors. They learn to answer questions in ways that don't cause unnecessary anxiety.
They also often mean the world to someone who relies on them. A DSP's familiar face and trusted voice can bring smiles that no one else can elicit. They can inspire the confidence that brings change to a person's life. They can be more than they knew they could because someone truly needs them.
It's not an easy job. But for people who know it's their life's work, it's the only job.
So when I asked DSPs about the difficult aspects, they deflected the question like skilled politicians and chose, instead, to talk about what they love.
People. Specifically, people with intellectual and developmental disabilities.
Eventually I did find people who would answer the questions and talk about what I saw as difficult parts of the job. But more than that, I found inspiration. Even when talking about those aspects of the job, they still made it sound like great work.
I often think we find what we look for. Successful DSPs look for ways to make a difference. They find them. In doing so, they also find happiness and satisfaction.
I invite you to watch this video about and by DSPs. Mosaic's mission is healthy and thriving because of them.