Five Direct Support Professionals Receive National Recognition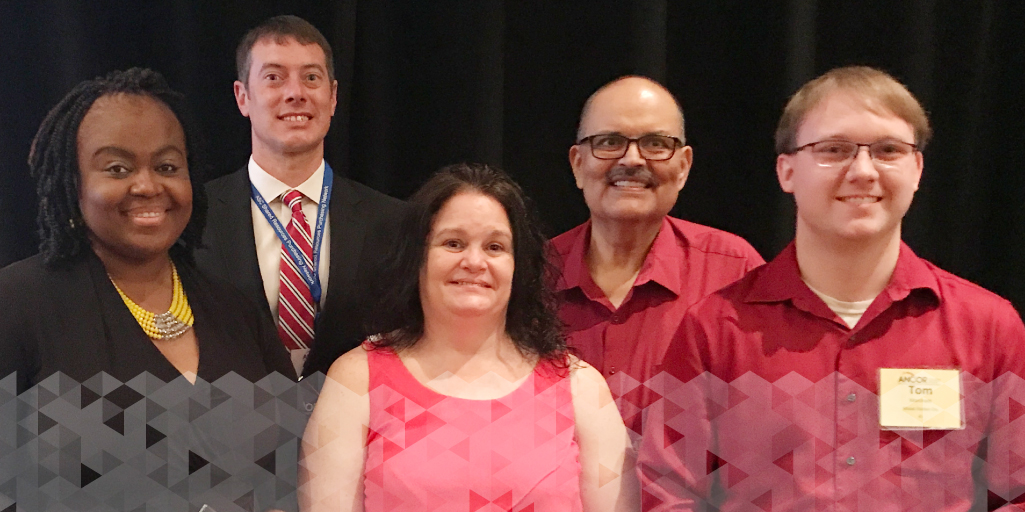 The American Network of Community Options and Resources (ANCOR) American Network of Community Options and Resources (ANCOR) named five people affiliated with Mosaic as top direct support professionals (DSPs) in their states for providing compassion, respect and care in their roles supporting people with disabilities.
Andrew Landon, Mosaic in Beatrice
Andrew is a consistent advocate for the people he serves, finding ways to help them pursue the things that matter in their lives. A staff member described him as a 'no excuses' kind of worker, finding ways to overcome the barriers people face such as helping a man who uses a wheelchair ride the roller coasters at a theme park. Supporting people is a way of life for Andrew; he includes people served in his family celebrations and brings his sons to enjoy activities with the men he serves.
Angela Page, Mosaic in Connecticut
Angela is a 26-year veteran direct support professional who was described by a co-worker as a star performer. She is always mindful of the smallest of details in her work. Her creative solutions helped one person stop longtime, self-hurting behaviors and helps all the people she serves be involved in the community for fun and as volunteers. A special touch is helping people create homemade cards to send to family. She is precise in double-checking her documentation and always willing to help out with extra shifts.
Ejay Bustamante, Mosaic in Arizona
Ejay has worked to help the men he serves find their own voice. He helped one man (who is a self-guardian) assert his right to make decisions about his own life, even when family disagrees. Ejay makes sure that the men he serves enjoy community events and get to pursue the things they want. He even purchased an RV to help them fulfill their dreams of travel in comfort and ease.
Juslyne Fleurantus, Mosaic in Delaware
Juslyne works to make people's dreams come true. When someone she supported wanted to get in touch with long-lost family, she contacted former service providers and friends and pieced together information that led to siblings and an aunt of the woman. She also conducted a personal fundraiser so individuals who didn't have the funds themselves could attend the local Disability Ball. A parent described Juslyne as someone who looks beyond a person's challenges to bring out their abilities.
Tom Marchant, Mosaic in Garden City
Tom is a creative advocate, using his community connections to help people with disabilities. As a job coach, the people he supports know he is "in their corner" and won't give up. He has helped numerous people find work. His relationships are strong, and people come to him with any need. Perhaps his best praise came from a person he supports: "He's the coolest job coach I've had."