Friends, Colleagues and Mentors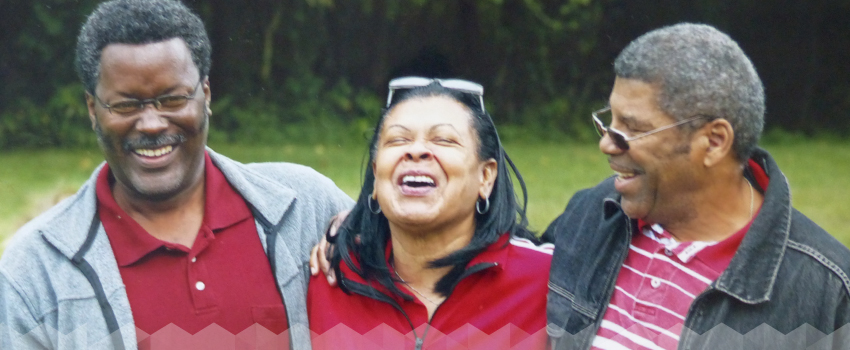 Bill Jenkins, Jill Turner, and Bill Brown have been friends and colleagues for nearly 30 years. This photo, taken years ago, sums up the trio's friendship.
Retirement is just a handful of years away for Jill Turner, a Direct Support Manager at Mosaic in Delaware. Good for her. Not so good for Mosaic.
Jill has been with Mosaic for more than 30 years. She loves her job, loves the people she serves, loves the mission. The problem is that Jill says when she retires, two of her Mosaic colleagues and good friends, Bill Jenkins and Bill Brown, are both retiring too.
The three share a common trait that bonds them. They know they are called to serve and respect the people Mosaic supports.
"We are here for the people," Jill says. "They are not here for us."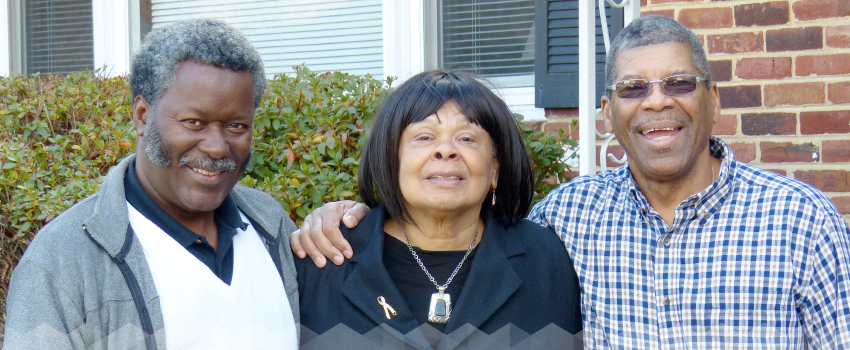 Jenson, Turner and Brown gather to recreate the photo taken many years ago.
"They're my employer," Bill B. says. "This is not my home, this is their home."
From her youngest days, Jill remembers wanting to serve. As a child, she wanted to be a nun, until she learned she'd have be Catholic (which she wasn't!). Bill J. said he knows serving others is what he is called to do.
"I like the interaction," he says, "watching them grow. It's a joy to me. … Even if I'm down, coming here makes me forget about my life. … They help me while I help them."
The mutuality is bigger than just the people served, Jill said. Through the years, her Mosaic "family" has helped her through the personal tragedies of losing her husband, a house fire, and now, cancer.
"Mosaic saw me through," she says.
Like Jill, Bill B. is a Direct Support Manager. Bill J. was a manager, but realized he didn't enjoy it so moved back to the role of Direct Support Specialist, where he feels he belongs.
"Everybody is equal," Bill J. says, "all on the same plain. I don't see them with a disability. I see them as needing to learn."
With their experience, the three have the ability to quickly know whether a new employee will stay on the job and whether the person has the stuff to be a good direct support staff member.
"You will not be successful on this job unless you show respect," Bill B. says. "You can't fool them."
For Bill J., that means being authentic.
"Don't tell them what to do if you're not willing to do it yourself," he says.
Plus, be prepared to have bad days.
"Learn from your mistakes," he says. "Everybody is going to make them."
Jill, Bill, and Bill have probably made a few, but with 90 years combined service, they are probably few and far between these days.
Then-and-now photos show (from left) Bill Jenkins, Jill Turner, and Bill Brown, good friends and co-workers for many years. To learn more about employment at Mosaic click here.