Guest Post: A Meaningful Life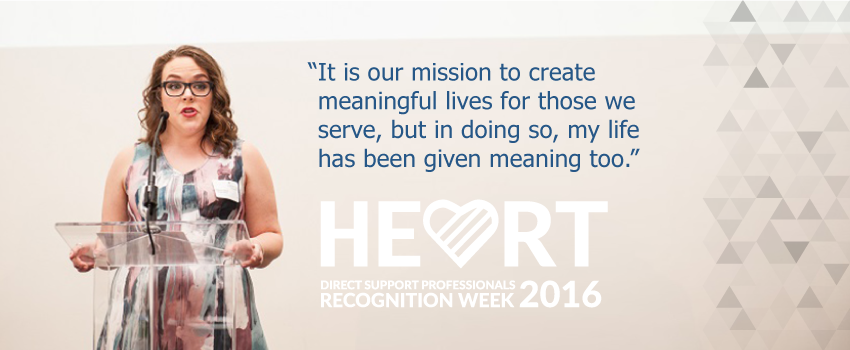 Like many college graduates of the last decade, finding gainful and purposeful employment was very difficult. I bounced from job to job.  It wasn't until I found Mosaic that I have truly felt at home.  I remember waiting for my interview in the conference room and reading the posters extolling the three tenants of our mission statement and seeing the one that truly spoke to what I had been searching for: Meaningful Life.
In almost any company or organization you can find mission statements full of buzz words and corporate platitudes meant to inspire and motivate; but there was something about seeing this one that spoke to me, that told me that this place, this work, is what I need to be doing. I know that 2 years in direct support makes me an almost baby DSP compared to so many others, but in that span of time there was been a sea change within my life as I have grown into this work.
When I first was introduced to our client Vanessa, I knew immediately that we would get along because, just as I was finding my true purpose, so was she.  After the birth of her niece and nephew, combined with support from her family and Mosaic, Vanessa realized that her dream is to work with children.  She started volunteering at her niece's school and quickly came to the conclusion that finding gainful employment in this field is what a meaningful life meant to her.
When I started working with her, Vanessa was enrolled in college in pursuit of two certificates in Early Childhood Education; these would open doors for her.  Together, night after night, week after week (and weekends too), I helped her to get to class, to understand the lessons, to participate in discussions and complete projects.  It was truly amazing to watch her work so hard, to witness those "light bulb" moments and to see how truly gifted she is with this work.
Vanessa graduated last May with her two certificates, and as I sat with her family and friends and the rest of her support system, we watched her walk across the stage with a smile so big that it brought tears to my eyes.
It is often said that the ultimate goal is to work ourselves out of the job, but we also know that there will always be more to do, more people to serve, more ways to help.
Just enough is not good enough in our line of work. It is not just for the big moments that we come to work every day, often working odd and long hours. It is not just for the Vanessas. It is for dancing to "Funky Town" in the car on the way to medical appointments. It is for ice cream socials, learning to shave, and going to the gym no matter the weather.  It is for an individualized approach to meaningful life.
It is our mission to create meaningful lives for those we serve, but in doing so, my life has been given meaning too.