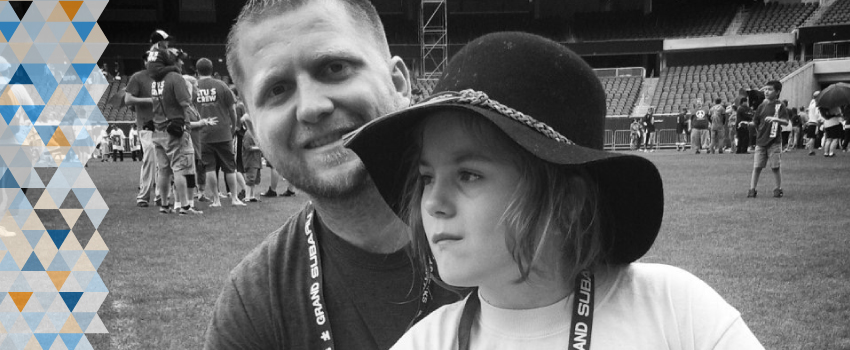 For John Coleman, working with the people Mosaic serves is personal.
In 2007, John graduated from Indiana State with a bachelor's in exercise science. The local economy was down so he went to work at Walmart for a year.
John's sister is a single mother of a little girl with autism. She asked John to come to Illinois to help with his then four-year-old niece, Isabella. He agreed.
"I've always been around people with disabilities but I didn't understand the full spectrum. My niece is nonverbal. She was scratching, biting and screaming and after the first night, I told my sister I don't know if I can do this," he said.
But he stayed for a year. Getting to know his niece better, how she communicated, her strengths and abilities.
"She opened my eyes to how bright an individual with autism is. I was understanding the spectrum and how she expresses herself. She likes colors and numbers. It made me appreciate life even more. Here I can speak – she can't but she does as much as anyone else. She's no different. Someone with a disability can be very bright and have special gifts," John said.
After spending that year with his sister and niece in Illinois, John moved back to Michiana. He took a job in Saint Joseph, Mich. working with higher functioning adults. He used his experience working with his niece and his education to provide a meaningful day to those individuals.
"I thought out of the box. If they did not want to exercise on the bike, I looked at what was their niche, how can I get them to exercise," he said.
John was training to become a manager but cut it short with a move back to South Bend. His father had dementia and he wanted to be the one to care for him.
He worked for a nonprofit that also provides services to people with intellectual disabilities. He again used out-of-the-box techniques to assist individuals in finding paying employment. John was happy with his position but not the company he worked for.
Someone told him about Mosaic, knowing he was a religious person and a hard worker.
"I went to a job fair at Bethel and went by the Mosaic booth. I set up an interview and checked out the website. I was blown away. The mission hits right on. That's what the guy upstairs wants us to do. The company is truly who they say they are. The energy in the office, everyone loves their job, it's good to see. It's nice to make these individuals feel like everyone else. We are not trying to make money. Staff can speak freely about religion without feeling uncomfortable. We work as a team," he said.
Even though John's degree is in a different field, he says he has found a career that makes him happy. He feels fulfilled with the work being done through Mosaic and the progress he has seen in individuals over the past year.
"I feel God wants me here. Everything has pointed me to this job in my life. People say nothing but good things about Mosaic. I will be here the rest of my life. It's never been about a paycheck but how to give back to individuals. It's the best job because you're making an impact on their lives and they make an impact on our lives. Every day I love my job and what I do. They make you smile or laugh when you're having a bad day," he said.