Mosaic Employees Named ANCOR DSPs of the Year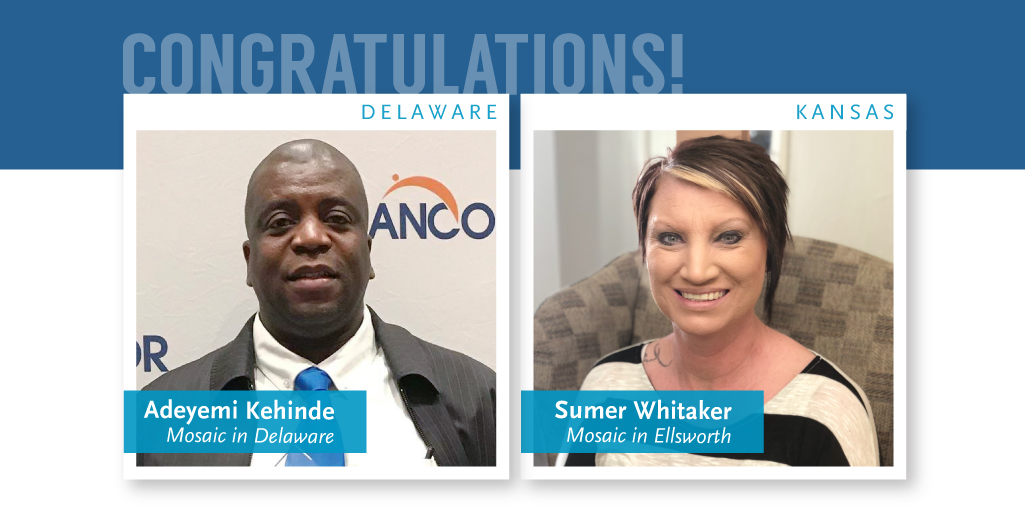 Without Sumer Whitaker's advocacy for a person she serves at Mosaic, the outcome of a doctor visit could have been dramatically different.
Whitaker thought it was possible the individual had a stroke, but the doctor was prepared to send the person home. She persisted, and the doctor ordered additional testing. A CT scan revealed a subdural hematoma (internal bleeding outside the brain). The gentleman was admitted to intensive care, where appropriate treatment was given. He is now doing well, thanks to Whitaker's advocacy.
Whitaker was one of two Mosaic employees who were recently named ANCOR Direct Support Professional of the Year for their state. The other was Adeyemi Kehinde. Whitaker works at Mosaic in Ellsworth, Kansas, and Kehinde at Mosaic in Delaware.
ANCOR is the American Network of Community Options and Resources, a national advocacy organization for providers who serve people with disabilities. The annual awards draw hundreds of nominations from across the United States.
Direct support professionals are not doctors, yet they have a great responsibility for people's health. They are not social workers, yet they greatly contribute to the mental and emotional health of the people they serve. They're not emergency personnel, yet they are often the first line of defense for people's safety. They're not lobbyists, but their day-in-day-out advocacy on behalf of the people they serve has an effect far beyond just that one individual.
These people are the heart of Mosaic; they bring our mission of service and advocacy to life.
The nomination forms for Whitaker and Kehinde show the esteem in which their colleagues hold them. Kehinde's read, "Adeyemi is someone who does what is needed to protect and serve others." That includes helping people learn to manage their health and finances, reconnect with distant family members, or explore housing options.
When asked why he does what he does, Kehinde's response is succinct: "I have passion to help and touch people's lives."
Beyond healthcare, Whitaker's nomination shares other stories about how she helps people expand their lives and learn to advocate for themselves. Like Kehinde, her scope of serving people knows no boundary: she will do what is needed for people to have a better life.
Mosaic is proud of Whitaker and Kehinde. They represent the thousands of employees and independent contractors who, every day, work to help people lead more meaningful lives.