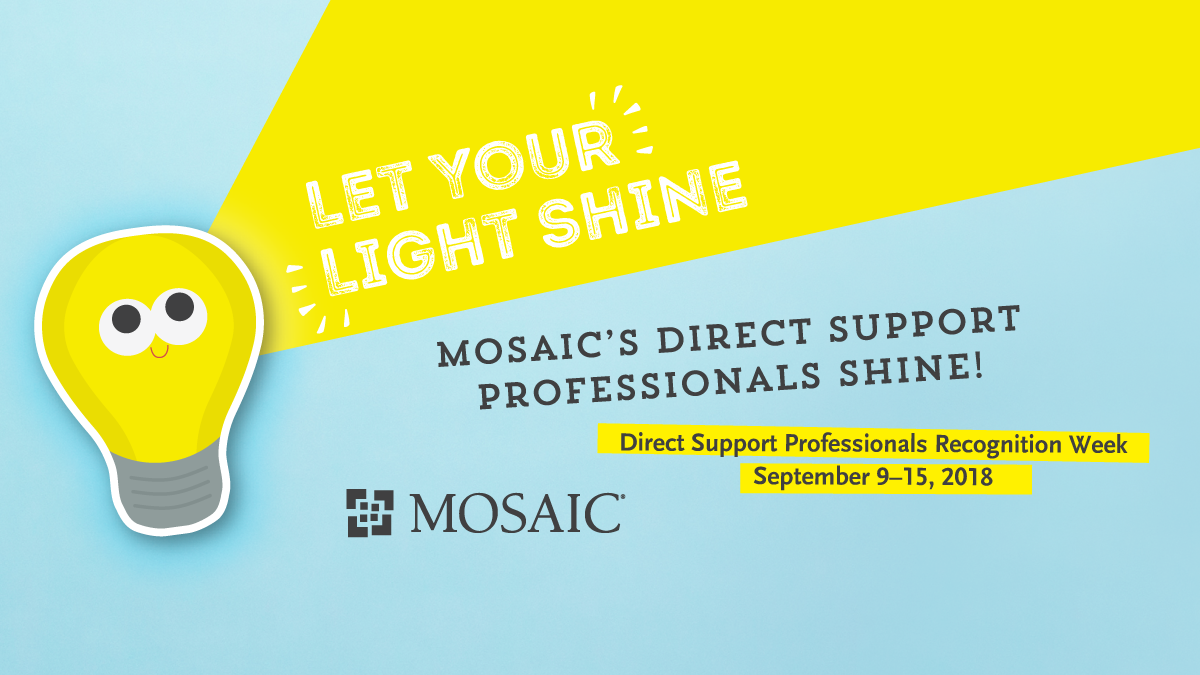 Every once in a while, we'll receive an email or a phone call from someone who wants to report a Mosaic direct support professional … for doing good.
I love those emails and phone calls!
They're stories of kindness, of professional behavior, of self-giving, of patience and thoughtfulness.
They're stories that explain why our theme for National Direct Support Professionals Recognition Week, which kicked off on Sunday, is "Mosaic's DSPs Shine!"
We're using fun imagery to go with the theme; it's a light bulb with big eyes and a smile. When you turn on a light bulb there's an immediate impact. So often, that's what happens when Mosaic DSPs are present; they shine. They make a difference in someone's life.
I've had the privilege the last few months of meeting with Mosaic DSPs in locations across the country. I know they have challenging jobs—I started my career here as a DSP.
But it's not the difficult aspects of the job they've been speaking about when I meet with them. I hear them speak with passion about how much they love the people they support. I've heard how they miss the people they support when they take time off. I've heard how they care, deeply, about making sure people have good days and have everything they need.
Mosaic's mission is personal to them – they embrace their call to serve and the stories they tell are living proof.
I walk away from those meetings humbled by the goodness of Mosaic employees. I walk away with a full heart.
One of my favorite quotes is from Mother Theresa: "Preach the gospel at all times and when necessary, use words."
Mosaic DSPs bring our mission to life. Whether they are people of faith matters little; what matters is they know how to give of themselves. They preach through their actions. The care, compassion and, yes, love they give so freely to people is nothing short of awe inspiring.
If you know any DSPs, thank them for their work. If you don't know any, thank God for the work of DSPs.