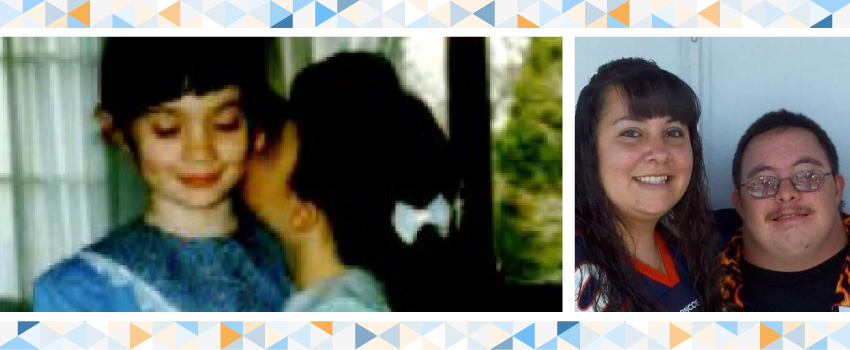 Many people who work at Mosaic started their career because of a loved one with a disability. In honor of National Sibling Day this Sunday, we're sharing some thoughts from some Mosaic employees who have siblings with an intellectual disability.
What's one thing you wish people knew about having a sibling with a disability?
Meghan: Having a sibling with a disability is not a tragedy. Sometimes when I tell people that my sister has autism they will get very uncomfortable and say something like, "I'm sorry!" I tell them to not be. My sister has a great life and my life is better because she is in it. It is true that we face challenges and in some ways we are different than families that do not have a member with a disability. However, different does not mean less. Our family does not have less full of a life together or less love because my sister has a disability.
Tally: I'd want people to know I'm not his care taker, he is his own person. We love, joke, and argue like all siblings do and there are times that we hurt each other's feelings!
Patricia: That my brother is the same as you and I. He may look and act a little different on the outside but on the inside he is just like everyone else. He wants and needs the same things in life that I want and need, it may just take him longer or look different in how he achieves his wants and needs.
Lynn: I would like people to know that having a sister with a disability is a blessing. Yes, we had challenges as a family growing up but now I feel good that I can help and support her and that she is happy.
What's one thing your sibling has taught you?
Tally: That it was ok to let him grow up and make his own decisions, and if he fails at something it's not the end of the world.
Patricia: Determination. Determination for inclusion, determination for self-worth, determination for success in all he does.
Lynn: My sister Christine has taught me about the importance of choices. I used to feel upset when she would not do certain tasks or go places I thought that she would like. Now I have a different view. It's her happiness, her choice. It's where she is comfortable and that is OK.
Meghan: Growing up with my sister taught me that just because someone can't talk doesn't mean they don't have anything to say.
Meghan and her sisters Erin and Colleen. Photo Courtesy Meghan Hussey.
How does being a sibling affect your work at Mosaic?
Meghan: I want my sister to have opportunities to live the fullest and happiest life she can. I also want that for all the individuals we serve around the world. Seeing someone share openly that they had a family member with a disability took away some of the shame and stigma they felt. They said they saw me as one of them, rather than a foreigner who they could never relate to. In countries I've worked in all over the world, I never feel more "at home" than when I'm with partners and family support groups of people with disabilities.
Tally: It helps me remember that individuals and families I support have a story behind who they are. It makes me push people, not to judge a families story.
Patricia: I look at things in a different way. Instead of thinking something is not possible I think of how it can be done if my brother was doing it. I have a mindset of, "Is this what I would want for my brother?" I relate everything I do in my job in some way to my brother.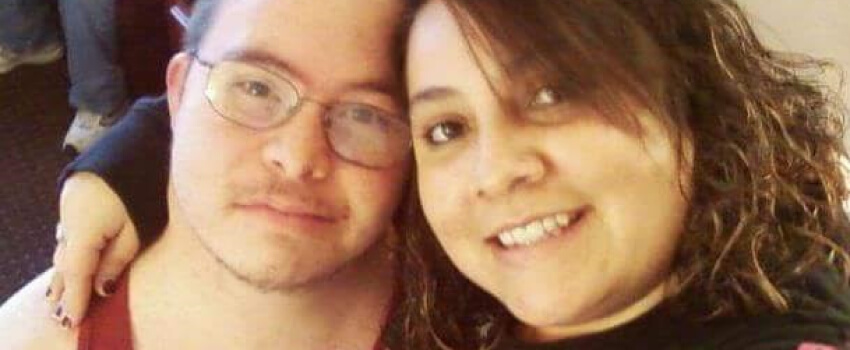 Patricia and her brother Joshua. Photo Courtesy Patricia Moncada.
What does your sibling like to do?
Tally: My brother is shy and introverted, like me. He likes to be around a few close friends or family, instead of a group of people he does not know. He likes anything to do with the outdoors and animals. He has taught himself how to garden.
Patricia: He likes to be social and in the middle of any social crowd. He loves to work at his job. He likes bowling, swimming, fishing, hunting, basketball and dance. He likes to watch movies and play video games, especially his WWE games. He likes to spend time with his family, especially his nephews and nieces.
What is your favorite thing to do with your sibling?
Meghan: My favorite thing to do with Erin is go for walks. When I visit we'll go for long walks around our hometown. Sometimes we talk about things on her mind, like the schedule for the next day. Sometimes we don't talk much at all and just enjoy being in each other's presence.
Tally: I love to watch the relationship that my brother has with my children.
Patricia: Joshua lives four hours away from me so every time we are together it is a new adventure and a new memory. Everything I do with him is my favorite! –
Lynn: My favorite thing is taking Chrissy out to eat and then bringing her back to my house to spend time with my family. She sleeps over and we laugh and joke about how our cat Frankie loves to sit on her walker! We will watch chick flicks and my husband George will make her favorite meals for her.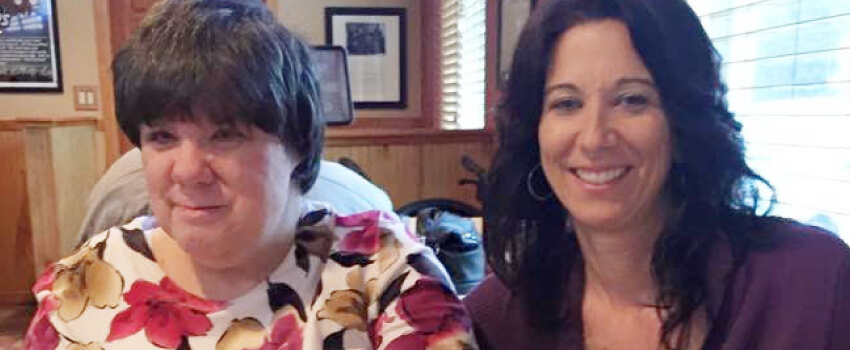 Patricia and her brother Joshua. Photo Courtesy Patricia Moncada.