The Role of DSP Can Be Both Life-Giving and Life-Changing
Mosaic's mission and purpose are life-giving and life-changing – not only for the people we serve, but for our employees, too.
Carolyn Thomas says working as a direct support professional at Mosaic in Waco has changed her heart and helped her create a better life for others.
She shared her personal story at Mosaic in Waco's 2018 Partners in Possibilities Event. What follows is an excerpt from her testimonial. 
On December 5, 2003, my ex-boyfriend called me and asked if he could come over to my apartment to visit me. I felt uneasy about the visit because he had been abusive in the past, but because my mother was with me, I allowed him to come over. I felt safer because I was not alone.  
But, that night my life changed forever.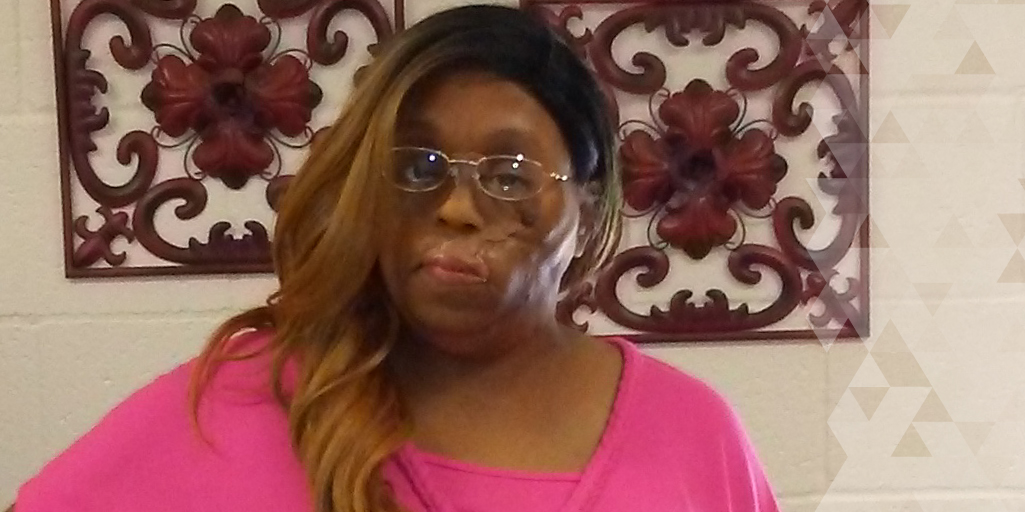 His frustration with me turned to anger and he pulled out a gun. After firing his weapon at the ceiling and floor, he shot and killed my mother. He grabbed my hair and began dragging me on the floor. It was at this point he shot me at point blank range in the face. 
Eleven years and 14 surgeries later, I came to work for Mosaic as a direct support professional in the Sturgis group home [in Waco].
I had been employed with Mosaic for three months when I attended the annual Easter egg hunt. This event turned out to be another life-changing moment. I never expected something like an Easter egg hunt to make such a difference in my life, but it did.
It was there that I saw people that were happy, despite their disabilities. I realized that they were enjoying life and happy finding Easter eggs, while I walked around ashamed of my disability.
This hit me really hard. I found a place to hide, and broke down crying.
Mosaic has changed my life because of the pride, understanding and courage Mosaic shares in the Waco community. It takes a special heart to work with individuals at Mosaic. Every day I feel God's love.
For those I work with, I feel as though we are family. These four special men make me feel loved and appreciated. I hope that I do the same for them.  They are the reason I work for Mosaic. They are the reason I love and enjoy my job.
My name is Carolyn, and I am Mosaic.