Application for 2018-19 Carman International Fellowship Now Open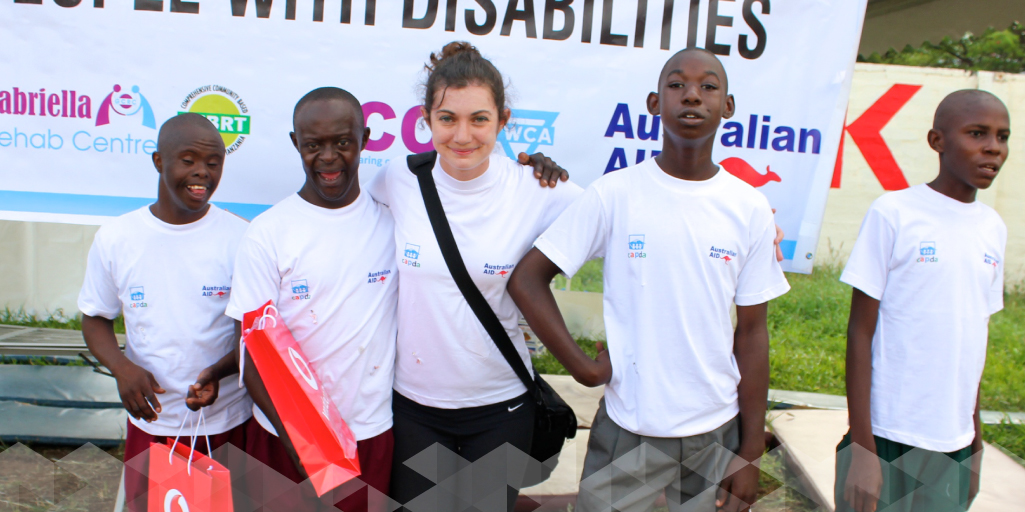 At Mosaic International, we believe in providing opportunities to learn, grow and contribute.
This doesn't just apply to the individuals we serve. It applies to those who work with us, as well.
Each year, we fund international fellows through the Carman International Fellowship Program. The application is now open for the fellowship beginning August 2018.
The fellowship is a 13-month commitment. The individual selected will spend that time in Moshi, Tanzania working with our partner, Building a Caring Community (BCC). The fellowship position is an integral part of our program's success.
Meghan Hussey, the Carman Fellow from 2013-14, reflects on the fellowship and her subsequent career path.
Why did you apply for the fellowship?
The fellowship with Mosaic was exactly what I needed as a step forward in my career. Disability has always been a part of my life. I had studied international relations in college, focusing on human rights and global health. While studying abroad in China, I interned for a small disability NGO in Beijing, and I decided international disability work was what I wanted to do with my life. I returned to China after college to do research on programs for adolescents and young adults with autism and other disabilities. I knew the Carman International Fellowship would allow me to work directly on programming and learn about what it takes to advance community-based disability services in a development context. I was eager to put what I had learned in research and policy roles into practice working with BCC.
Describe a favorite moment or project.
The most memorable project of my fellowship was the beginning of the Young Adult Program. When cleaning up our database, it became clear just how many children served by BCC were already or quickly becoming young adults, so I started working with BCC and Mosaic on a plan for this age group. We had dreams about matching young adults with training that aligned with their skills and interests. It has been amazing to see where that program has come since I left; from starting the Young Adult Farm, to the level of sophistication of the recycled paper cards, to the graduation of the first class of young adults. I could not be more excited to have been a part of this project that is empowering young adults with skills to make them contributing and included members of the community.
What do you do now?
I currently work for Special Olympics International as Manager of Unified Schools. My work focuses on increasing the amount of schools worldwide that offer Unified Sports, a program that fosters social inclusion by bringing together people with and without intellectual disabilities to play and train together.
How has the fellowship experience influenced your career path? Are there any lessons that you took away from the fellowship that you now use in your current role?
I use what I learned during the fellowship on a daily basis. Special Olympics works in over 170 countries and is very grassroots driven. The experience of working in a small organization in a low-income country has given me a deep understanding of the challenges. Also, having worked with the municipal education department in Moshi, I have a better perspective on just how difficult it can be to move from policy to practice in terms of access to inclusive education. Now that I'm more office-based in Washington, D.C., it is so important for me to be able to draw on my experiences in the field and have them help inform what I do.
What were some of the major challenges you experienced while working with BCC?
The fellowship was by far one of the hardest things, but also one of the most rewarding things, I have ever done. I hit the highest highs and the lowest lows. I learned things I didn't know that I didn't know. I went from not being able to communicate, to being able to help hold a staff training in Kiswahili. I experienced both loneliness and a sense of welcome and community. I became frustrated when progress didn't match the pace I wanted, and then was humbled into accepting that "pole pole" (go slow) applies to development, too. The challenges were real, but they forced me to better understand the issues I'm dedicated to working on and the place I was in.
Are you up to the challenge?
Mosaic is looking for someone with a significant amount of field experience. It is extremely important to understand the complexities of disability and have a demonstrated interest in the field. Mosaic is also looking for technical skills, including basic copywriting and knowledge of monitoring and evaluation. Applicants should be able to articulate how they will use their current skills to benefit Mosaic, as well as how they will use the skills learned through the fellowship to further their career.
Contact Meritt Buyer at meritt.buyer@mosaicinfo.org to receive an application packet or with any questions about this opportunity.
Applications are due April 1.