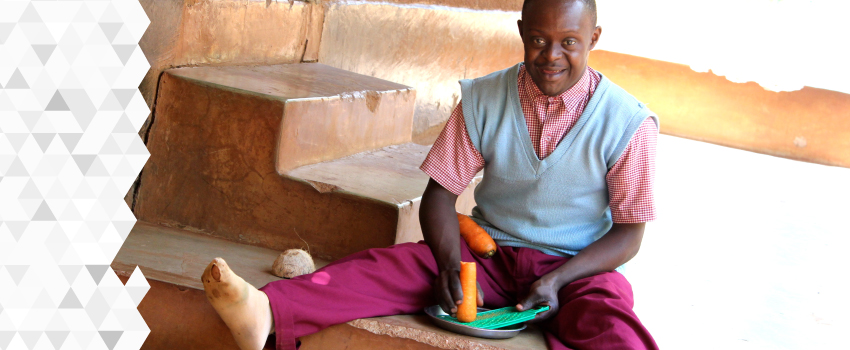 June is Hunger Awareness Month. That brings to mind some of the heart-wrenching decisions parents of children with disabilities have to make in low income countries.
In Tanzania, where 68 percent of the population lives on less than $40 per month, hunger is a daily reality for many. The struggle to provide even one meal a day for all family members can be overwhelming.
When Mosaic worked with partners to start a program in Tanzania, we met families who sometimes chose to give the limited food they had to their children without disabilities, so they could stay healthy. Meanwhile, the child with disabilities became weaker and weaker.
It's a choice none of us would ever want to face: which child do I feed?
In Tanzania, it can be a reality.
Any choice is heartbreaking, but choosing the child who could one day support themselves seems logical in that cultural context.
Today, malnutrition has drastically declined for the 220 children and young adults in the Mosaic-supported program. Several grant-funded and donor-supported initiatives have removed this choice from parents and provided individuals with disabilities the chance to thrive.
Twice-daily meals served at each of our 10 day centers ensure that everyone there receives adequate nutrition. This ensures they no longer have to feel the gnawing pain of hunger. It also relieves pressure on the family to provide those meals.
Therapies and medical interventions to address feeding problems and parent education on best feeding practices, have also decreased malnutrition. Most parents in the program had no previous education on how to address feeding difficulties. Nutrition education has helped parents choose foods that provide better nutrition for their other children as well.
Income earning opportunities such as microcredit loans to build small businesses, and a young adult program focused on training and employment are perhaps the most powerful initiatives we've introduced to fight hunger and poverty.
Funded by World Hunger Grants from the ELCA, these programs have given parents and young adults with disabilities opportunities to earn wages and lift themselves out of poverty. This increased income has resulted in more – and better quality – food for families.
Strengthening and empowering people with disabilities and their families is what we exist to do. Now, we're not only aware of hunger, but of what supports families need to overcome it, and to have hope.