Spark Joy on Giving Tuesday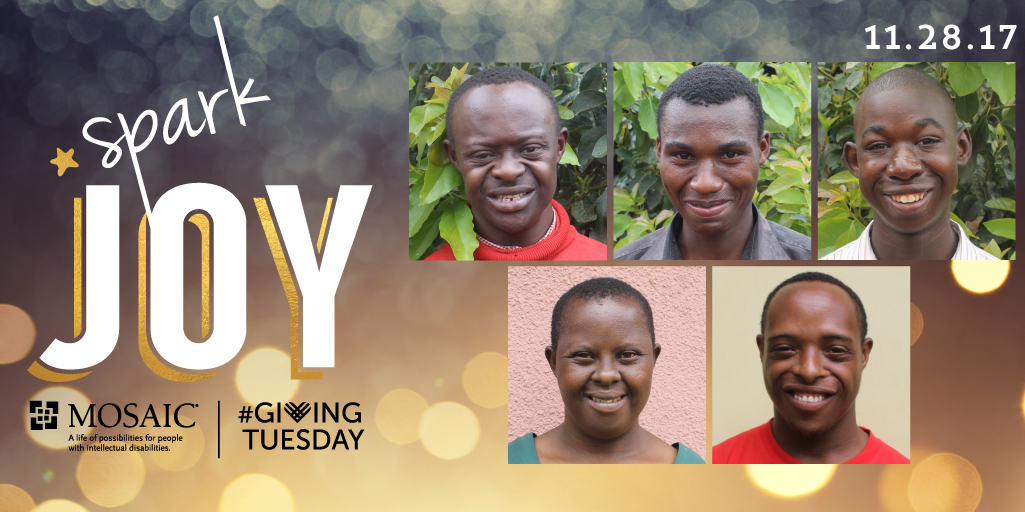 What sparks joy in your life?
For the young adults we support in Tanzania, it's learning skills that will help them earn a living throughout their lives.
This December, Building a Caring Community (BCC) will usher its first group of graduates into the working world. Here are their stories:
Jonathan
Before the Moshi center opened, Jonathan's mother brought him everywhere with her, including to funerals. At a young age, Jonathan loved being around the pastors and being part of the service. Although he cannot read, he carries a psalm book and a Bible to refer to when he prays. According to his job coach, when Jonathan prays, "You can't imagine that he is a person with a disability. If you don't know him, you wouldn't know that he isn't a pastor. He likes to pray when we have visitors because he believes the visitors are a blessing."
Jonathan's post-graduation plans are still underway. Staff is working with the parish to develop a role that would enable Jonathan to be close to pastoral work. Jonathan will also receive a small loan from BCC so he can raise chickens and goats. The Young Adult Program has given him the skills to be an independent and successful adult, as well as the confidence to act on his faith.
Emmanuel
Ema joined BCC five years ago. Previously, he spent a lot of time alone, wandering the streets. He did not speak much when he first came to BCC. Now, Ema is a leader on the Young Adult Farm. He is confident and articulate. He takes direction well and is able to delegate tasks to others. He keeps track of the tools and other supplies. When he sees his friends are tired from working, he offers help and encouragement. He even tends the farms on weekends, when no one else is around.
After graduation, Ema would like a job doing landscaping and gardening, to utilize the skills he has gained through working on the Young Adult Farm.
Living
Living attended a public primary school until age 10. However, he could not write, speak or do mathematics, and he struggled with isolation and exclusion. Now a young adult having found supports, Living is flourishing.
At BCC, Living found teachers who believe in him, his capacity to learn and his future. He has mastered functional math, reading and writing. He can independently manage money. He is a leader on the Young Adult Farm, and is trusted and well respected by the staff and his peers. Upon graduation, Living will receive a small loan to start his own business selling chickens and eggs. He is also interested in working with his father, a mason, and helping on his family's farm, leveraging the skills he learned at BCC.
Janeth
When Janeth was a child, she was denied entry to the local public school. She became isolated and lonely. When she started attending a BCC center in 2008, it was the first time anyone had ever told her mother what Down syndrome was. This gave the family hope. Janeth was in her 20s by then.
At the BCC center, Janeth learned to count, read, write and take care of herself. She had a group of friends. When the Young Adult Program started, Janeth began earning a salary for the work she was already doing around the center, and the staff helped formalize her training. They now rely on her to help with the cooking and cleaning so they have more time to care for the younger children. Janeth also enjoys playing with the younger kids. She is proud of her accomplishments and recognizes that what she has learned will be beneficial to her future.
Upon graduation, Janeth would like to continue working in the center and the church. She has become an irreplaceable member of the staff.
Elias
Elias is the youngest of six children by 10 years. When he was a year old, he began to sit up on his own, and at the age of three, he learned to walk. When he was old enough, Elias began attending the special unit at his local public school, where he learned to talk. Once, when he was still a little boy, he slipped away from his mother during church. She only realized he was gone when everyone spotted him up front dancing with the choir!
Now a gentle, kind, young man, Elias still loves to dance and sing. He is also an excellent artist. Through the Young Adult Program, he has leaned to care for chickens, clean and farm. However, he does not enjoy work that involves getting dirty, so upon graduation he will receive a loan to start his own shoe-shine business.
Stories like these wouldn't be possible without the spark that donors give to Mosaic. Donor dollars allow us to provide vocational training to young adults with disabilities in Tanzania, ensuring they will be able to support themselves throughout their lives.
Your contribution on Giving Tuesday means Mosaic can continue to embrace God's call to serve in the world.