Preparing Mental Health Professionals to Support People with IDD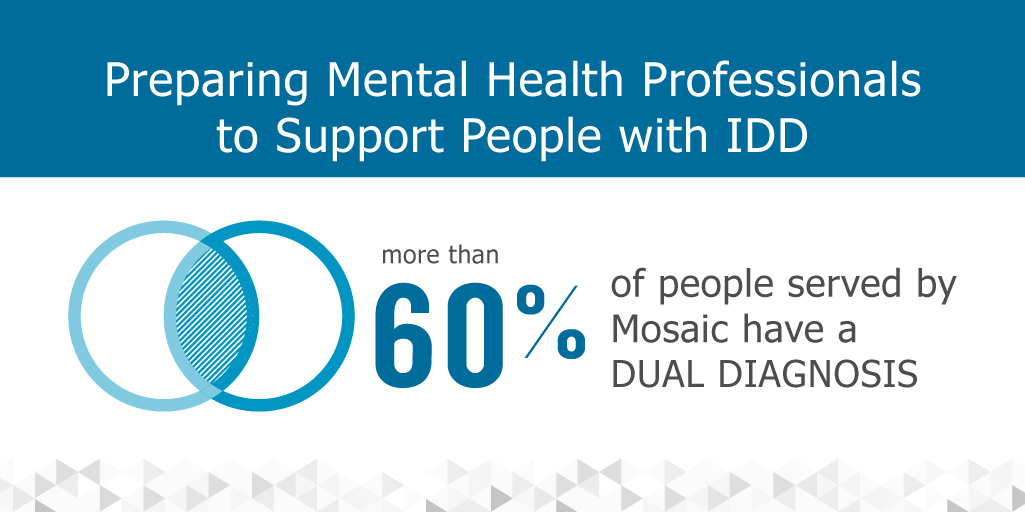 "If someone shows symptoms of a mental illness, they probably have a mental illness."
It's a simple sentence, but one Karen Fry will keep saying until it hits home for her colleagues.
Fry, Mosaic's mental and behavioral health director, is a champion for ensuring that people with intellectual and developmental disabilities have access to quality mental health supports.
It wasn't that long ago that psychiatrists and other mental health care providers thought that people with intellectual disabilities couldn't have depression, anxiety or other mental illness.
"We now know that's simply not true," said Fry, who's worked in what's called the "dual diagnosis" specialty for many years.
It's quite common now for a person supported by Mosaic to have an intellectual/developmental disability (IDD) and a mental health diagnosis. More than 60 percent of the people Mosaic supports fall into this category.
Today, Mosaic is working to build up its mental health services to support individuals who need that extra level of help, while trying to educate mental health professionals about how to work with people with IDD.
"Mental health services for people with intellectual and developmental disabilities have gotten better, but they're still not where they need to be," Fry said. "People have a hard time getting access to mental health care."
Improved funding through Medicaid and educating mental health professionals on how to serve different populations is key to moving the needle more. Fry notes that screening for mental health, especially depression, is particularly important for the IDD population.
There are two factors that influence depression: situational (the perception of a major loss) and clinical (caused by brain chemistry) People with intellectual and developmental disabilities are especially at risk for situational depression because they may lack the ability (or are not given the chance) to control situations around them, Fry said.
It's been an uphill battle, but service providers are starting to recognize the importance of it.
Key to the process is convincing psychiatrists and counselors that people with IDD can benefit from counseling and other mental health interventions. Slight modifications to typical cognitive behavioral therapy can make a huge difference.
"If you just modify it a bit it will work," Karen Fry. "Take all the good stuff you know and just modify it a little bit."
Fry also encourages providers in the IDD field and family members to come to counseling and psychiatry appointments prepared.
"It's important to work to make the counseling experience as pleasant as possible," she said.
Giving a person entering a new relationship with a counselor the dignity of not discussing behavioral issues in front of them so they can have a positive experience is a key.
"Let people communicate for themselves," Fry said. "It's a bit a little bit harder for practitioners, but it's worth it."