Mosaic at Home: Becky and Betty
One of our fastest growing service lines in some states is Mosaic at Home. It's where a qualified, independent contractor provides a shared living environment and 24/7 support to help a person or persons served acquire, retain or improve skills required for activities of daily living and to be part of the greater community.
One Mosaic at Home success story is about Rebekkah (who prefers to be called "Becky") and Beatrice (who prefers "Betty").
At a young age, Becky was entered into the state foster care system due to unfortunate circumstances. She came to Mosaic in 2018 at the young age of 15 and was placed into one of Mosaic's provider homes. She very much preferred this, as the resident setting was quieter, and she was able to focus on her work plan with Mosaic staff members to achieve future life skills.
As Becky's requirements changed, and as she needed more individualized attention, Mosaic carried out its due diligence to find someone who had the experience to help Becky with her needs–someone who would be a good fit.
"Mosaic sent Becky's profile to me, and it was a good match," said Betty Ndungu, who is a Mosaic at Home provider. "I wrote back to express that I would like to be considered." After the placement process was thoughtfully vetted, two Mosaic staff members took Becky to Betty's home.
"Becky and I clicked. During the first week, she was a bit uncomfortable, which anyone would be, and I wanted her to feel we were truly her family. I let her pick out decorations for her bedroom. I said to her 'this is your new home. You're loved and cared for here, and feel free to communicate your needs to us.' After that, she started calling my daughter her 'sister' and my son her 'brother.' I likewise told my children 'Betty is your new sister,' and they readily accepted her."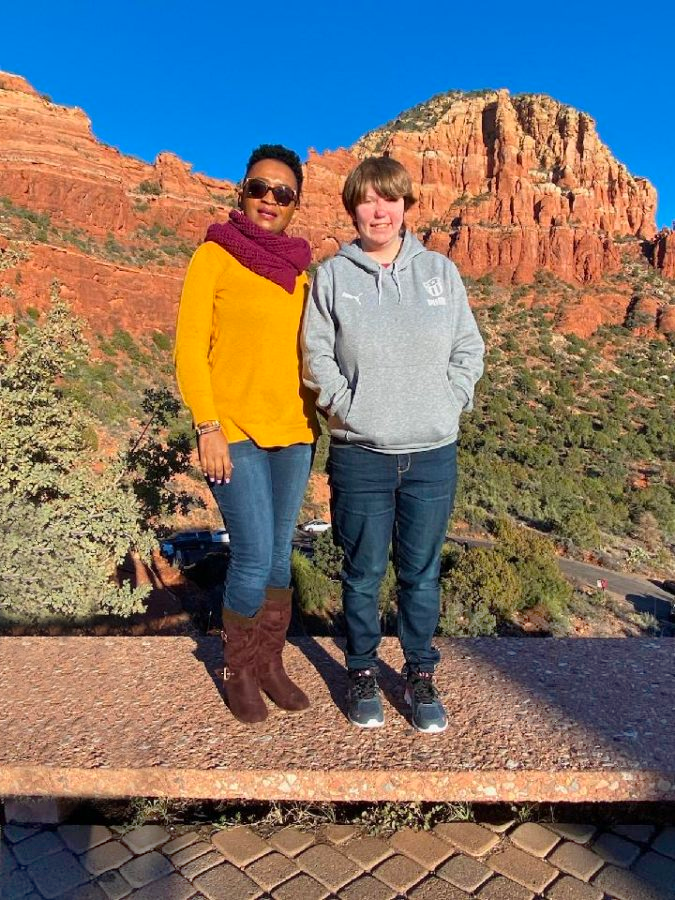 Also, according to Betty, Becky can get up in the morning, get ready for the day and tidy her room–all independently. She's actively involved in family commonplace activities, such as cleaning the house and baking. She can cook with the microwave, and also makes her own sandwiches for lunch days, such as when she attends her day program. "She enjoys spending time there. They have lots of activities throughout the day," added Betty.
"She's very kind, and you can tell she's kind-hearted," Betty said. "She enjoys her family. She loves to be with us, and we love to be with her. She loves swimming and attending Sunday church with her brother and sister. She's learned how to use the telephone, and still talks with her grandmother twice a week."
And, while sometimes she may not say much, Becky loves to express herself through writing and art. One year not too long ago, she created artwork for Mosaic in Arizona's Christmas cards and "thank you" stationery. 
"I like to draw by using a pencil, then I color it in," said Becky. "I have these ideas in my mind, and then I just make them.
One of Becky's most important accomplishments to date is her graduation from high school last year. In anticipation of the event, Betty set out to make the day more than special. 
"I bought her a nice dress, shoes, a necklace and earrings," remarked Betty. "I gave her balloons and flowers specifically for her ceremony."
"The dress was nice," responded Becky. "It had flowers and a tie in the front."
As part of the family with Betty, her son and daughter, Becky also enjoys going on trips with them–and they enjoy her being part of them, too. Last year, the family visited Flagstaff for a staycation and took in the wonder of the Grand Canyon.
Their latest trip was to Sedona. "We even enjoyed the ride there," said Betty. "And although it was a bit colder than usual, it didn't stop us: We took in the beautiful scenery, had picnics and walked Sedona's Main Street, which has wonderful shops, restaurants, galleries and historic sites.
"We haven't planned any trips so far this year," shared Betty. "But it's still early!"