Guest Post: "The truth is, this isn't a job anymore."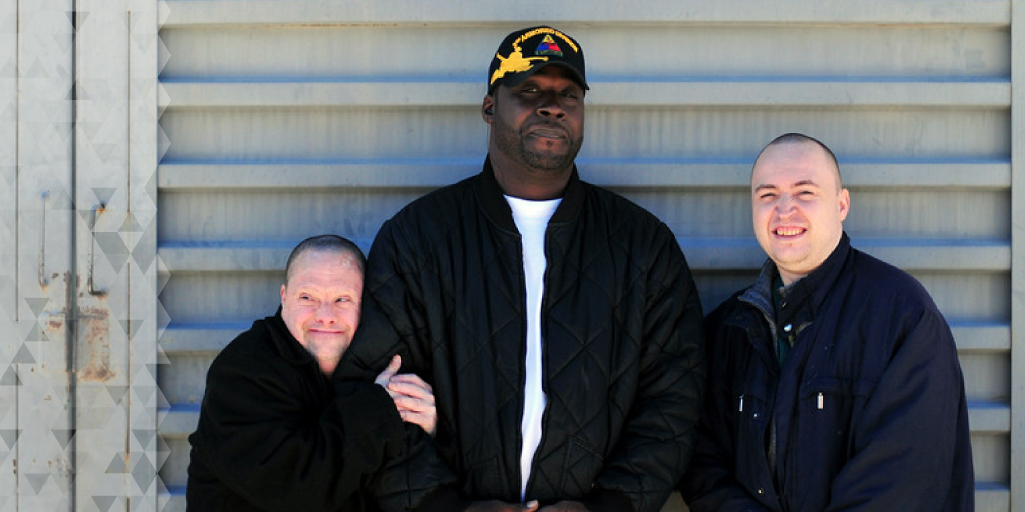 The following post is the personal story of Mark Tankersley, Ty Jarboe and William Garrett. Mark and Ty are served by Mosaic in Colorado Springs. William, their host home provider, shared this story at Mosaic in Colorado Springs' latest Partners in Possibilities luncheon, which gathers community members together to learn about and invest in Mosaic's mission.
I have been a host home provider with Mosaic – previously Martin Luther Homes – since 2000. Over the years, I have seen a lot of changes. But through it all, I have felt supported by the people at Mosaic.
I provide a home and supports for two people, Ty Jarboe and Mark Tankersley. Ty has been with me for 17 years and Mark nearly 14.
If you knew Mark when he first moved in with me, you would know how amazing this is. Mark came to me as an emergency placement through The Resource Exchange. He was being abusive to his parents and used to react violently when people tried to engage with him at the day program.
Mark couldn't understand initially why he wasn't allowed to return home. He would get agitated and very loud, pounding up and down the stairs. I would have to talk him down all the time, and I informed him that now he has two homes.
Once I established, through constant reinforcement, that I was there to help him, he slowly realized I was on his side. We drove past his parents' house and Mark started saying, "I have two homes; there's my other house."
When Mark was approved for a comprehensive waiver and became eligible for host homes, he was placed with me full-time. I was already working with Mosaic because of Ty and had good experiences, so I asked to do the same with Mark.
It turns out, Mark is not the type of person who likes to be in large places, which was a real contrast from Ty and me. Mark didn't like being at the mall, in the supermarket or anywhere with crowds.
At first, we would go to Walmart and would have to leave after a few minutes – right in and out. Mark would stare people down or bump into them to try to start a fight. I would have to step in between them to stop it.
Once, I remember stepping in between Mark and a guy who was ready to come at him. I told him Mark had a disability, and this wasn't what the guy wanted – to throw down with someone who had a disability.
Now, if Mark starts to get frustrated, I can talk him down. Where he used to look for conflict, now he avoids it.
There are six levels of service people with intellectual disabilities can qualify for through Medicaid.
Level six is the highest and means they need the most help from caregivers and programs, so they can access more government funding.
When Mark came to me, he was a level five because of his behavioral issues. Now, he is a level two.
Our connection is putting me out of a job!
The truth is, this isn't a job anymore – these guys are part of my family.
I feel grateful to have Mark in my life – I think it was meant to be. His psychologist has said to me that he is amazed at the progress Mark has made, and that has a lot to do with the trust we've built.
I couldn't see myself without Mark and Ty – they are my guys – and I would never give them up. It's not about the money, it's about making their lives better.