Talented Board Members Bring Critical Gifts to Mosaic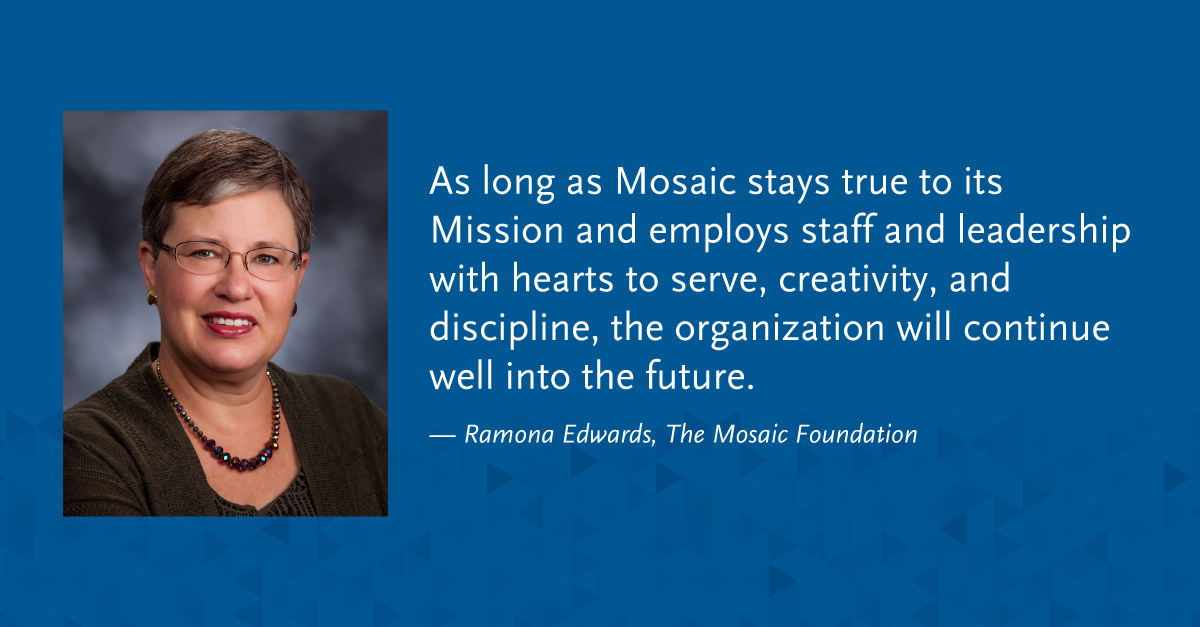 Ramona Edwards is a member of The Mosaic Foundation Board of Directors. This board receives gifts on behalf of Mosaic, oversees the disbursement of charitable gifts and investment income to Mosaic, and is responsible for the prudent investment and management of funds held in The Foundation.
Ramona Edwards has the right gifts and talents to serve on The Mosaic Foundation Board of Directors. She is a self-proclaimed "geek" when it comes to financial documents, policies and reporting. That's the perfect fit for a board that holds the fiduciary responsibility to oversee The Mosaic Foundation.
Her focus, however, doesn't end with the technical and financial aspects of the mission. Edwards's focus goes beyond that, to the heart of Mosaic's mission: how her role and decisions affect the lives of the people Mosaic serves.
Edwards is soon finishing out six years on the board. A highlight of those years, she said, was her work on Mosaic at Home, the organization's host home program.
"I believe planning for and implementing the Mosaic at Home program provided all Board members a great deal of satisfaction," Edwards said. "It was a creative solution to many challenges Mosaic was dealing with at once, including: funding, staff shortages and providing a better quality of life to those we serve."
Her professional and personal background offered strong support for her role on The Foundation Board. She has more than 30 years of experience in accounting, finance and budgeting, plus 11 years of experience specializing in governance and administration. In addition, she serves on the Nebraska Lutheran Outdoor Ministries Board and St. Timothy's Lutheran Church Endowment Board.
Edwards also is well-versed in the needs of people with disabilities, having raised a son with cerebral palsy.
"Although it is not the same as someone with an intellectual disability, I certainly learned a lot about raising a child with special needs," she said.
Like many board members before her, Edwards's best memories of her volunteer time on the board are not the meetings, immense amount of reading, or the indispensable minutiae of governance. The best memories are the relationships with other board members and Mosaic's leadership, and of the people Mosaic serves.
"Touring the Axtell campus and Mosaic's offices around the country, seeing Mosaic's mission in action with those we serve, was my favorite memory," she said.
"As long as Mosaic stays true to its Mission and employs staff and leadership with hearts to serve, creativity, and discipline, the organization will continue well into the future."
Mosaic is grateful for Edwards's service and that of other board members whose terms expire in June: Kathy Patrick and Keith Hohly.