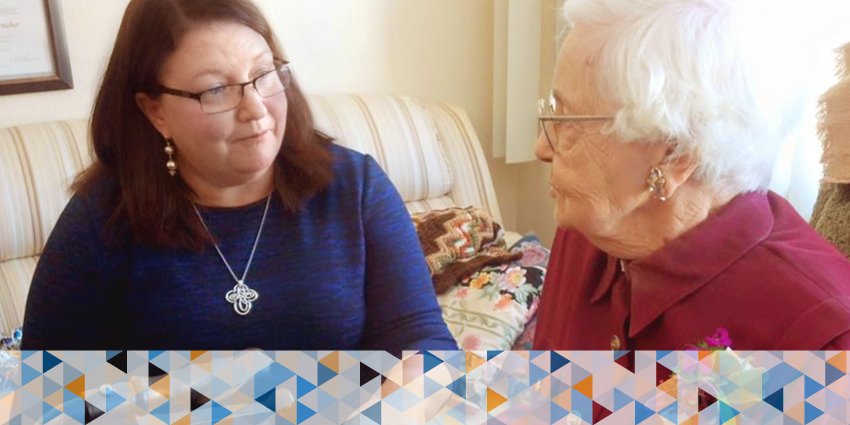 Blessed with the opportunity to celebrate the 100th birthday of a friend of Mosaic.
Two weeks ago I had the distinct honor of joining one of our long-time donors for her 100th birthday celebration.
Mildred's life is the perfect story to share this week as we celebrate Valentine's Day and Mosaic's 103rd anniversary.
Mildred knew about Mosaic from a young age. Her family supported Martin Luther Homes (now Mosaic) in Beatrice. She and her husband, Bill, lived in Beatrice when they first married. Although the couple later moved to Colorado where they built a successful carpentry and construction business, they always remembered the love and care that was shown at Martin Luther Homes.
When Bill passed away in 2009, Mildred moved into a senior living apartment and gifted Mosaic the home that the couple designed, built and lived in for more than 47 years. She also has remembered Mosaic in her estate plan.
"It is important to help others," she told us shortly after making a gift to all 36 Mosaic agencies across the United States.
Mildred is quick to talk about the many blessings she has known. They include faith, a long and happy marriage, family who care for her, good health and many other things.
"The Lord has been good to me," she says.
In 2013 when we celebrated Mosaic's centennial our theme was "a century of service, a legacy of love."
It's not a stretch to say that this theme represents Mildred and Bill's lives as well.
Her generous heart, abiding faith and sharp wit are lessons for us all.
Thank you, Mildred, for sharing your blessings and your love with Mosaic.