Creating Jobs, Teaching Students
It would probably be a toss-up if you asked who benefits more from a partnership between Mosaic in Northeast Kansas and the University of Kansas Occupational Therapy Department.
Since August 2014, the partnership has helped 17 people served by Mosaic get jobs in the community.  When you know that facts around people with disabilities and competitive pay jobs, you'll see that 17 people is a staggering success.
According to a report by The ARC from 2011, only 7 percent of people with intellectual disabilities have competitive pay jobs.  A full 85 percent are unemployed.
It's not that they don't want to work.  But it is a challenge to find work.
There are many barriers to employment for people with disabilities. Some are challenges shared with others – the right training, transportation, available work in the community.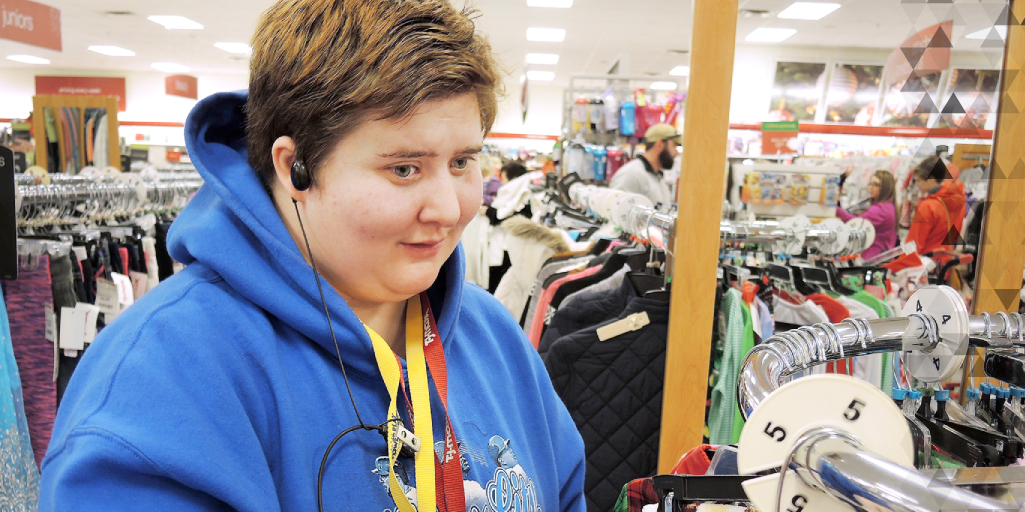 Ariel's successful journey to employment is due in large part to support she received from Mosaic's Partnership with occupational therapy students at the University of Kansas.
But another challenge is often harder to overcome: an attitude that can't see beyond disability to see a potential employee.
In that light, 17 people getting jobs is a great success. 
Right now, nine people who got jobs through the program are working, according to Evan Dean, a KU professor in the OT department.  Some of the jobs were temporary, other people moved and one person decided not to work.
But, "no one has lost a job because they couldn't do the job," Dean said.
So far, 32 OT students have participated.  The goal is to give the students real-world experience while helping people served create plans and reach goals for their lives. Jobs are just one outcome.
"This is really important because these students will work in a variety of healthcare settings and people with intellectual disability will receive better care when their health care professionals are confident in supporting them," Dean said.
But it's not just the people served by Mosaic who benefit. 
"While it is my goal to make a difference in their life, they are the ones that have truly made a difference in mine," said occupational therapy student Kaitlin Hartman. 
That's the way partnerships work, and this one is successful.