Meaningful Gift Honors Multi-Generation Legacy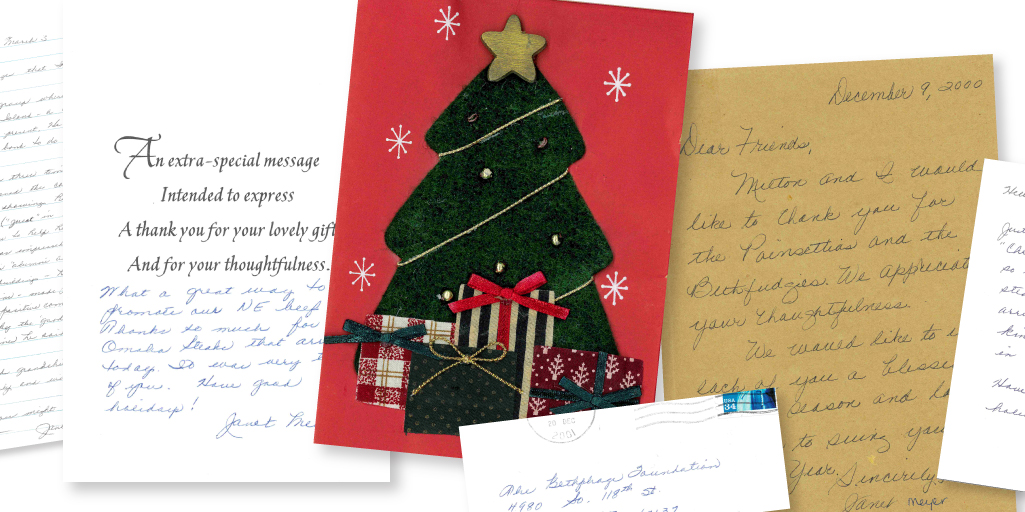 Originally a gift to Nels Lindquist from his father, a Swedish Bible has been passed down through Nels's family for generations and presently resides with Kevin Meyer, his great-grandson.
It was in the pages of this Bible that Meyer recently uncovered a receipt for a $10 gift to Bethphage, one of Mosaic's legacy organizations, dating back to 1925.
"We can now say our family has been connected to Bethphage for at least 92 years," Meyer said. "It's exciting to know we go back that far, that our family was aware of Bethphage back then and supported it."
Meyer's great-grandfather homesteaded about eight miles from Bethphage Village Campus in Axtell, Neb. and his grandparents, Carl and Esther Lindquist, actively supported Bethphage throughout their lifetimes.
"It was just something you did in Axtell," said Meyer's sister, Karna Converse. "You helped out organizations in the local community, and the whole community embraced Bethphage."
Growing up, Bethphage was simply part of life for Meyer and Converse, whose parents, Rex and Janet Meyer, were just as committed to the organization as previous generations.
"I remember going to the campus as a kid when we visited our grandparents," Meyer said. "My dad, who was a Sunday School superintendent [at our church in Grand Island, Neb.], would collect Christmas gifts for the campus every year."
"We helped collect the gifts at Christmastime," Converse said. "That was the way my parents brought the message of Bethphage to the Grand Island area."
Meyer and Converse said they feel it is important to honor their parents' legacy.
"I think it's always good to recognize and remember what was important to previous generations and learn why it was important to them," Converse said.
Meyer, who serves on The Mosaic Foundation Board of Directors, said the family's multi-generation legacy of supporting Mosaic's mission is "pretty meaningful."
"It shows our family values," he said. "They existed three generations before me and continue today. Each generation has believed in Mosaic and what it does."
"We like the story of the legacy, but it's more than that," Meyer continued. "We each make the choice to continue that legacy, and we make sure our kids are aware of what Mosaic does and why it's important to us."
Meyer's mother Janet was influential in his decision to join the Board, which she also served on from 1995-2003.
"Throughout my life, she was always supportive, but would never push," Meyer said. "Except when it came to me joining the Mosaic board. She was very direct about it and said, 'I think you should do this.'"
Upon her passing in early 2017, Janet gifted half of the proceeds from the sale of her family's land near Axtell to Mosaic – a gift that carried with it generations of meaning.
"The land had only ever been in our family's hands," Meyer said. "By donating the proceeds of the sale to Mosaic, that land continues to support the values of our family."
Meyer shared that his family discussed the decision to make this gift in advance.
"It's an important conversation for people to have," he said. "What your parents' estate plan is, what gifts they'd like to make through that plan and then supporting choices that are important to them."
"Mosaic was very important to my mother for many different reasons," Meyer said. "It was a real tie to her childhood and lineage. One of the reasons she made a gift of this magnitude is that it became a gift from her family. She had a great emotional attachment to that land, as well as an emotional attachment to Bethphage. She was proud that something that started in Axtell has now expanded far beyond Nebraska. She had trust in the people at Mosaic and the way they led the organization. Because of that trust, she felt comfortable making the gift."
"Mom was always proud to say she was from Axtell and proud that the community supported Bethphage," Converse said. "She was also proud of the forward movement of the organization, making it stronger and more viable for the future."