Partnership with Phat Jack's BBQ is a Win-Win
Almost every weekday over the lunch hour, you'll find Greg Otto working at Phat Jack's, a barbecue restaurant in Lincoln, Nebraska. He fills and organizes the utensil bins, wipes the barbecue sauce from the countertops where eager-to-eat customers leave a mess, cleans tables and more.
He smiles through it all and clearly enjoys his work.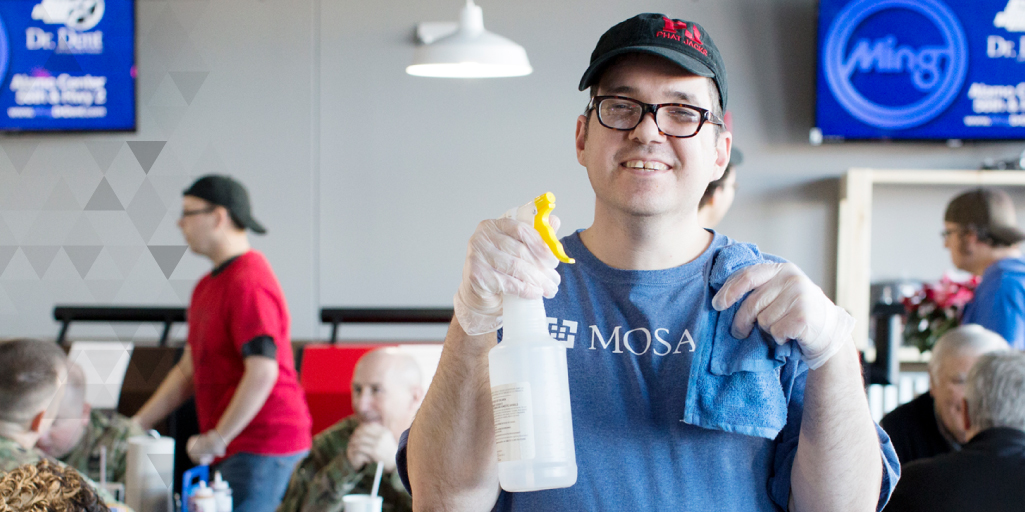 Greg is one of several people with disabilities employed at the restaurant. The jobs are the result of a unique partnership between Mosaic and Phat Jack's: Mosaic provides and pays job coaches to help the individuals it serves do their jobs well, and the individuals earn a wage of $9 per hour.
Not that long ago, the only option available to people like Greg was often doing piecework in a workshop, separated from the public. Both a Supreme Court decision and the growing awareness that workshops aren't the best answer are fueling change.
The 1999 Olmstead decision by the Supreme Court ruled that people with disabilities should be served in the least restrictive, most integrated environments possible. Residential options for people have multiplied since then, and the growing popularity of host homes proves that many people desire that degree of freedom.
Finding integrated work options has proven more elusive. Yet, the desire to work is commonly at the top of the list when people with disabilities name their goals.
The Lincoln partnership was born of necessity: if you can't find the jobs, create the jobs.
A few years ago, Kim Boyce, the founder of a disabilities service provider which is now part of Mosaic, approached the restaurant owner with an idea. Kim wanted to create a new day service center with both a restaurant and a retail partner to provide work options for people at that site.
Cross training employees from both organizations was necessary to get the site up and running; the job coaches learned about food prep and secured food handlers permits (as does each person Mosaic places there), and the restaurant employees learned about working with people who have disabilities. February 1 will be the first anniversary of this partnership.
Six individuals from Mosaic work from 10 a.m. to 2 p.m., assisted by three job coaches. They do a variety of jobs, but the most public is serving the customers their meals.
"We've received a lot of feedback from customers who will say, 'I'm coming back so I can support them,'" Boyce said.
Boyce noted it serves as a natural outreach and way for the public to learn about disabilities.
"The customers know that Phat Jack's has partnered with Mosaic and they get a sense of people getting help," said Jackie Miley, a job coach. "They see them as people who have a job."
Miley also sees changes in the people she assists. One woman, she said, had a previous poor experience at a restaurant where she wasn't treated with respect. Now, because she has real responsibilities and feels included, her outlook has changed.
"They have a positive experience working at a real job in the community and they get a real check," Miley said. "They experience being part of a team."
February 1 will mark the first anniversary for several of the individuals Mosaic serves working at Phat Jack's. That is a milestone worth celebrating.