Service and Justice Trip Shatters Student Expectations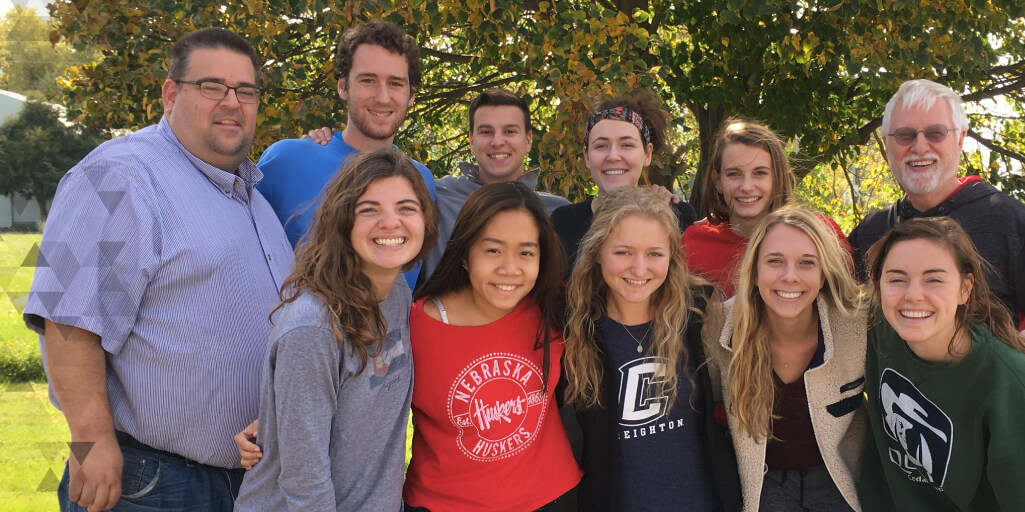 "There was no huge moment in Axtell, but everything little makes so much sound there," said Emmali Munger, one of nine students from Creighton University who spent their fall break at Mosaic in Axtell.
Over the past several years, nine student groups from Creighton's John P. Schlegel, SJ, Center for Service and Justice (SCSJ) have elected to spend their spring and fall breaks at Bethphage Village in Axtell, Neb.
This meaningful partnership was initiated through conversations between David deFreese, Vice President of Church Relations at Mosaic, and the Rev. H. Ashley Hall, an associate professor in Creighton's Theology Department.
"I love that the students come to Axtell, and they're simply friends for the people we support," deFreese said. "I also love the impact it has on the students. I think they gain a deep appreciation for what our direct service staff does."
Curtiss Dill, Executive Director at Mosaic in Axtell, said the service and justice trips have a positive impact on the lives of people in service.
"The positive gains for us through this partnership are tremendous," he said. "These students bring a positivity and energy to our campus that is contagious, and you cannot put a price tag on the time spent with our people in service. The simple act of talking with another person and spending time with them cannot be underestimated, and many of the people we serve long for those personal relationships. While for these students, this could be just a moment in their lives, for the people we serve, this could be the chance of a lifetime."
Munger and Michael Mimlitz, both Creighton seniors and co-leaders of the most recent SCSJ trip, said the experience challenged their preconceived notions about people with disabilities.
"Frankly, we were intimidated about communication coming in," Mimlitz said. "But we just went in with an open heart and open mind."
"We first thought we only had this one way of communicating," Munger added. "But by day five, we were laughing with the people in service and communicating in a different way."
"I really wanted some kind of verbal affirmation in the beginning," she continued. "But by the fifth day, I was having real conversations, but through gestures and smiles. In our daily lives, we take simple gestures for granted. In Axtell, a smile makes your day."
While there are 25 different placement options through the SCSJ, ranging from West Virginia to El Paso, Munger shared that Axtell was her top choice.
"I had heard good things, plus I took a class called the History of Disability," she said. "Reading about it is different from experiencing it. It's a lot easier to disconnect yourself. When you're with someone in presence, you build a relationship."
Munger and Mimlitz said trips through the SCSJ extend beyond service and inspire students to offer a voice for those whose voices are often not heard.
"Students spend the week in community with a group of people that suffer some form of injustice," Mimlitz said.
"It's not just about a service trip and it's not just ministry," Munger added. "We learn a lot about advocacy on these trips. We talk about what's next."
To this end, the students had an opportunity to put their newfound knowledge to work.
"We went to a Discover the Possibilities event and talked with Pastor John [Gosswein] and Curtiss about different political issues hamstringing their funding," Mimlitz said. "The Schlegel Center also put together packets on ableism for us, and we got to contact our representatives."
Dill said he hopes the students will carry this experience with them throughout their lives.
"It isn't what we gain as an agency from these kids now, but maybe what people living with disabilities will gain from them in the years to come," he said. "My hope is as these students spend time with us and the people we serve, they are learning and growing. They are learning patience, tolerance and love for their fellow human being. These kids are our future and to willingly give of themselves at this point in their lives, leaves me hopeful for all people with intellectual and developmental disabilities long after I am gone."