Have I got a story to tell you!
Well, really dozens or hundreds of stories, each one sure to make you smile, laugh and, maybe, cry.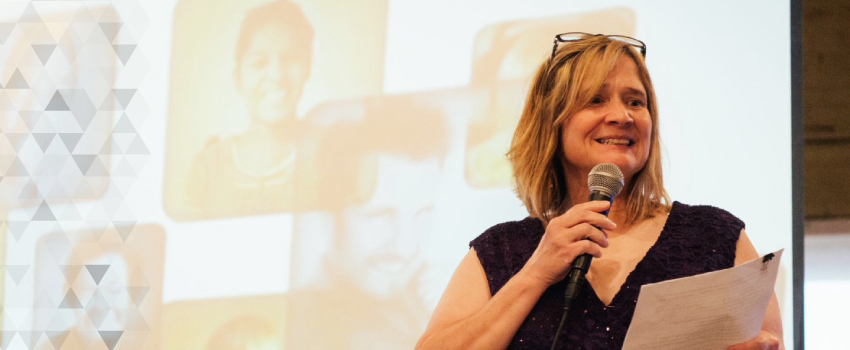 Mosaic is finishing up its spring season of fundraisers, events that are called Partners in Possibilities. They're breakfast meetings and luncheons that share our mission and feature a local speaker telling about how Mosaic changed their lives.
Here are some of the things those speakers have shared:
"Benjamin became the complete person God had always intended for him to be. He became a person who then had friends, who had a job, who would come home every day and say, 'Mom, I worked hard.'"

"I quickly knew that the people at Mosaic became the friends I never had."

"Mosaic helped my brother feel empowered and capable, provided meaningful and satisfying opportunities, helped him see new possibilities, encouraged his spiritual side, and most of all, supported him in leading a joyous life!"

"I have a plaque that says 'Fear Knocked at the Door. Faith Answered. No one was there.'  We have faith in Mosaic and fear no longer knocks at the door."

"(We) have discovered it is indeed possible to just breathe and know our son is well taken care of by a very dedicated team … We can also rest assured after we are no longer a part of Michael's life, that he will have a full life that supports all his interests."
I have often said that Mosaic is the best-kept secret in town. Our staff members and the host home providers who work with us do incredible things for people every day. But since we don't put our logo on our vehicles or have our staff members wear identifying clothing, what we do often isn't visible.
Our goal is to be the invisible support, standing silently in the background, giving direction as needed.
But to help people live the lives they deserve, we have to raise funds. Funding for the services that Mosaic provides has not kept pace with inflation and, in some places, we've seen reductions in funding. That leaves a gap between what is needed and what is funded.
We stand in that gap. Our donors stand with us. We'll never be shy about asking people to join with us as donors and volunteers.
The mission deserves it.
The people we serve deserve it.
Thank you to our generous donors and partners. You help create great stories!