Jesus said, "Very truly, I tell you, unless a grain of wheat falls into the earth and dies, it remains just a single grain; but if it dies, it bears much fruit." – John 12:24
"This is from God, who reconciled us to Himself through Christ; that is, in Christ God was reconciling the world to Himself… For our sake He made him to be sin who knew no sin, so that in him we might become the righteousness of God." – II Corinthians 5:18
In this unprecedented somber season, a recurring question I have heard is, "Do you think God is trying to tell us something?"
Although Jesus was incredibly kind and patient, and I have no idea what he looked like, my best guess is that he had a flat forehead from slapping it so often as people asked evident questions.
God says something marvelously profound each time a baby is born; every morning the sun rises; each time a seed sprouts or a bud blossoms; and in the beauty of all rainbows. God has revealed God's heart in the rhythms of nature, in the gift of music, in the gorgeous variety of colors and creatures that compose the world God created. God communicates hope and love time and again.
During this Holy Week, we journey one more time through the reality of our faith. No story has more significance than this: the death and resurrection of Jesus. Sadly, this oft-repeated story of Christ's Passion can become too familiar, too formalized for us to experience the wonder and gravity of what God's grace means. But maybe not this year. Maybe we are listening differently.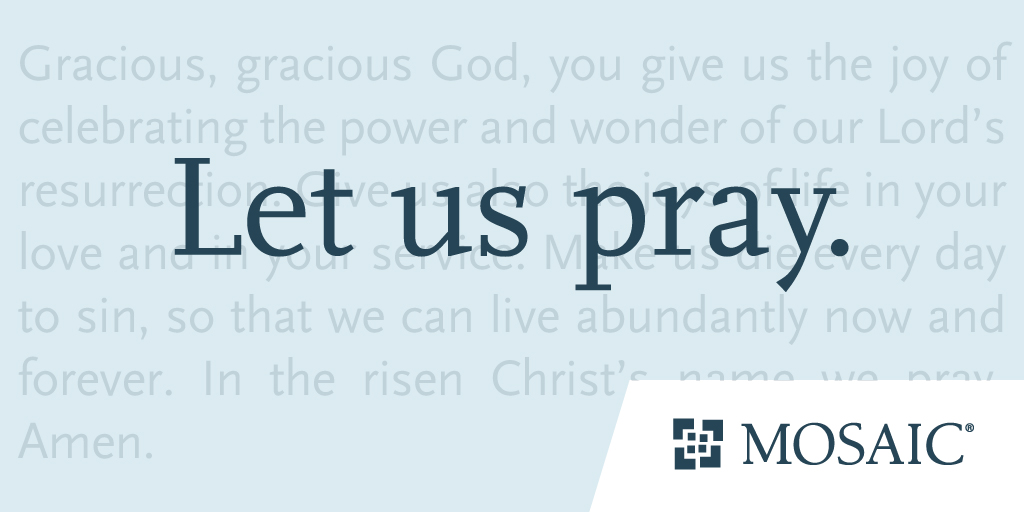 God is saying to us in crystal-clear terms, our lives matter. While evil and darkness are prevalent, gracious love and the light of hope are more powerful. God has entered our deepest suffering and our most horrific fears. Good Friday confronts us with the fact of evil and human selfishness and death. The cruelty and abandonment of the Cross confront us.
But God transforms that weapon of tragedy into a symbol of triumph; an emblem of love beyond our greatest imagination. Easter is the celebration that God's love is thoroughly victorious, that love defeats death and darkness, and that God is God.
As our Mosaic campus pastors say, "God turns ow into wow!"
"Do you think God is trying to tell us something?"
Theologian Soren Kierkegaard wisely stated, "Life can only be understood backwards; but must be lived forwards." We live today and understand it better looking back from tomorrow.
What do we know? What does Holy Week teach us? God's love is victorious. Faith in God is faith in love and life. Life is still a gift. God still abides. "Christ is risen! He is risen indeed!"
Gracious, gracious God, you give us the joy of celebrating the power and wonder of our Lord's resurrection. Give us also the joys of life in your love and in your service. Make us die every day to sin, so that we can live abundantly now and forever. In the risen Christ's name we pray. Amen.