A Homecoming, a Reunion of Cherished Souls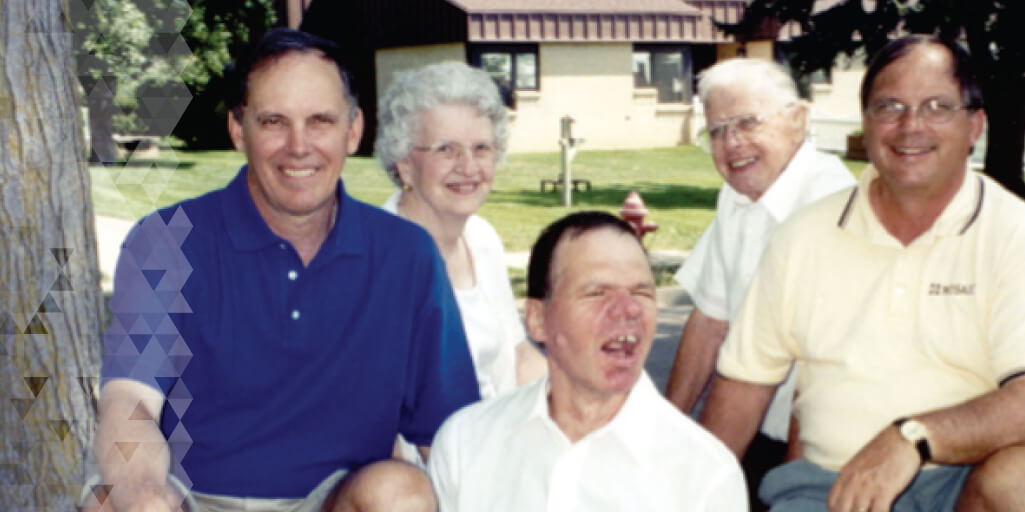 Tommy Bina was at the center of his family, in life and in death.
In 1967, Bill and Myrtle Bina moved from Chicago to be near their son, Tommy, who was living on Mosaic's campus in Axtell, Neb., then known as Bethphage. Tommy died in 2007 and was buried in the Bethphage Cemetery. The next year, his parents moved to Macon, Ga.
Recently, within weeks of each other, the couple passed. Today in Axtell, Bill and Myrtle are once again joining Tommy as their family gathers to bury the couples' cremated remains next to Tommy.
The following story about the Binas appeared in Mosaic's Centennial book, "The Reason We Exist: Stories of Mosaic's Call to Serve." The photo (above) shows Tommy in the center with his parents and two brothers.
Tommy Bina inspired three generations of family members and friends to join in Mosaic's work.
Across the years, his parents, Bill and Myrtle, wholeheartedly embraced Bethphage's mission, and many others followed them.
Tommy, born in 1948, was a healthy, active baby during his first nine months. Then, the seizures came, along with a tuberous sclerosis diagnosis. Caring for him became an extreme burden, as he required 24-hour assistance with the most basic activities of daily living. The Binas were concerned his brothers—Bill III and Peter—eventually would be called on to care for him.
Tommy was 6 when the Binas began the process of finding him a loving home with a Christian atmosphere that could handle his needs. A co-worker at the Santa Fe Railroad suggested to Bill Bina that the family contact the Rev. Arthur Christenson at Bethphage. Eight years later, they heard from the Rev. Herbert Ekerberg, who told them he could accommodate Tommy in three weeks.
The Binas traveled by car the more than 600 miles from Chicago to Axtell, Neb., driven by the hope that Bethphage would be the answer to their prayers.
"It was there that we left him with people he did not know and we did not know," Bill Bina said.
They returned a month later during mealtime and were happily astonished. At home, Tommy's favorite meal was breakfast, and he would not try a variety of foods. His parents were amazed that Craig Swanson, a 12-year-old with Down syndrome, was patiently feeding Tommy regular dinner fare, such as vegetables.
Tommy smiled at his parents and, for the next 44 years, he jumped for joy when he recognized a family member.
As time went on, he was attending church services, going to the gym and enjoying music. New adventures, such as overnight outings and visits to restaurants, also became a custom.
His father continued his career at the Santa Fe Railroad, and Myrtle Bina began working as a church secretary. About every three months, they visited Tommy, ultimately choosing to be more involved in his life and of those with whom he became acquainted.
Five years after Tommy moved to Axtell, they followed him to help care for Bethphage's guests. Myrtle Bina became the food manager, overseeing meals delivered to 300 guests from the new, central kitchen. Bill Bina became the personnel director.
Kidney disease, and many other health issues related to tuberous sclerosis, claimed Tommy's life, but he ignited a tradition of service that continues today.
His brother, Peter, began Bethphage work in 1969, while attending Kearney State College. He met and married Pam Witte, also a Bethphage worker. Today, Peter serves as a Mosaic development officer for the Texas and Arizona regions. Peter and Pam's daughter, Keely, was a Mosaic summer worker.
Bill III is dean of the medical school at Mercer University in Macon, Ga. Along with other family members, he and wife Gayle are Mosaic donors. Myrtle's sister, Mildred Helwig, joined the work, as did lifelong Chicago friends Henry and Dorothy Wendling and their son, Ken.
"Tommy could not talk," the Binas said, "but he communicated with his eyes and big smiles the goodness and graciousness that he received from Bethphage and Mosaic. We are grateful for the services many people performed for Tommy and his friends."
For more information on Mosaic's history, visit here.