All the World Loves a Love Story!
All the world loves a love story, they say. At least I know I do! 
In the years I have been serving people with intellectual and developmental disabilities, I've been thrilled to see changing attitudes. People with disabilities are now finally understood as whole persons, with a full range of feelings. 
Which is why the story I'm sharing today is so sweet.
It starts pretty simply: Michelle and Dakota are in love and want to be married. 
Both of these young people have Down syndrome and both were blessed with parents with high expectations. 
"We have always treated Dakota just like our other kids, expected him to do what he could do to the best of his abilities," said Teresa Armbruster, Dakota's mom. 
The same was true for Michelle, according to her mother, Lori Broady. So when Michelle wanted to go to college just like her sisters, the family looked for options. They found a great opportunity for Michelle on one of Mosaic's campuses, where she shared her living space— similar to a college dorm. 
The plans were clear: Michelle would spend two years on campus, learning independence, and then move on. Michelle would not grow up and simply become an "extension" of her parents, Lori said. 
"I wanted her to have a life," she said, "I think it was the best possible thing that we could have done for Michelle. It allowed her to become Michelle instead of Jeff and Lori's daughter." 
Whether the people we serve live on one of our campuses, live on their own with daily supports, or live in a host home or in a group home, our goal is to help them become as independent as possible. Michelle is a great example of that. 
And Dakota thinks she's even more. 
"She looks like an angel," he said.
The two grew up in rural communities and had known each other in high school and bonded over a shared love of dancing. But when school ended, they lost touch. 
A few years later, in 2017, they reconnected on the dance floor at a People First convention (People First is a self-advocacy group). They've been together ever since. In fact, it was at the dance during the last People First convention that Dakota got down on his knee and asked for Michelle's hand.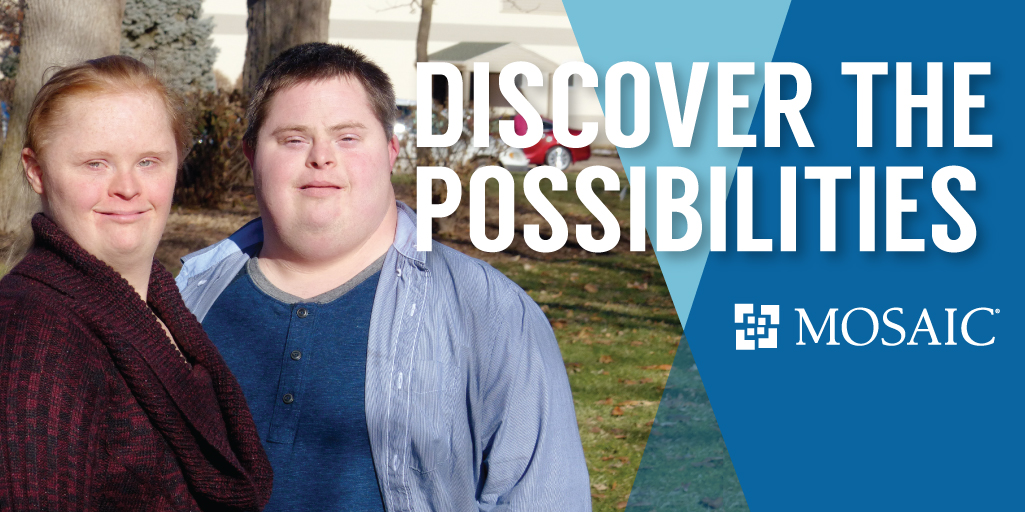 Both Dakota and Michelle had dated others through the years. But they're clear, there's no one else now. 
Michelle, who is quiet and reticent, talks on the phone with Dakota for an hour every evening. She readily walks hand-in-hand or arm-in-arm with him, and rests her head on his shoulder.
"In a dream about my grandma," Michelle said, "she said she loves him." For Michelle, that sealed the deal; Michelle's grandmother had passed away recently.
The couple are both 25 and Dakota said he's not getting married until he's 30. They're planning a long engagement! Whatever their future holds, Mosaic will be there to support their relationship.
That's why your gifts to Mosaic are important. Your gifts help us provide opportunities for people to explore life and discover what they love—or maybe even whom they love. Your gift may help someone attend a convention they could not otherwise afford, visit summer camp for a day or even buy a special shirt for a first date. The ways your gifts help are endless.
All the world loves a love story. Please send a gift to show you do too, and help others experience the fullness of life.