Employment Allows George to Provide for Himself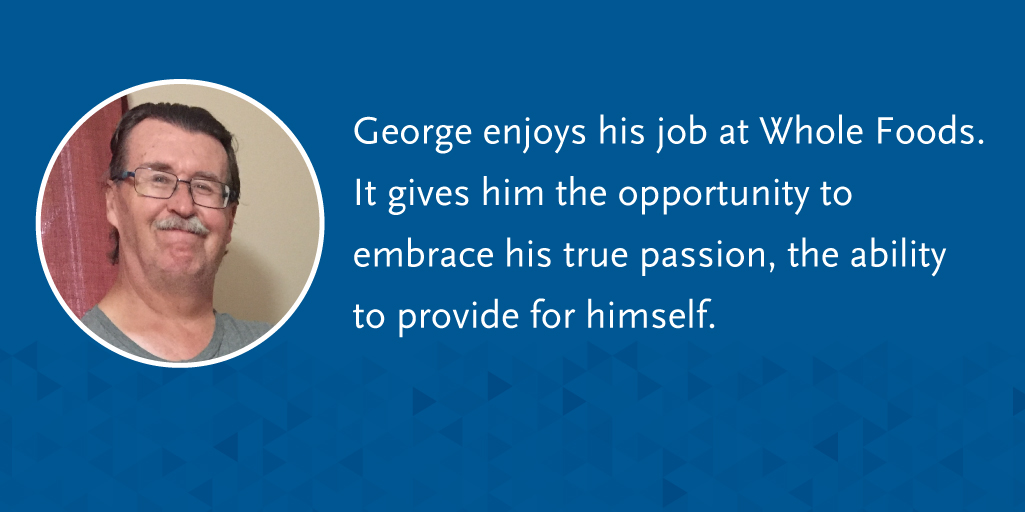 George is no rookie when it comes to the grocery industry. In fact, he has worked for different grocery stores in Fort Collins, Colorado for more than 22 years.
Currently, George works part-time for Whole Foods; he's been employed there for 10 years. He enjoys his job and has nothing but nice things to say about the people he works with.
Having a job gives George the opportunity to embrace his true passion: the ability to provide for himself. For many of us, this ability is taken for granted.
George, however, understands how far he has come since he had an accident that left him with a severe brain injury many years ago, and takes nothing for granted.
George's hard work and desire to provide for himself resulted in him purchasing his own home 12 years ago – an accomplishment anyone would be proud of.
With the help of his family and a contractor, he has been able to make several improvements to his home and has plans for more, including new flooring and cosmetic updates to his fireplace.
As George gets closer to retirement, he is mapping out the next stage of his life. He wants to make sure all of his financial responsibilities will be taken care of and he can live comfortably.
He is also looking ahead to end of life. George has already planned his final arrangements and is making monthly payments so that burden is not left to his siblings when he passes.
George is like so many other people working hard to provide for themselves. He is focused on his goals and determined to see them through.
Inclusion works, and George's story is just one of many that shows people with intellectual and developmental disabilities are productive, contributing members of their communities, given the right support.