Labels are for jars, not people.
That was part of the sentiment at Mosaic when updating the organization's mission statement, which now reads: Embracing God's call, Mosaic relentlessly pursues opportunities that empower people.
The mission statement no longer calls out "people with intellectual disabilities." The change reflects the reality of Mosaic services today and the organization's direction for the future.
"People don't want to have labels applied to them," said Linda Timmons, Mosaic President and CEO, "and while the majority of people Mosaic supports have an intellectual disability, it does not apply to everyone we serve."
"It kind of made me feel like a misfit," said Michael Martin, a person supported by Mosaic. "I didn't fit with the label."
Martin, age 26, has cerebral palsy with some accompanying medical needs. He said he had been "in and out of nursing homes" for three years prior to coming to Mosaic two years ago. Mosaic now addresses all of his health needs, he said.
"Living in the nursing home and living in situations where it hasn't been so pleasant makes me want to advocate for people who cannot advocate for themselves," Martin said.
He is active in a local self-advocate group and is a member of the Iowa Olmstead Community Taskforce, which works to ensure the full inclusion of people with disabilities in all areas of daily life.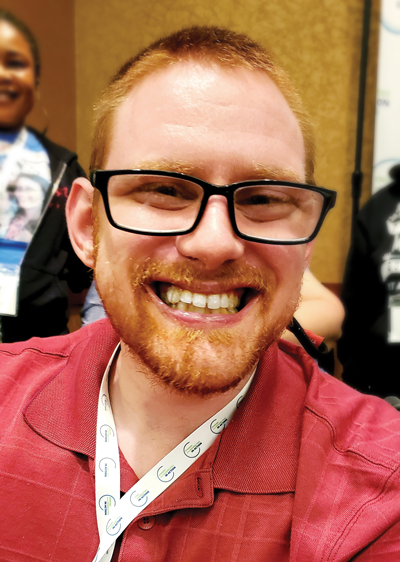 "I think it's good that they're getting away from (labels) because people pay attention too much to the disability and they don't pay attention to people's abilities," he said.
Mosaic supports people with diverse needs, including people with intellectual and developmental disabilities, mental and behavioral health needs, autism and seniors.
"There is no one word to describe all of the people Mosaic supports and all of the services we provide," Timmons said. "In the rapidly changing healthcare and social services environment, we anticipate the organization will be meeting new needs for people in the future."
Diana McCalment, a former member and chair of the Mosaic Board of Directors, saw implications in the move from labels that go beyond perceptions.
"I think so many of the people that we serve get stuck with only services provided for people with intellectual and developmental disabilities," McCalment said, "when there could have been so many other services that they were eligible for that no one even considered."
McCalment, who serves as the chair of the state plan committee for the Developmental Disabilities Council of Oklahoma, said removing the label will be good for community inclusion. Special programs for people with disabilities not only require additional funding, she said, but also tend to separate people from the community rather than integrate them into the community.
The change in Mosaic's language is encouraging, she said, and fits the direction young people are going today.
"Younger generations are far more welcoming to the people we support," she said. "They are resistant to labels and tend to be more inclusive diversity-wise. I'm very encouraged.
"We'll get to the point where people see us as a necessary and valuable part of the community."
Timmons said the change in language does not diminish Mosaic's call to serve people with disabilities, noting they are and will be the largest group Mosaic supports.