Mildred's Legacy of Love Continues
Although COVID-19 has continued to present one challenge after another to Mosaic, the people we support and our nation, I am nonetheless filled with HOPE beyond measure.
Why?
Every day of my more-than-35-year career at Mosaic, I have met someone who inspired me about the future of this mission. One of those people is Mildred Nienaber, an unforgettable woman I have been blessed to get to know.
Mildred is nearly as old as Mosaic itself. She is 104, and Mosaic is 107. But that's not the only similarity.
Mosaic's purpose statement says, "We are called to love and serve." If Mildred had a formal purpose statement, I'd imagine it would say the same thing. Mildred's life has been about loving and serving people, both those who are close to her and many she has never even met.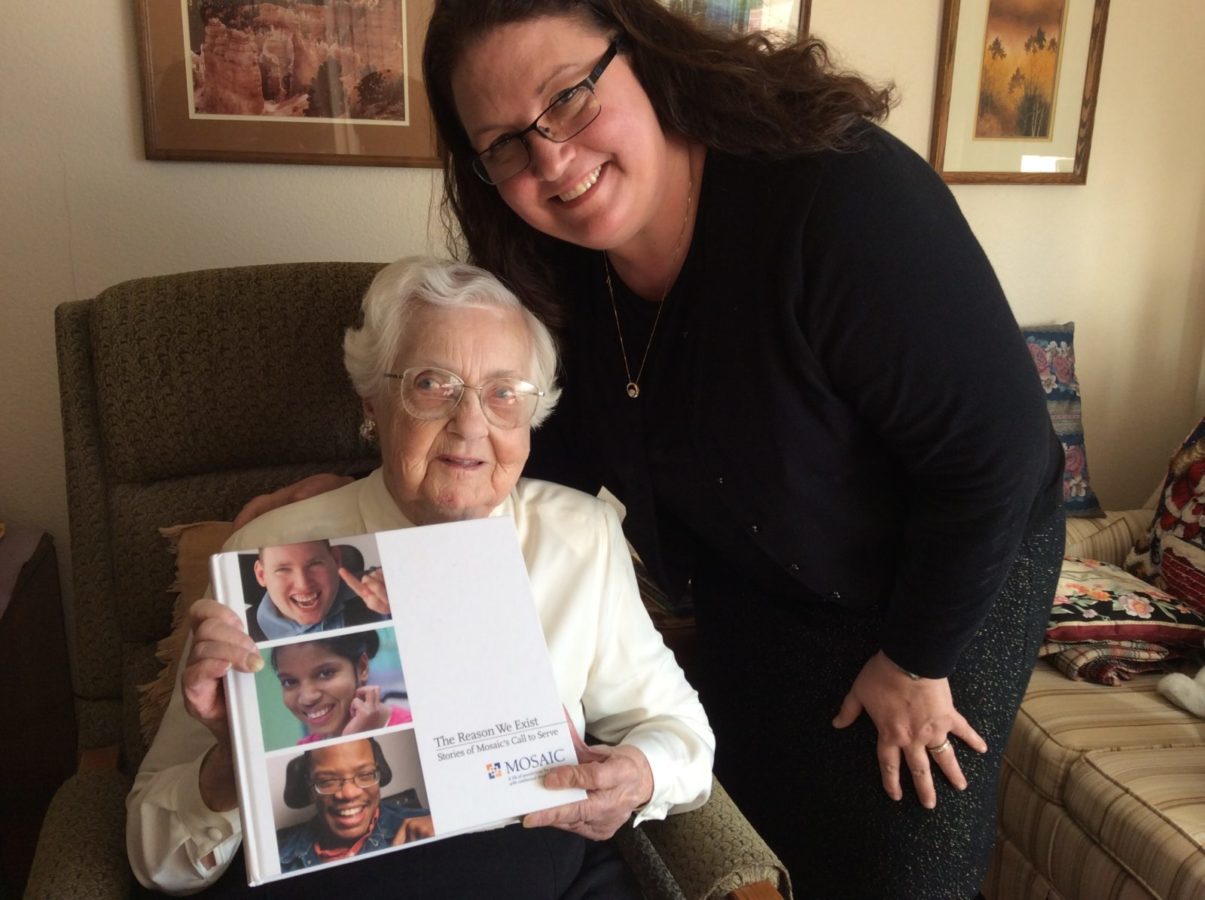 Loving, serving, and giving are all part of Mildred's DNA.
I first met Mildred close to ten years ago, shortly after she decided to sell her Boulder, Colorado home. It was not just a house to Mildred, it was the home she and her husband of 58 years, Bill, had built together in 1959. It carried the memories of their love-filled marriage, and the mementos of a happy life together.
"Building the house was different than buying a house," she said. "I think we loved every inch of that house. It meant a lot together."
Mildred decided the house could continue to be a source of love for others as a gift to Mosaic. The home, readily showing the care of a couple who loved it, sold quickly and Mildred gave the sale proceeds to Mosaic where others could benefit from the couple's love.
"It is important to help others," Mildred said.
This year, Mildred has given Mosaic a matching gift challenge of $25,000 for Giving Tuesday. It's not the first time she has done this. Mildred's hope is that her gift will inspire others to give – because she knows how important it is.
That's why I never have lost hope – indeed, I have hope beyond measure. Every gift supports people we serve, but every gift is also an affirmation of the work our direct support professionals (DSPs) do every day to help people have a good life.
Right now, that kind of affirmation is needed. COVID-19 has brought many challenges, as I noted. Our DSPs have been loyal and committed to the people they serve. It is not an exaggeration to say that serving people whom you know have coronavirus is putting your life at risk – yet hundreds of our DSPs have done just that across the country. These incredible professionals also inspire me daily.
That's why I have HOPE beyond measure. This Giving Tuesday, affirm that you do too.