Partners in Possibilities
From the President
During 2018, I had the opportunity to visit with hundreds of people who are engaged in our ministry of service and advocacy. While the intention behind these conversations was developing Mosaic's next strategic roadmap, it was also a terrific opportunity to take a deep dive into the principles we hold dear. One clear theme quickly emerged: partnership.
One of the partnerships we're excited about is our Partners in Possibilities Giving Society, which we began about seven years ago. Members of the society support Mosaic through a multi-year gift pledge. We've included a short story about one of our partners in this report.
Partners in Possibilities is the name of our sustainable fundraising program. It gives us the opportunity to share Mosaic with new audiences. Thousands of people now hear Mosaic's story every year at events called Discover the Possibilities.
Our message is simple: Mosaic partners with people to create a meaningful life in a caring community, giving a voice to their needs. Seeing our work in action, many people respond and partner with us as a donor or volunteer.
I'm also pleased to share a new area where we're having impact — senior services. In 2018, Mosaic acquired Soreo In-Home Supports in Arizona. I'm excited about this new line of service; we help seniors and others who have a physical or intellectual disability be as independent as possible. It aligns nicely with our mission of service and love.
Soreo is only the start of our plans to expand Mosaic's services in ways that align with our core mission and values. You can expect to watch Mosaic grow and evolve in the next few years.
Thank you for being a partner with Mosaic. Together, we are making a difference in people's lives and in the world.
Sincerely,
Linda Timmons, President and Chief Executive Officer
Meaningful Life
Mosaic empowers people in their unique pursuit of happiness. Providing truly personalized services, Mosaic helps people achieve their goals and dreams.
Surprising Moments
Work at Mosaic is filled with surprising, spontaneous teaching moments such as this one:
Shari, a woman served by Mosaic, was attending an art event as a volunteer. When she saw a piano, she sat down and started to play.
No one knew Shari could play the piano.
She played passionately and from memory, including gospel, traditional tunes, nursery rhymes and classical pieces.
On the drive home, the staff member with Shari asked how she became such a talented pianist:
Employee: Shari, did you have a piano growing up?
Shari: Oh, no.
E: Did you ever take piano lessons or have a piano teacher?
S: No. No, I didn't.
E: Did anyone in your family play the piano?
S: No. Just me.
E: Who taught you how to play? How do you know all those songs?
S: God teaches me how to play. He teaches me the songs I need to know.
Life doesn't always work the way we think it does; the answers we expect aren't the ones we get. Those are teaching moments—and we're the ones being taught.
How We Serve
Mosaic supports the needs, goals and dreams of people with intellectual and developmental disabilities through personalized services focused on community integration and relationships.
People Receiving Services in the Home
Mosaic supports 2,988 people through services in the home including 24-hour residential support, host homes and supported living services.

 24-Hour Residential: 1,540


 Mosaic at Home: 1,046


 Supported Living: 402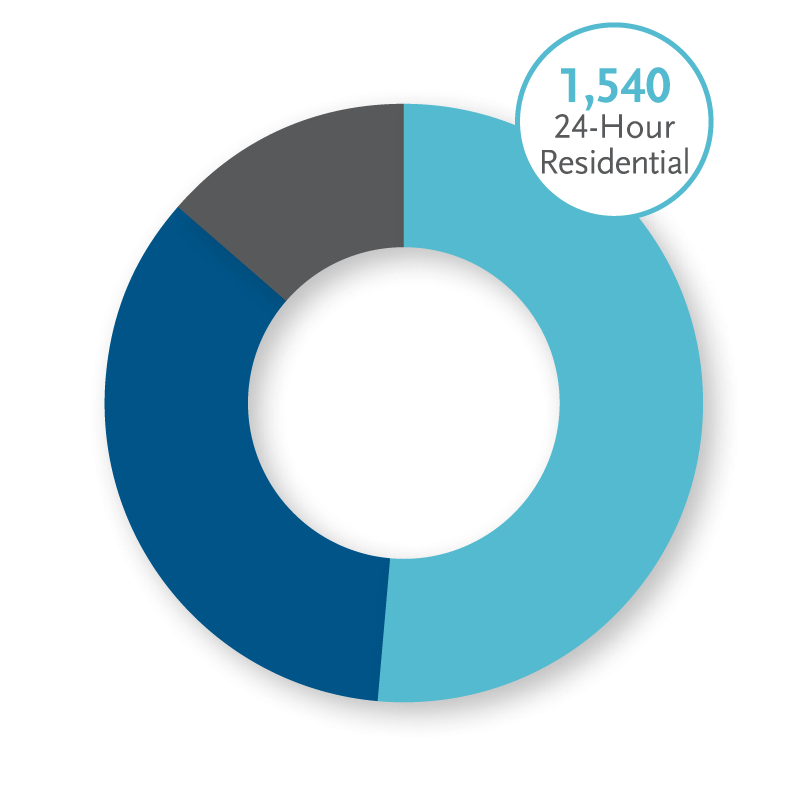 People Receiving Services in the Community
Mosaic supports 1,173 people through day services, which include a broad range of supported employment, community participation, leisure and recreational activities.

 Day Services: 1,173


 Medical/Behavioral: 227


 Case Management: 186


 Employment: 90


 Special Education: 33


 Transportation: 10


 Small Businesses: 10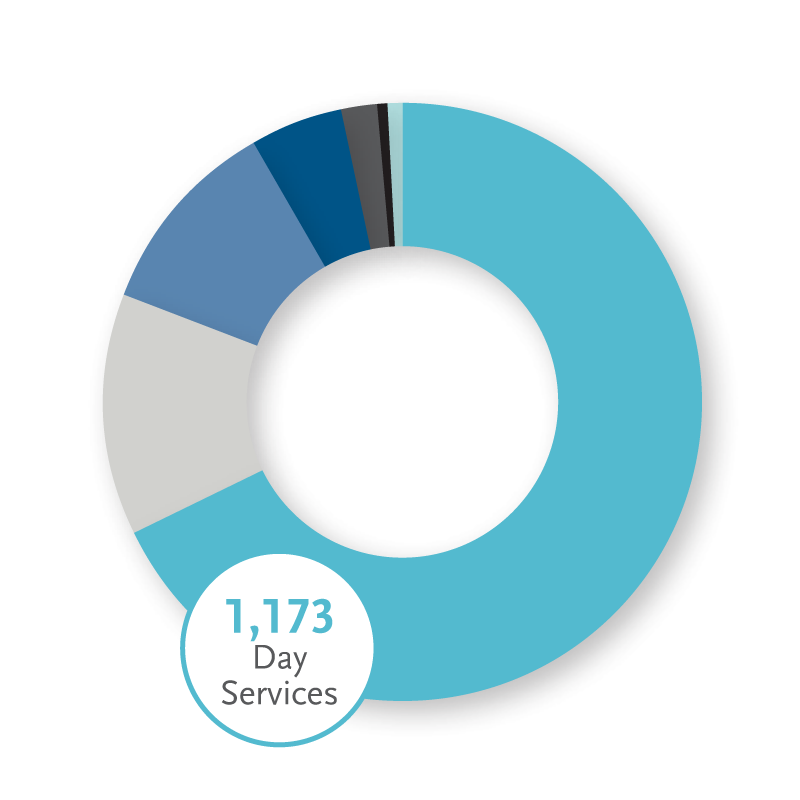 Soreo, a service of Mosaic
In 2018, Mosaic acquired Soreo, a service that provides in-home supports to seniors and people with disabilities. The services are personalized to each individual's needs. Some need temporary support, such as people working to recover from a stroke or other injury. Others receive ongoing support, such as people with an intellectual disability, those who have a disease progressively taking away their abilities, and people who have acquired a physical disability through an accident or injury.
Soreo's Services 

 Attendant Care: 87%


 Companion Care, Housekeeping, Personal Care: 2%


 Habilitation: 2%


 Respite Care: 9%

When asked about recommending Soreo to others, 100% of 2018 survey participants responded favorably.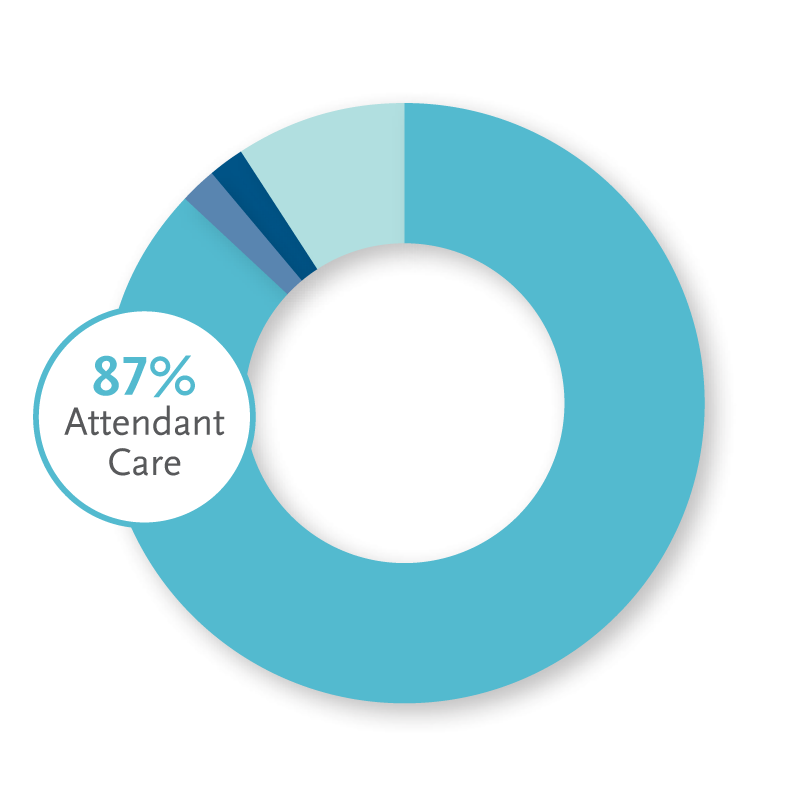 Caring Community
Mosaic recognizes that people desire and deserve greater independence and closer ties to the community. By developing and expanding community connections, we create new social, volunteer and employment opportunities.
Focus on Autism
When the Autism and Developmental Disabilities Monitoring Network released its latest study on the prevalence of autism spectrum disorders (ASD), the numbers went up. In 2000, around 1 in 150 children were identified with ASD. Today, that number is 1 in 59.
When those numbers started increasing, Mosaic started receiving calls. They came from parents, aunts, uncles and others asking the same thing: Can you support my loved one with autism?
For several years, Mosaic has put an extra emphasis on training employees to serve people with autism and educating leaders with the latest research to make sure employees can support them in the best way possible.
One step included partnering with the International Board of Credentialing and Continuing Education Standards (IBCCES), which provides credentialing for professionals who work with people with intellectual and developmental disabilities.
Unlike many certification courses, those offered by IBCCES don't require participants to have a master's degree. This is key for the majority of Mosaic's employees, who come from many different educational backgrounds.
Since this partnership began, 74 Mosaic employees have earned their autism certificate and 21 more are currently enrolled in the course.
In 2019, the Mosaic School in Axtell became the first Certified Autism Center in Nebraska. One of only five learning and tutoring centers in the nation to earn this designation, the Mosaic School exceeded requirements; 100 percent of staff qualified as certified autism specialists.
The percentage of children in the U.S. identified with autism is growing. Today, 1 in 59 children are identified with an autism spectrum disorder.
At Mosaic, the number of people with autism receiving services continues to grow.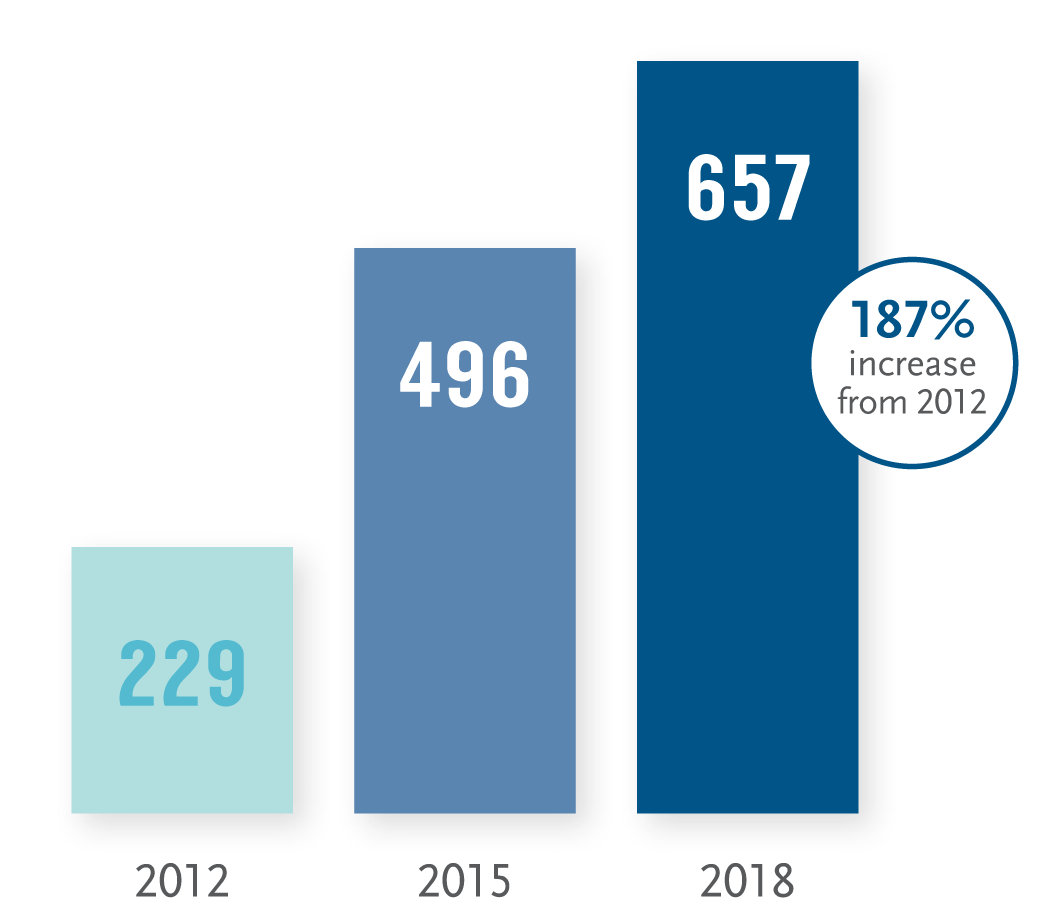 Mosaic International
Building a Caring Community (BCC) is a partnership between Mosaic and the Northern Diocese of the Evangelical Lutheran Church in Tanzania. Children and young adults with disabilities receive in-home supports, attend BCC neighborhood centers or participate in the young adult program. BCC services are life-changing.
People Served by Age
0–5 years: 35
6–10 years: 49
11–15 years: 36
16–20 years: 37
21–25 years: 30
26 years: 21*
*In 2019, BCC will begin discharging those older than 22 who are not enrolled in the young adult program to maintain BCC's focus on children and young adults.
People Served by Setting

 BCC Center: 134


 In-home: 74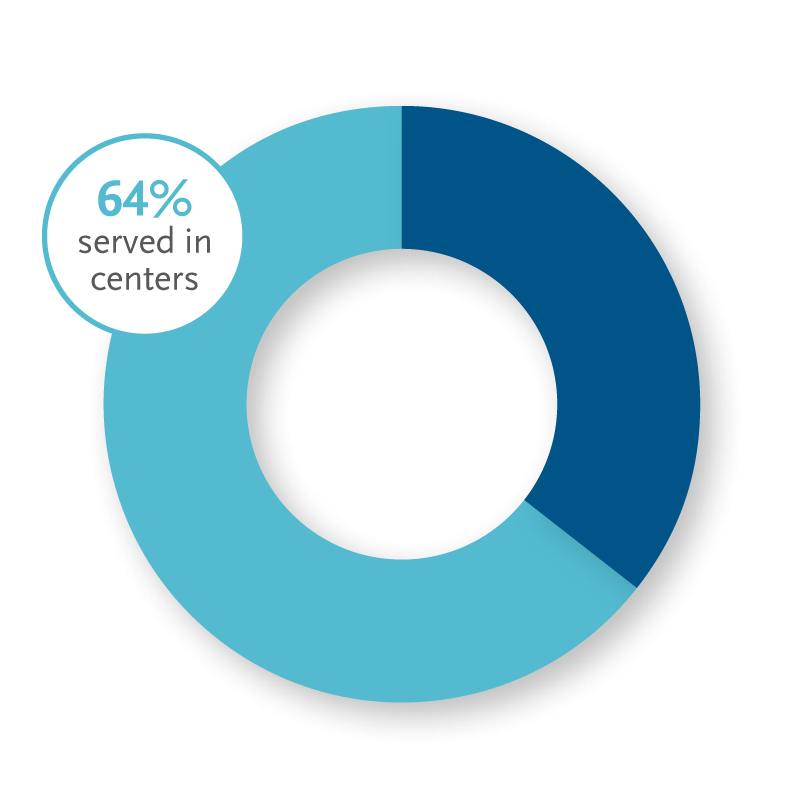 Giving a voice
Mosaic stands alongside people to bring awareness to issues that affect their lives. We actively advocate for disability rights, encourage self-advocacy and promote public policy that positively impacts the people we serve.
Yul's Story Comes to Life
Yul Brint didn't go to high school. Growing up, he never learned to read. Later in life, he began to study and understand written language, and it opened new opportunities for Yul, who receives supports from Mosaic.
In 2018, he applied and was accepted into The Human Library project, which aims to challenge stereotypes and prejudices.
Readers are encouraged to check out living "books" and engage with people they might not normally meet—often people who have experienced prejudice, social exclusion and stigma.
During 15-minute conversations, Yul shares his story:
"I have cerebral palsy. I have a job, and I work hard at it. I have friends and a girlfriend. I want to be as independent as possible."
He also welcomes tough questions, like, "Do you feel like your disability defines you?"
Having participated in two Human Library events, Yul plans to continue sharing his story.
"It's fun," he said. "I get to tell my story, and they put me on TV. I get to help out, and they like talking to me. They asked if I would do it again, and I said, 'Yes.'"
Participating in activities like The Human Library provides better health for people. Hospitalization rates are cut by nearly two-thirds when people have meaningful activity choices in their lives, and by more than half when an organization like Mosaic has systems in place that promote respect for people.
In 2018, a report titled, "Building the Framework for Quality IDD Measures" was released by Mosaic in partnership with The Council on Quality and Leadership and the Institute on Public Policy for People with Disabilities. Data in the report detailed how respect, inclusion and other values, when enacted, positively influenced people's health.
When services provide meaningful work and activities, hospitalization decreases by 63%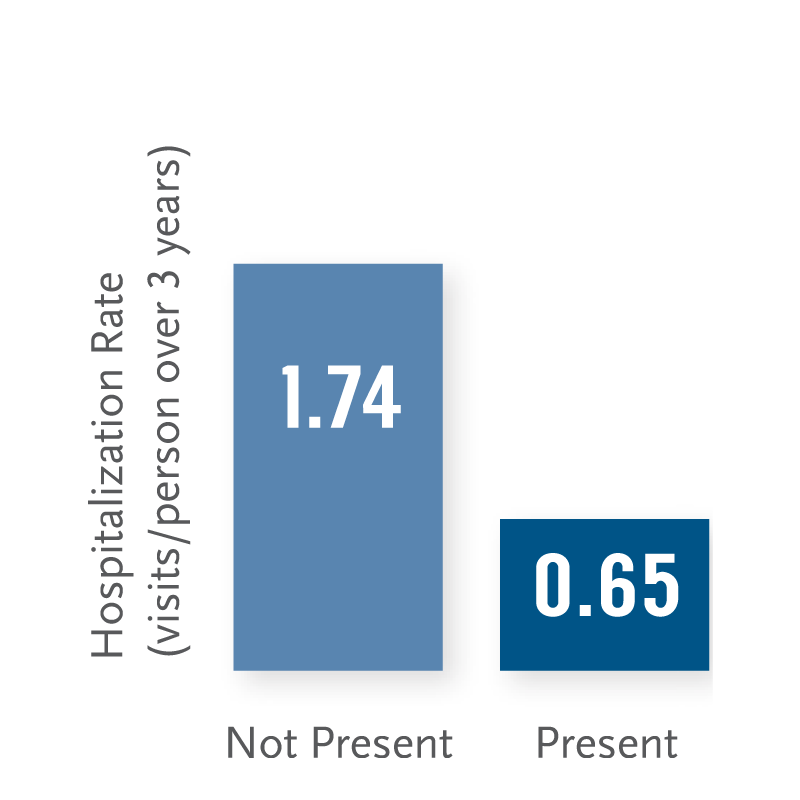 When services promote respect, hospitalization decreases by 57%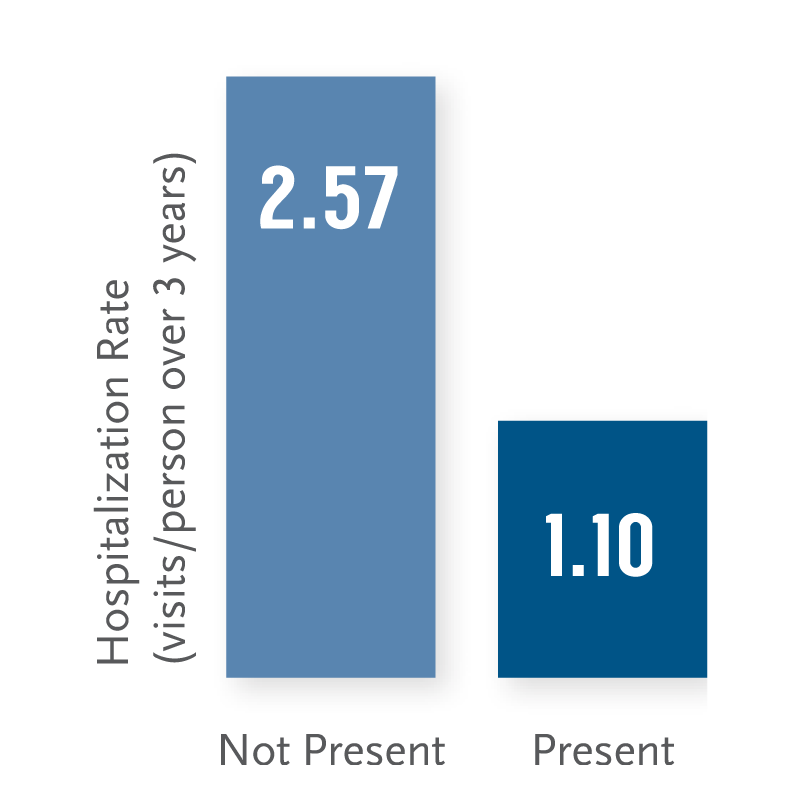 Mosaic at Home continues to grow. Through this service, an independent contractor shares their home with a person served and helps the person integrate into home and community life. They may also provide assistance with daily living activities and skills. Because of the highly personal nature of Mosaic at Home services, many people thrive in this setting.
Services through Mosaic at Home build lasting relationships between people with intellectual disabilities and a provider contracted with Mosaic. While sharing their home, the provider integrates the person served into the life of the household and the greater community.
The number of people served by Mosaic at Home continues to grow.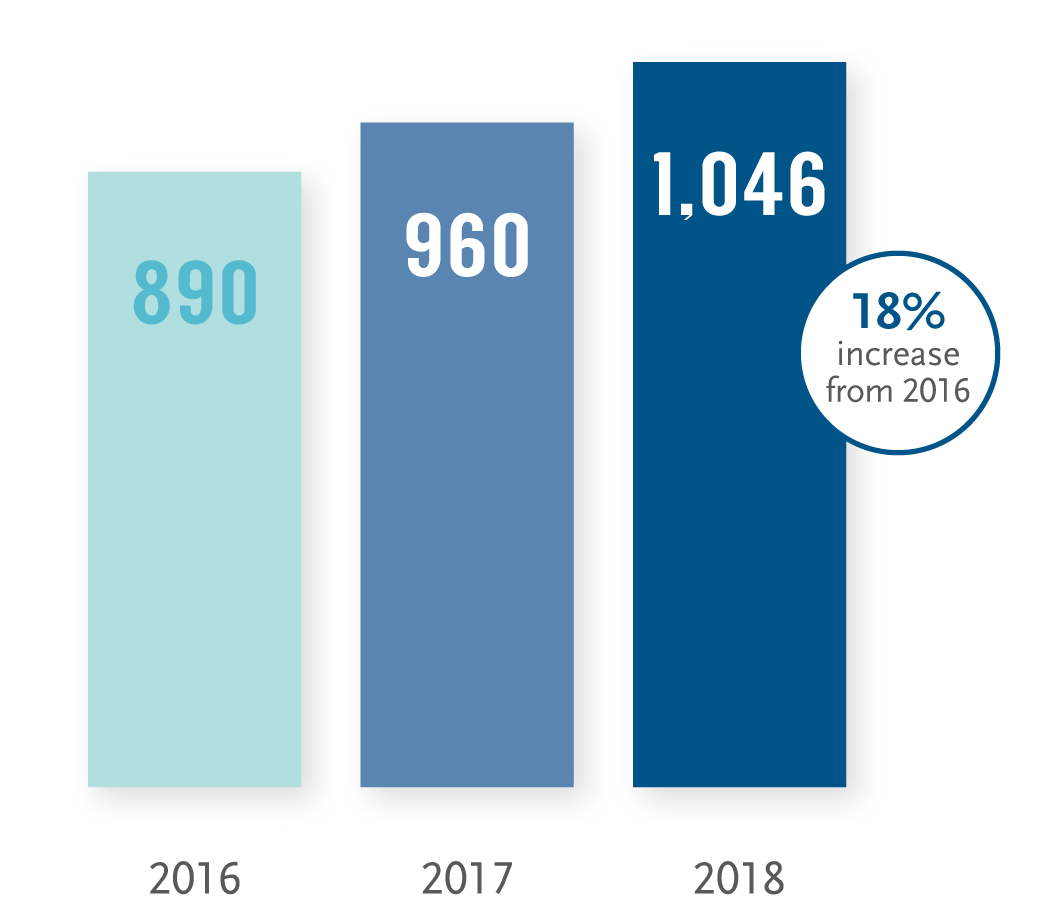 From the Chief Financial Officer
Mosaic and Affiliates' total net assets increased by $3.9M or 3.1%, compared to an increase last year of $2.3M or 1.9%. The increase is primarily due to the result of the net investment gains of $3.4M in 2018.
A five-year comprehensive fundraising campaign, Called to be Bold, was started in 2017. As a result, current year giving included $4.7M from gifts and pledges received. The $2.5M in new pledges made during FY2018 reflects our efforts to create a sustainable funding program. We received $2.7M from estates in FY2018. In addition to the gifts recorded in FY 2018, $7M of new planned gifts were written.
The results described above would not have been possible without the gifts and donations from many people. We appreciate the many friends and partners who supported Mosaic's mission during this past year. Our 2018 Donor Roll honors these partners.
The Mosaic Board of Directors monitors the financial management of Mosaic through its Finance and Audit Committee. The Finance and Audit Committee received a report on October 25, 2018 from independent auditors on the financial results for Mosaic and Affiliates and for The Mosaic Foundation for the fiscal year ending June 30, 2018. The auditors included an unqualified opinion that the financial statements present fairly, in all material respects, the financial positions of Mosaic and Affiliates and The Mosaic Foundation.
Scott Hoffman, Chief Financial Officer
Mosaic and Affiliates

Percentage of total income for year ended June 30, 2018.

 Net Program Service Revenue: 93.46%


 Gifts, Grants, Bequests & Estates: 3.21% 


 Other Income: 1.88%


 Investment Income:0 .80%


 Unrealized Gain: 0.65%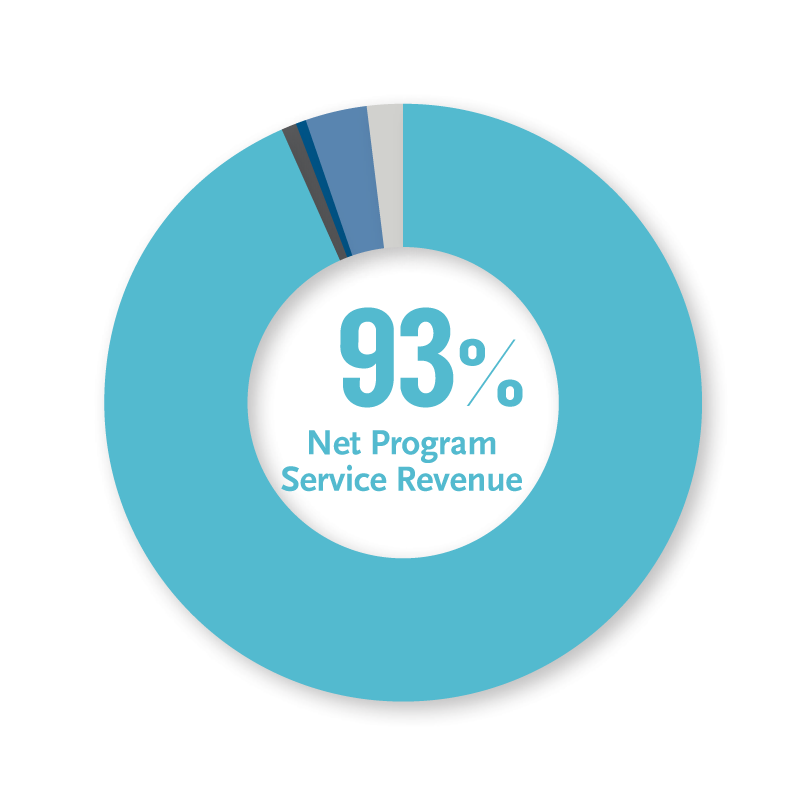 The Mosaic Foundation

Percentage of total income for year ended June 30, 2018.

 Gifts & Grants,  54.03% 


 Bequests & Estates Other Income: 21.67%


 Investment Income: 12.42%


 Unrealized Gain: 11.88%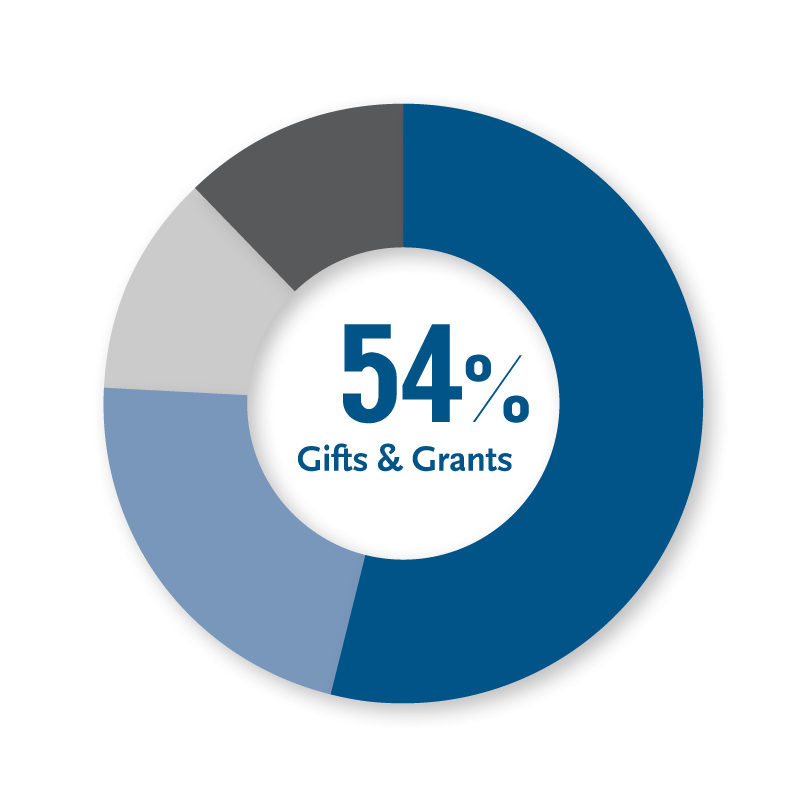 Donor Spotlight: Susan Harrison
A chance meeting with a Mosaic employee led Susan Harrison to want to learn more about the organization and, shortly thereafter, make a multi-year Partner in Possibilities pledge.
Harrison met Mosaic Community Relations Officer Lauren Peyton at a community gathering.
"I think that when people meet such positive, fun people and hear such wonderful stories and see how their lives have changed, they will not be able to not give!" she said.