Chef Adam Libby Update: Living An Exciting Life
Since we first covered "Chef" Adam Libby as a growing social media phenomenon in Mosaic's winter 2021 Promise magazine, he's been increasingly busy with exciting new happenings and, one may say, some glamorous projects. 
Recently, he had one of the most exhilarating experiences of his life: With contributions from his followers, he and his twin sister Emily along with her wife, Sara, were flown to Las Vegas to participate in the national Cheer Choice Awards, which annually honors positive content creators on social media.
Because he's brought so much happiness to others through his videos and cooking demos, Adam was chosen as the winner in the "cooking" category, beating out 16 other finalists across the country!

According to Emily, when his name was called during the ceremony, Adam bolted up out of his seat to the stage with his arms in the air, celebrating what was an astonishing accomplishment for anyone. He received a standing ovation–absolutely no one remained seated.
"His first words at the podium were his signature catchphrase, 'Holy crow, man!' and he expressed he was very happy to get the beautiful trophy," Emily said. "I helped him with the rest of his speech, remarking we get hundreds of comments from people that Adam's videos show them there's still good in the world. We responded our TikTok journey has shown our family there's so many good people in this world, too."
Watch Adam's TikTok video about receiving his award.
The thrill for Adam didn't end there. He met Paula Abdul, who choreographed (and danced during) a new song that closed the ceremonies. She invited Adam, among others, to come up to the stage to dance with her.
"He said he didn't need me to go dance," said Emily. "So he went right up there with no hesitation at all!"
Adam joyfully shared that he gave Paula "a big kiss and a hug." Emily said Paula kissed her hand, too, with Adam exclaiming, without a missed beat, "Yeah!"
The trip to Vegas also demonstrated Adam's growing fan base. "We'd be waiting for an Uber or an elevator," said Emily, "and people approached him asking, 'Are you Chef Adam?' Then they'd want a picture with him, and he loved that."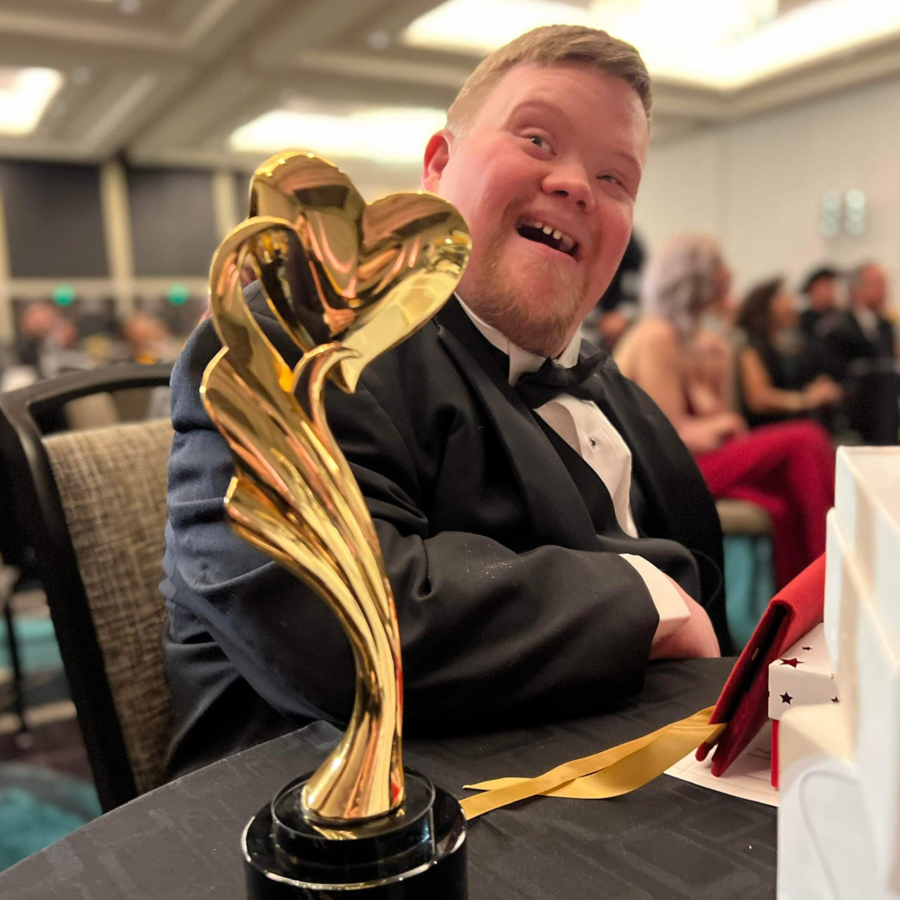 Speaking of fans, Adam's social media numbers continue upward:
When we first featured Adam last December, he had 612,000 followers on TikTok; he now has

1.8 million

.

Also on TikTok, his most popular video since December has clocked in at

18.7 million

views. To put this into perspective, the 2022 Oscars were viewed by

16.6 million

.

On Instagram, he now has more than 19,400 followers, which is up 12,000 since December. 
As for glamorous projects, Procter & Gamble contracted Adam to shoot two new videos on his TikTok account for a new dishsoap's squeeze bottle that is easier to use among those with disabilities, arthritis or other limited dexterity. 
Will Hollywood soon be calling next?