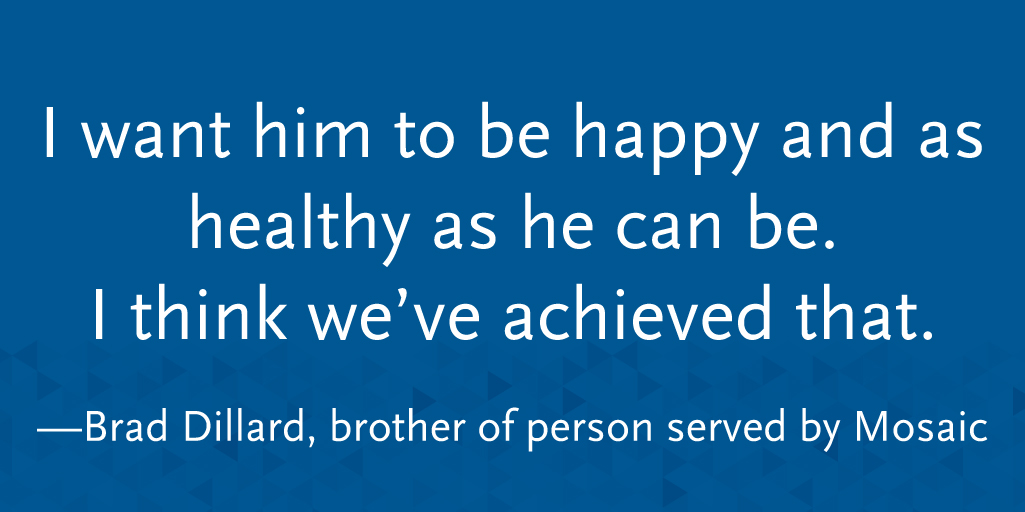 Bryan Dillard has lived a full and wonderful life at Mosaic in Axtell.
His younger brother and guardian, Brad Dillard, lays that happiness at the staff's feet.
"Mosaic has been a wonderful place," Brad said. "That's his home."
Bryan, who is 77-years-old, has lived at the Axtell campus since he was 16. Brad has never known his brother outside of the Axtell campus.
"The people all love him," Brad said of his older brother. "Bryan's kind of a cool guy."
Bryan is a big fan of cars, firetrucks and babies – any time a staff member has a new child, they try to bring the child on campus so Bryan can hold him or her.
Recently, Bryan had the chance to ride in a fire truck with a local fire department.
When talking about his favorite part of the experience, Bryan, grinning widely, said, "I liked that it was loud."
Community Relations Officer Jim Fields has known Bryan for several decades, dating back to when Fields was an eighth grader travelling to Axtell with his youth group from Wisconsin.
"The first question he used to ask us was what do you drive," Fields remembers fondly.
Today, Fields and Bryan remain fast friends, even as Bryan has moved into retirement and his twilight years.
"He's just a fun-loving, sweet guy," Fields said.
At 77, Bryan is well past the average life expectancy of someone with an intellectual disability. By 2040, the number of people with IDD over the age of 55 is expected to more than double from 11 percent to 33 percent.
When the brothers were younger, Bryan would often come and visit his parents and brother for the holidays. As Bryan has aged, it's made more sense for Brad and his family to come and see Bryan on campus.
"He's just really happy to see us," Brad said. "It makes the whole thing wonderful. We make his day and he makes ours."
Key to Bryan's happiness has been strong planning by his family. When the Dillards' father died, Brad made sure to take the time to put a plan in place so Bryan was taken care of.
"That's something you should prepare for," Brad said. "If anything happens to me, one of my sons would be appointed guardian. "
Today, more than 25 percent of people with intellectual disabilities live at home with an aging caregiver.
The Dillards' planning included making sure Bryan not only had a guardian, but that the family had saved enough for a funeral and other end of life expenses that may come up.
Mosaic has worked in partnership with Brad, ensuring that Bryan's family, including his nieces, nephews and other family members, can visit or call on a regular basis. Mosaic has also helped Bryan transition through some major medical issues as he's aged, always ensuring Brad that Bryan's health and safety come first.
"I want him to be happy and as healthy as he can be. I think we've achieved that," Brad said. "The people who work at Mosaic are just amazing. I don't know what else we could ask for."