Save Medicaid to Ensure People with Intellectual Disabilities Can Live with Dignity and Independence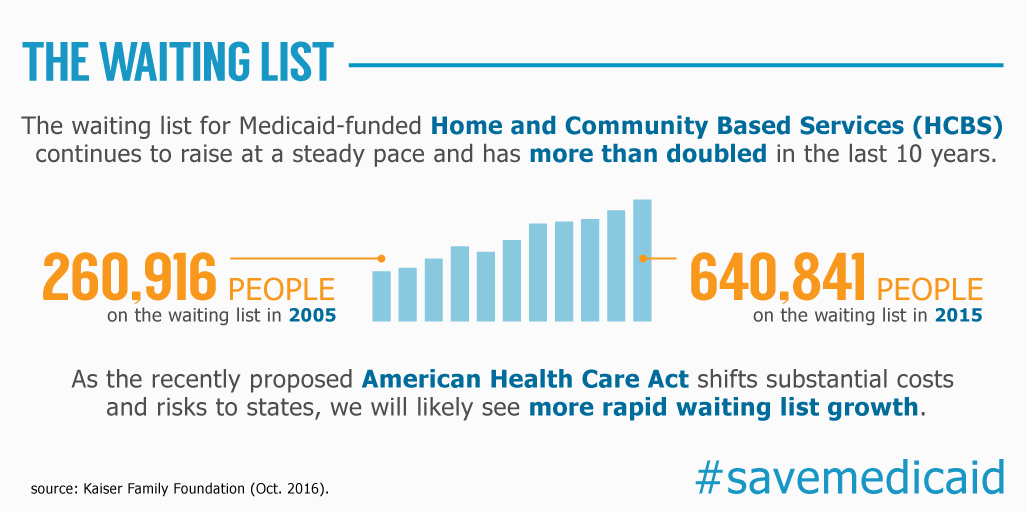 A few weeks ago we shared a 30,000-foot view of Medicaid and the important role it fills in providing health care for more than 1 in 5 Americans. From care for pregnant women, children and adults in poverty, and long-term services for the elderly and people with disabilities, its impact is broad.
A key program of Medicaid is long-term care for people with disabilities and the elderly.
Unlike private health insurance and Medicare, Medicaid also covers long-term care, including both nursing home care and many home and community-based long-term services and supports for people with disabilities.
Long-term care through Medicaid is especially important for people with intellectual disabilities.
Medicaid support takes a tremendous amount of pressure off parents and other family members, who often provide the lion's share of care for people with intellectual disabilities.
Without long-term care, it can be difficult for people with intellectual disabilities to get jobs and stay employed, volunteer in their communities, travel to church, bathe, cook, and live as independently as possible.
More than half of all Medicaid spending for long-term care is now for services provided in the home or community that enable seniors and people with disabilities to live independently rather than in institutions.
Unfortunately, access to services in community settings (usually called home and community-based services or HCBS waivers) is considered an optional service for people with intellectual disabilities (along with dental services, physical therapy, hospice care and much more).
While many states elect to offer HCBS services, it can take years for people to receive support.
In 2015 alone there were more than 600,000 people on waiting lists for HCBS waivers.
This is especially troubling considering that more than 70 percent of people with intellectual disabilities lives at home with a family member, many of whom are aging and will soon be in need of long-term care themselves.
Earlier this week House Republicans introduced the American Health Care Act, which radically restructures the way that Medicaid is funded.
The American Health Care Act (ACHA) cuts valuable resources in an already stressed system, putting millions of people with intellectual disabilities around the nation at risk.
This proposal would drastically cut and restructure the Medicaid program by changing it from an entitlement program and making it the program to be funded by per capita caps.
Shrinking federal Medicaid funding over time puts those Mosaic serves and millions of other people with intellectual disabilities in danger of losing access to quality care. This radical restructuring shifts substantial costs and risks to states, ultimately forcing them to cut benefits, restrict eligibility and reduce provider payments.
If the ACHA passes and is signed into law, funding for critical services and supports for people with disabilities will likely be reduced and not all people qualifying for Medicaid may receive benefits. This will lead to a regression in the progress people with intellectual disabilities have made in the last 60 years.
This is the second blog in our Medicaid Matters series, explaining how Medicaid services provide valuable resources and supports for people with intellectual disabilities. Our next post will go into more detail about how further funding cuts make difficult to for providers like Mosaic to ensure that people with disabilities can receive vital services.