Improving Mental Health Care Access for People with Intellectual and Developmental Disabilities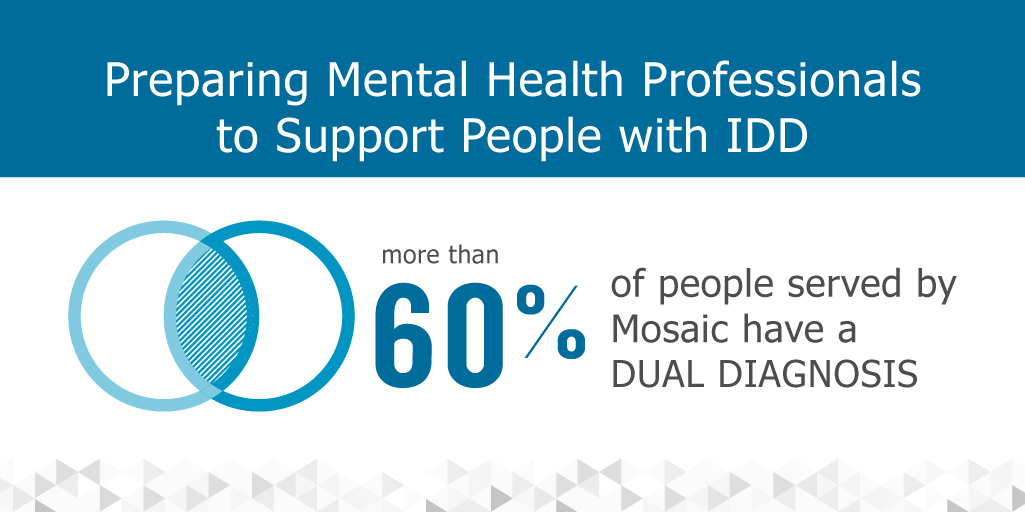 May is Mental Health Month. The United States has been observing Mental Health Month for nearly 70 years, and a lot has changed since that observation began.
Awareness and treatment have come a long way, but there's still more we can do to support people with mental health concerns. A common misconception is that mental illness doesn't affect people with intellectual and developmental disabilities (I/DD), but this isn't true.
Currently about 60 percent of the people Mosaic supports have both I/DD and a mental health diagnosis, often called a dual diagnosis.
In the last few years, Mosaic has worked hard to ensure that the people we support have access to mental health care. In addition, we've worked to educate professionals in the field of the importance diagnosing and caring for people with dual diagnoses.
To commemorate the month, below are two examples of how Mosaic's mental health teams work to care for the people we support.
Meeting the Growing Need for Mental Health Services
The need for qualified professionals is great, and conventional educational programs are not enough to equip the number of professionals needed. Learn more about Mosaic's in-house education program to train the mental health professionals of tomorrow.
Preparing Mental Health Professionals to Support People with Intellectual and Developmental Disabilities
Even though Mosaic knows the reality of dual diagnosis, most mental health practitioners are unprepared to diagnose and counsel individuals who fall under this description. Mosaic's mental health professionals are working to give them the tools to make a difference.