'Holden Just Makes the World Happy'
To celebrate National Intellectual and Developmental Disabilities Awareness Month (NIDDA), throughout the month, we're sharing stories that illustrate how people served by Mosaic make choices which reflect their personal goals and desires to live life their way.
Holden Wolfteich, now 25, was just two years old when he had a grand mal seizure and was diagnosed with a rare genetic disease, Tuberous Sclerosis Complex (TSC), which, in Holden's case, causes tumors on his brain, heart and kidneys.
"Early on, Holden showed signs of intellectual and developmental disabilities (IDD), and our life became a whirlwind. My husband Kevin and I tried to get his seizures under control while his behavior issues became frequent and intense," said Jodi Wolfteich, Holden's mother. "We also became enablers by letting him eat food he wanted that was bad for him—we didn't want to upset him otherwise—and he didn't want to go to school anymore despite enjoying his teachers and fellow students. He was so unhealthy and depressed … he would sleep quite a bit and didn't want to go anywhere.
"Many people tried to convince us to 'place' Holden somewhere, but I wasn't ready for that. But when he gained a lot of weight, and we began to worry, one of his specialized educators told us he wasn't concerned about Holden's academics, but he and his colleagues were very concerned about his health," Jodi said. Holden had reached a whopping 442 pounds, and he was only 18.
According to Jodi, in October 2015 and with the help of "many people," she and Kevin decided to move Holden to Mosaic in Axtell, which was 100 miles away from their home.
"It was a difficult decision. You feel you failed as a parent. But when you live in a rural community, the resources just aren't there. We knew by going to Mosaic, he would have a much better chance in life. The day we drove Holden there was tough on all of us—we were all crying."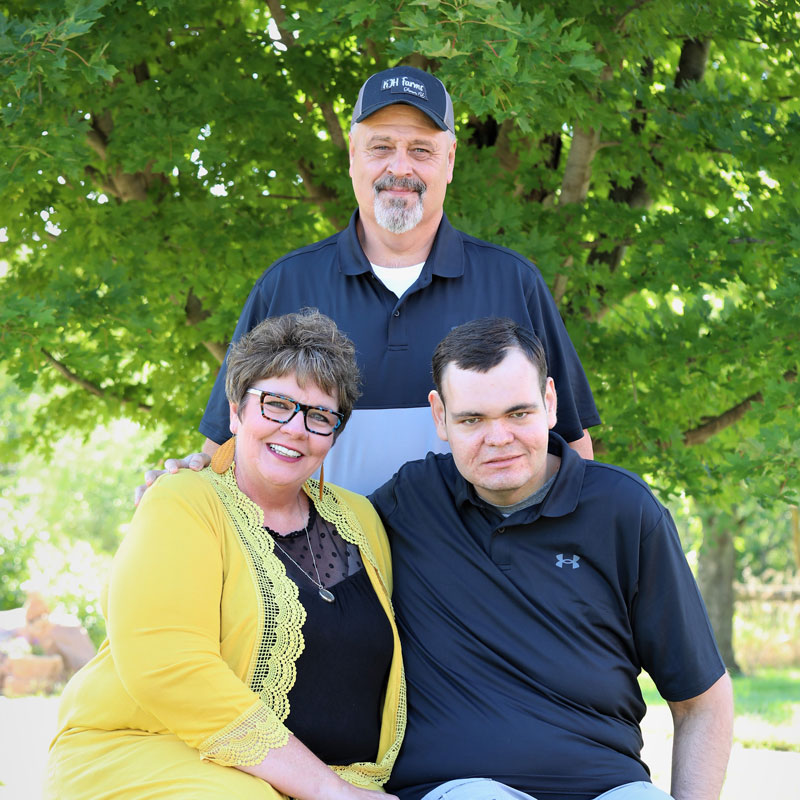 Left to right: Jodi, Kevin and Holden (photo courtesy of Susan Bernard Photography)
"A short time later, we went back to visit him for our first post-admission meeting. It was the day before Halloween, and I was excited to see him in costume," Jodi remarked. "But every time I looked at him, he would turn away. A good friend of ours who also knew Holden came with us, and she sat beside him to determine what the matter was. He whispered in her ear, and I heard it too: 'My mom isn't here to take me home, is she?' I was amazed that within such a short time of being there, he liked it so much he was worried I was going to take him home!"
After the medical staff reduced and changed his medications—which Jodi said "changed his bad behaviors dramatically"—Mosaic in Axtell staff sent positive reports to his parents about "how well he was doing, such as adjusting to his new surroundings and making friends with his peers and staff. By Christmas, he had lost more than 50 pounds, because the staff was making sure he ate healthy meals and teaching him to stop eating when he was full."
As Holden continued to progress with his improved health and impressive achievements in Axtell—such as graduating in full cap and gown to receive his certificate of attendance from the local school district, showing independence in his daily routine, wanting to work and especially being out in the community—he was ready to move from a congregate, residential setting in Axtell to Mosaic at HomeⓇ shared living in Lincoln where Mosaic in Southeast Nebraska is based.

His Mosaic at Home provider is Darren Salazar. Darren also supports Sam Negret who has IDD and is close to Holden's age. 
"I like living with Darren and Sam very much," said Holden. "I get to play my games, read, watch TV and look at my iPad. We also go out a lot. We have a lot of fun. I also like living in Lincoln."
Through Mosaic in Southeast Nebraska's Day Services, Holden has many opportunities to grow his life and work skills toward increased independence and to choose the life he wants to live. Among his volunteer activities, he gives his time to the People's City Mission Help Center, where people who are homeless or have trouble making ends meet can "shop" donated items.
"I sort out the DVDs by pulling out the 'R' rated movies. Then I sort the others in alphabetical order and take them to the game room," Holden said. He then stocks shelves with the DVDs, and he also does some cleaning. Importantly, he interacts with customers and staff there to build additional positive relationships.
Also through Mosaic's Day Services, he enjoys making arts and crafts, going to the gym (he even led an exercise class!), playing games and seeing movies. "When he was little, he hated going to the movies," said Jodi. "Now with his peers, he loves movie outings." Some of Holden's favorites are Chicken Run, Puss in Boots: The Last Wish and the Shrek and Kung Fu Panda series. As for other entertainment favorites, he loves the original Dukes of Hazzard television series and country music, especially Tim McGraw and Jason Aldean.
Since being with Mosaic, Holden has gone from that 442 pounds to a lean 210. (He's almost 6'5" tall).

"Holden has advanced so much, and his demeanor is more age-appropriate since being with Mosaic," said Jodi. "Kevin and I are so proud to call him our son. People who work with and meet him say 'we love Holden,' 'he's such a nice young man' and 'Holden made my day.' He has so many gifts, he just makes the world happy! He's teaching others unconditional love, compassion and understanding—and he doesn't even know it."