Impact Report 2022: Supported Living
In-home support services show a high level of quality outcomes for people served.

"The backing of Soreo means I'm able to contact someone if I need a helping hand." – Raymona Sabo, parent of a person served by Soreo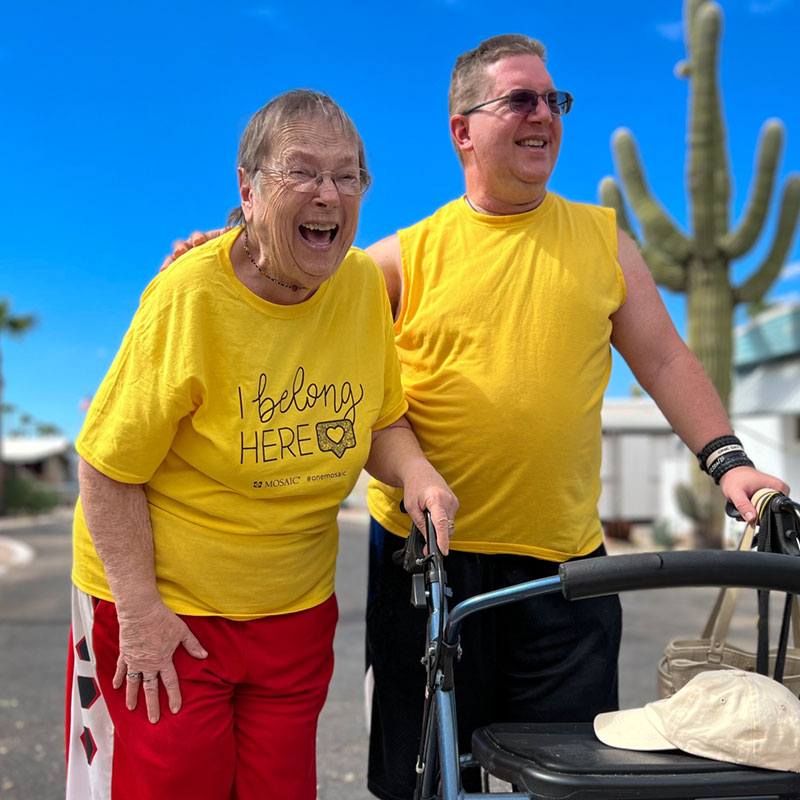 Raymona Sabo feels she is the best person to care for her son, Lou Bice. Through Soreo, an affiliate which Mosaic acquired in 2018 that offers in-home supports, she is able to. 
Lou was T-boned while driving through an intersection more than 25 years ago. The crash left him with brain damage that made it impossible to live on his own. He needs reminders and some assistance with the activities of daily living and has severe balance troubles. He does not, however, need nursing or daily medical assistance that would require 24-hour care. 
Soreo contracts with Raymona to provide the services Lou needs, and she is paid for the tasks he needs help with. Her Soreo service coordinator checks in on a regular basis to ensure quality and to provide support.
"The backing of Soreo means I'm able to contact someone if I need a helping hand," Raymona said. "You know, if you have a question, they're there. I don't know if security is the right word, but I know that they're there for me."
Soreo, which operates in Arizona, allows family members to be direct care workers for their loved one. Raymona said the pay allows her to care for her son and support herself and enjoy her family. In addition to people with brain injuries and physical disabilities, Soreo also serves seniors and people with intellectual and developmental disabilities.
Mosaic offers in-home support (sometimes called supported living) services in several states. Because of the highly personalized nature of these services, they consistently show a high level of quality outcomes for the person served and are an area of growth for Mosaic.
Hours of in-home support through Soreo in FY 22
Average hours per contractor
Average hours per person supported
* Actual hours per person supported vary depending upon individual need, and contractor hours vary depending upon availability.