A Day's Work, a Lifetime of Meaning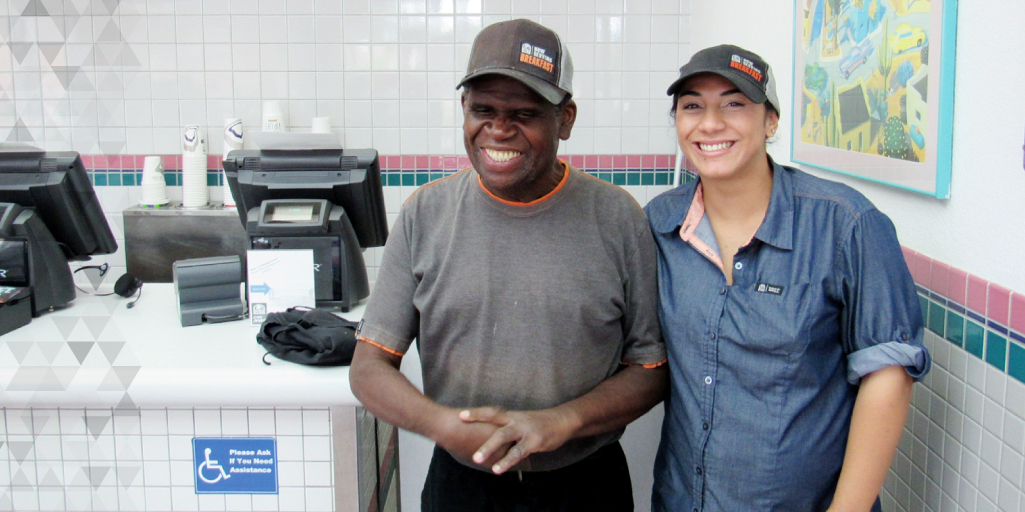 October is National Disability Employment Awareness Month. Mosaic's theme for the month is #InclusionWorks.
We many times have seen examples showing that when people with disabilities are included in the workplace, the workplace is better for everyone. While we often lift up examples of inclusive employers, during October we make a special effort to also say "thank you." Employers who hire people Mosaic serves are partners in our mission to create lives of possibilities, both in the workplace and beyond. That is shown in this story from Melissa Durkon, a Direct Support Manager at Mosaic in Denver.
Elmer began working at Taco Bell in July 1993, taking a position as a dishwasher with the assistance of his job coach. Today, 24 years later, you still find him there, full of smiles, enjoying his job and singing to the oldies station playing in the kitchen. Elmer has seen many coworkers come and go over the years, but the customers continue to stream in and the regulars greet him with excitement. When Elmer is in the community, he is often recognized from his job at Taco Bell. "They know me," he says.

Asked about his work, Elmer is very matter-of-fact that the job is perfect for him. He is happy to get things clean and enjoys the praise he receives from his supervisor for a job well done. He receives minimal assistance and is always ready to go above and beyond. "The sauces are easy to clean, it's the beans that are tricky," Elmer said.

Elmer feels respected at his job; they care about him and his well-being. Every September, they get him a birthday cake. He also always has a coworker who will walk him to the bus stop at the end of his shift. He feels like he could work there forever. "Who knows," Elmer said, "I could work there when I'm 95 years old." If you know our friend Elmer, you would know it's entirely possible.
Because Elmer has a job he loves, he has a happier life. But so do others—his employer, the people he knows and sees at work and in the community, Elmer's staff and family.
#InclusionWorks. It creates opportunities, builds independence, fulfills dreams.
When you're patronizing a business that employs people with disabilities, let the owner or manager know you appreciate their work toward inclusion.