Nick Lives a Life of Laughter and Choices
While they sit on the couch together in their home, there's clearly a genial and bantering camaraderie between Nick Silva, a person supported by Living Innovations—a service of Mosaic—and Cliff Alston, whose wife Amber is Nick's shared living provider. To add a bit more to the enjoyable, commotional atmosphere, in the background, you can hear subdued but excited female voices: Today is the birthday of the Alstons' oldest daughter Paige, and the whole family is busily readying her party.
Both Cliff and Amber have known Nick for 15 years. Before working with Living Innovations as a program manager, Cliff was a residential program manager for a children's psychiatric hospital. "I met Nick in one of the homes I supervised, and I thought he was the coolest, most easy-going guy. He was so independent—you immediately gravitated to him."
Amber is a special education teacher, and she comes from a family with a long history of supporting people with intellectual and developmental disabilities; she first knew Nick through dating—and then marrying—Cliff.
"Nick was one of my first guys to age out of the children's program into the adult world at 21 years of age," said Cliff. "I remember hopping in a van to take him to his new adult group home, and wishing him the best of luck."
"But, we texted back and forth to stay in touch," added Nick.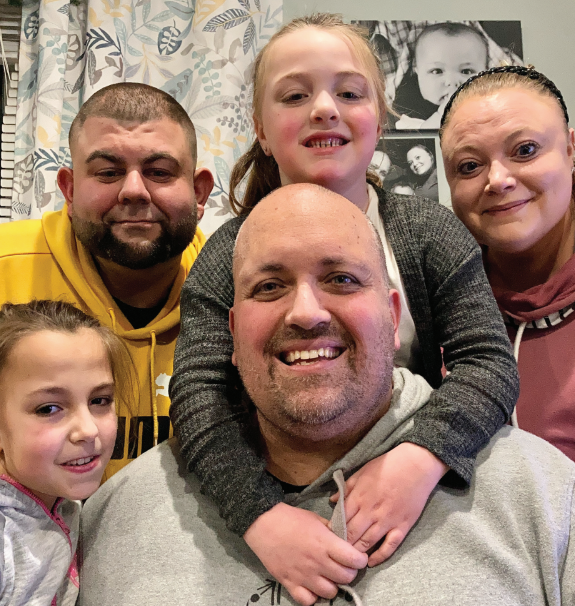 Clockwise, from bottom left: Paige, Nick, Harper, Amber and Cliff
"Nick and I have a lot in common," Cliff remarked. "We love sports, and it's a big part of our lives. We're both Providence (College) Friars fans"—and then as if it were on cue—Cliff and Nick high-five each other as they let out a husky, "Go Friars!"
According to Cliff, "Nick was great at texting me out of the blue to ask how I was doing, and we stayed in touch and got closer during the next few years. When I joined Living Innovations in 2016, I started our Unified Special Olympics teams. Through a friendship with the associate director of Nick's service provider, Nick was my first call for basketball players, and he enthusiastically came on-board. I would give him rides back and forth each week during the season.
"Parallel to my ongoing friendship with Nick, I always had a great relationship with his mom, Cheryl Rapoza. Unbeknownst to my wife and I, Nick was unhappy where he lived, and his mom was very unhappy with him being there," Cliff said. "Aside from Nick being on our basketball team, they had many restrictions. Cheryl was told, among other things, she had to give them a week's notice just to visit her child. We are season ticket holders for the Friars; when we weren't able to go to a game or we would have extra tickets, I would say to Nick, 'hey, we have two tickets to the game, I would love you to go with a member of your staff.' He would ask them for permission, and then there were times he'd tell me he was still waiting to hear back or he couldn't go. There was always a limit on the things he could do–I would invite him to community events as well—and he just wasn't able to attend. I was heartbroken for him."
"Around the same time, Amber and I were seriously considering helping someone with a shared living arrangement. We had thought about it before, but then our kids were pretty young, and my oldest was born with a lot of medical issues. We didn't want to do it until she was healthy," Cliff remarked. "On the way back from Special Olympics, Nick and I had this very casual conversation in the car. I told him my wife and I are considering doing this, but we'd only do it if it was with somebody we already knew. Nick immediately responded with, 'well, you know me,' and I said 'yes, you're right, we do know you." 
Cliff added, "Immediately, Nick said, 'when am I moving in?' I said 'well, hold on, we have to talk with your mom first!'"
Nick quickly called Cheryl while they were still in the car, and she asked all of them to visit her that weekend. It all seemed to click in meeting everyone's wants and needs—the Alstons already considered Nick a part of the family–so Cheryl moved Nick from the group home to their home within a month.
"Nick has been a great addition to our household, and a great fit with the two kids, which at first was our main concern," Cliff said. "But, man, they just took to him like nobody's business—especially Paige. She just parks right next to him on the couch, and she goes out of her way to tease him, and Nick teases her back. They just both have the cutest relationship I've seen, and both girls just make him laugh.
"If nothing else, having Nick here is a blessing to me. I'm in a home with all women—I needed another man in this house for my own sanity," Cliff smiled jokingly. "It's been just great. It's great for our girls to learn how best to help others, and they're learning you can do anything you want to do. Nick is such an accomplished guy, and they see it. He has independent time in our house when we're not here, and they see him regularly get on the bus by himself to go to his job at Savers. They're impressed by that.
"He also wants to be involved in anything we do, such as getting up at 7 a.m. on a Saturday with the rest of us to watch my youngest Harper playing basketball. He tells us he wants to be involved in our lives and our routines," remarked Cliff.
"I say that all the time," Nick chimed in.
"Nick's also very thoughtful," said Cliff. "We never asked him to do anything for Paige's birthday, but he came home from work the other day and told us he asked his mom if he could buy a gift for her. So, they went out to buy something my daughter would like. Before he moved in with us, he went on vacation in Florida with his family and asked if we could get together on the weekend, because he brought back presents for the girls."
With that, Cliff turned to Nick to say, "We also have a lot of milestones to celebrate. In addition to Paige's birthday, Nick will be 30 years old in July. He's had the Savers job for 10 years, and he's never missed time from work. He's been with his girlfriend for eight years. They like to bowl, go out to eat—and she likes to dance, but Nick doesn't."
Nick started to blush and humorously warned, "Don't go there." (Followed again by mutual teasing).
Nick said his goals are to continue playing sports, going to all the sporting events he can, keeping his job for as long as possible and continuing his relationship with his girlfriend. In the future, he wants to join his family on a trip to Portugal, where his uncle was born.
When asked if he was happy, Nick declaratively responded, "I am. We laugh a lot."