Young Adults Spread Their Wings in Romania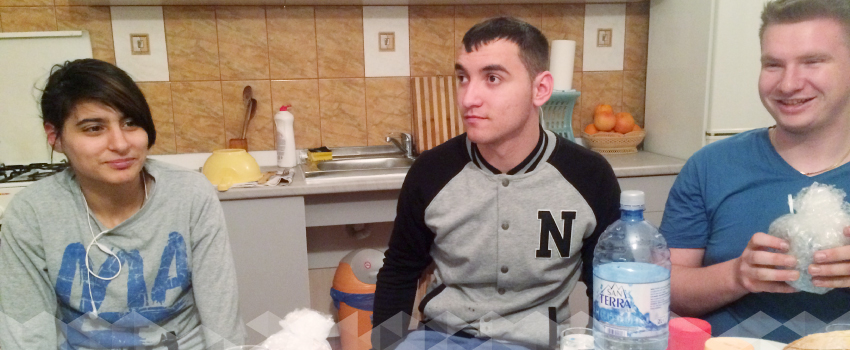 People with disabilities in Romania have come far in the past 26 years.
After a revolution ended a decades-long dictatorship that forced most people with disabilities into institutions, the world media showed us just how inhumane conditions were.
Today, more parents are choosing to raise their children with disabilities at home, fewer children with disabilities are living in institutions and the special education system in the country has greatly improved.
That's the good news.
The not-so-good news is that for those young adults with disabilities, there are few opportunities to lead independent or semi-independent lives within their communities. Many young adults with disabilities complete their education only to live in near isolation at home afterwards, without access to employment and with no avenue to gain independent living skills.
But there's a twist in the story.
Enter Motivation Romania, our Romanian partner organization, Mosaic and a disability services provider in Israel, Kivunim. Together, we've created a pilot program for young adults with disabilities based on the model Kivunim has successfully run in Israel for more than ten years.
This pilot program, now called Wings Romania, was launched in October 2015, and aims to help four young adults gain independent living and employment skills so that they can live up to their potential, and achieve their dreams.
For two years, the participants, along with a social counselor who lives in the house with them and acts as a guide, are learning everyday skills such as cooking, laundry, time management and budgeting. They participate in social, athletic and community activities as well.
By March 2016, all participants were employed or in volunteer positions in the community, working in areas that fit their interests and skills.
One participant, who came to the program after living in an institution from her early childhood, is now working in a nearby woodworking factory and rides public transportation each day. One young man who uses a wheelchair now works in a local wheelchair sports club. Another young man is a volunteer in a day center. A young woman is training to be a manicurist.
They love their independent lifestyle. They hate doing dishes and laundry.
It's the same reaction we all had at that age. That is the point of the pilot program: to demonstrate that in Romania, young adults with disabilities can spread their wings through employment, social activities and even chores, as they journey into adulthood.