Landscaping Skills Put to Good Use on "God's Work. Our Hands." Sunday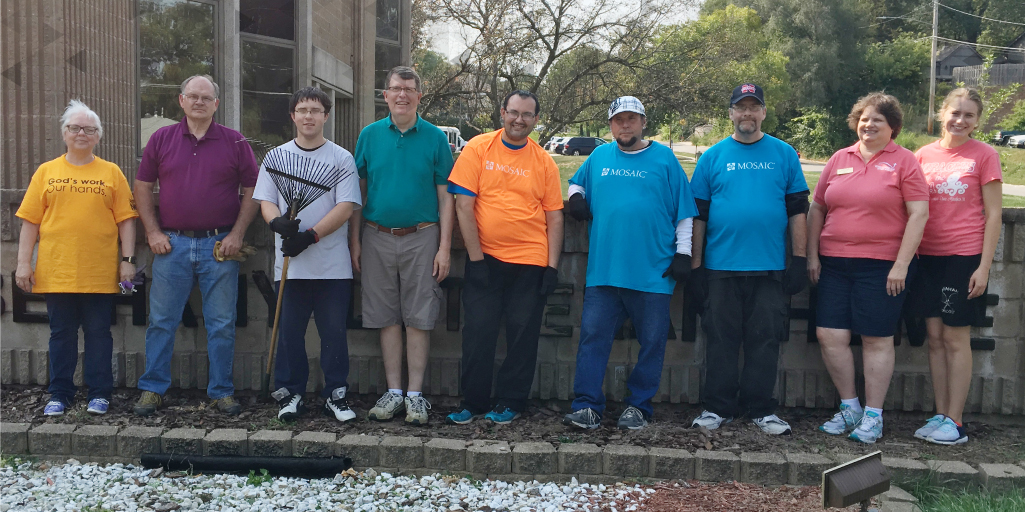 Trey Madsen describes himself as a "green thumb." He used to have a garden and loves being outdoors. He also did landscaping for three years.
This connection with nature made Madsen an ideal candidate for volunteer yard work at Bethany Lutheran Home in Council Bluffs, Iowa on "God's work. Our hands." Sunday.
"I like the fresh air and the sense of freedom," said Madsen, who is supported by Mosaic in Western Iowa. "There are no walls to keep you in. It's relaxing and peaceful."
"God's work. Our hands." Sunday is a dedicated day of service organized by the Evangelical Lutheran Church in America (ELCA) intended to deepen congregations' connections with their communities.
ELCA members are called to put their faith into action by engaging in a service activity in their neighborhood or surrounding community.
Since 2013, thousands of ELCA congregations have participated in this opportunity and dedicated one day to serve communities in ways that share the love of God with all people.
This year, a group from Mosaic in Western Iowa, including Madsen, partnered with Our Savior Lutheran Church and did a volunteer project at Bethany, a nursing and rehabilitation center.
"I did a little landscaping, trimmed bushes, pulled weeds and picked up trash," Madsen said. "Simple things that would have been hard for them to do. Anything they needed done, we did it."
"I think everybody should chip in somehow in the community," he added. "For me, to be able to do that at Bethany, it made me feel good to know I could make a difference in that way. That's why I went. If I can help at all, I want to do it."
Madsen said the experience was also enjoyable because he got to spend the day with his friend, John.
"It was fun making jokes and working together," he said. "John kept things alive by making jokes about plants. I didn't even know there were jokes about plants. I kept things alive by sharing facts I learned from landscaping. I helped people identify weeds versus flowers. I pointed out which weeds should go."
The freedom Madsen feels in the outdoors is important to him, as he has not always had the independence he has today.
Madsen, who moved from his aunt's home to a Mosaic group home less than a year ago, said behavioral issues used to limit his freedom.
"I was tired of living with my aunt," he said. "I was restless because I had no freedom. She got tired of me acting out. Mosaic was a perfect fit."
In his short time at Mosaic, Madsen has grown tremendously.
"I've learned how to cook," he said. "Before I could barely cook a hamburger or read a recipe. Now, I can choose what I get to cook and eat, when I do laundry and when I shower. I have more freedom than before. And I get along with practically everyone, as long as they're not yelling."
"Since I've been at Mosaic, I no longer get physically violent," he continued. "I've learned a lot about living on my own and with roommates. There are things you have to give on. You have to adapt and see other viewpoints."
Madsen is incredibly entrepreneurial, and is always looking for odd jobs and volunteer opportunities.
"Anything outside is what I'm looking for," he said. "I avoid situations where I'll get mad, like fast food. In the summer, I like to do odd jobs like mowing and landscaping."
This winter, he said he's planning to install Christmas lights with Paradise Lawns in Omaha, Neb. and be on call for snow removal needs.