Flashback: More Than 90 Years of Educational Opportunities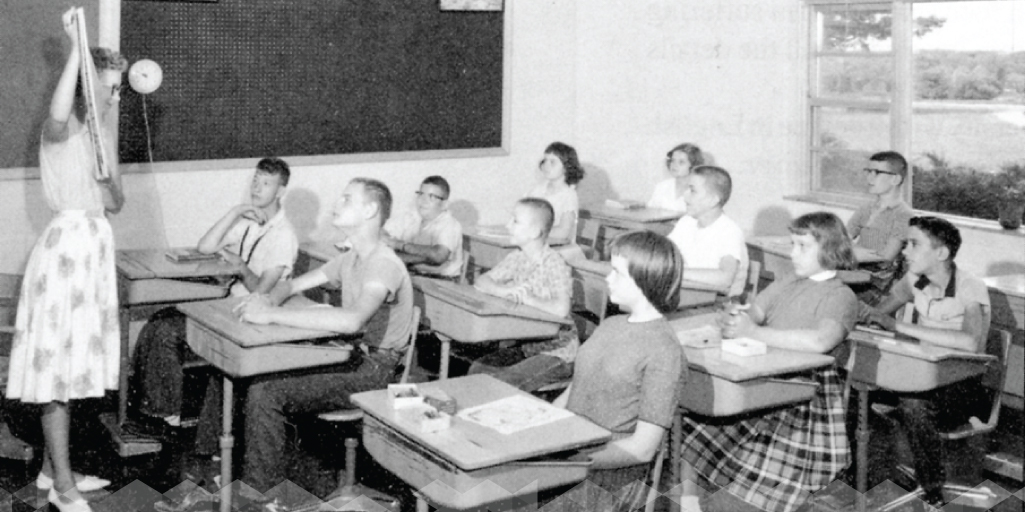 On this day in 1925, Martin Luther Home was founded in Sterling, Nebraska, and in 1956 moved to Beatrice, Nebraska. It was begun as a school for children with disabilities with the goal of integrating the children into their home communities at the end of their school career. In addition to a school for children, it quickly became long-term residence for people of all ages. In 2003, Martin Luther Home joined with Bethphage (also founded in Nebraska) to create Mosaic.
The following story is about DeeAnn Bowman, one of the school's students who, after receiving her education at Martin Luther Home, returned to her home in Kansas. This was originally shared in Mosaic's centennial book, "The Reason We Exist: Stories of Mosaic's Call to Serve." DeeAnn is sitting in the second desk of the row on the right in the photo.
Giving your child over to someone else's care is difficult for any parent.
When DeeAnn Bowman moved into Martin Luther Home as a 7-year-old in 1958, her mother, Dorothy, said it was harder on her than it was on her daughter.
"She got along fine up there and we would go up once a month to see her or she would come home for vacation," Dorothy Bowman said.
DeeAnn lived at the Beatrice, Neb., home for 10 years and was very happy there.  When she moved in, she remembers everything being like new since the building had opened only a few years earlier.
"We had nice beds and nice dressers and I had nice roommates," she said.  "I was happy that I was there because I enjoyed everything up there."
Her mother had feared DeeAnn wasn't getting the education she needed in the public school system in their hometown. Martin Luther Home had opened the Beatrice facility with the goal of becoming a residential school that would teach children what they needed to live a successful life in their home communities.
Dorothy Bowman said she's thankful that Martin Luther Home was there for DeeAnn.  "I feel that it was a wonderful place and luckily it was close enough for us … to go up and visit for the day.  She was happy to see us come and she wasn't unhappy to see us go, knowing that we'd be back."
DeeAnn is a success story, her mother said. The school "helped make her what she is today."
DeeAnn still has a picture she made with beads years ago at the Beatrice school.  She lives in an apartment close to her mother.  She holds a full-time job, regularly attends church and enjoys jigsaw puzzles as a hobby.
"I learned to take care of myself," she said.