Impact Report 2022: Grateful Parents
Personalized services help people like Fred Trumble live life to its fullest.

"Fred was at Mosaic for 40 years. It was the best 40 years of his life." – Bette Trumble, parent of a person served by Mosaic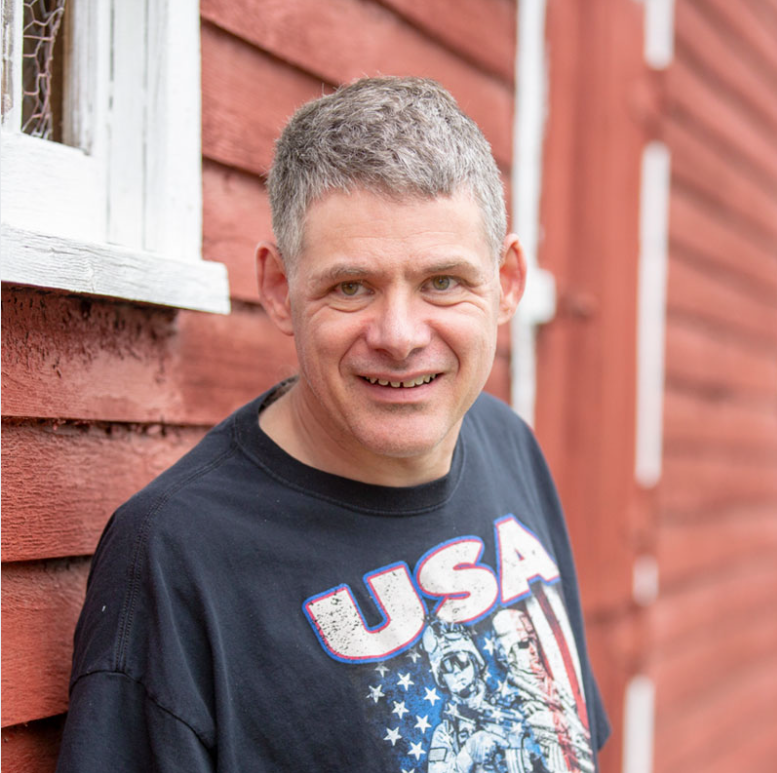 "Fred was at Mosaic for 40 years," said Bette Trumble about her son. "It was the best 40 years of his life."
In gratitude, Bette and her husband Dwight recently made two meaningful gifts to Mosaic to honor the support Fred received for more than four decades. One was an outright gift to provide immediate support to Mosaic's mission and needs. The other was through a charitable gift annuity that provides the Trumbles a lifetime income stream and a gift to Mosaic. Both gifts were made in Fred's memory. The Trumbles were the 2022 recipients of Mosaic's Spirit of Generosity Award. 
Fred was one of four children born to the couple. One died as an infant, and Fred experienced a stroke while in the neonatal unit following his birth. It was witnessed by a doctor who was checking on Fred before going in to see Bette. 
Early on, the Trumbles were not given encouragement for Fred.
"He was not expected to live three days," Bette said. "So he made the three days and then he made the month and came home with us after a month in the hospital.
"One doctor told us that Fred would never develop and we should just take him down to the Nebraska state home," Bette said. Instead, they raised him in the same manner as their other children. But there was always one underlying concern. 
"The farm is not a safe place for anybody who has no fear," Dwight said. "Fred had no fear whatsoever." Betty added, "He didn't even know when he wasn't safe."
Because Fred always wanted to be helpful to others, he wanted to join in the farm activities Dwight and his other son, Tim, were doing. That even included wanting to drive the tractor. "I don't know how many times I … would look around and wonder where Fred was" because Fred would just start doing things he assumed would be helpful, whether they truly were or not.
The same was true in the house. Bette remembered several times when she was baking and got interrupted by a phone call. When she returned to the kitchen, she'd find that Fred had put away all of the ingredients she had sitting on the counter. 
His siblings were good to Fred, and his parents did everything they could to provide a full life. But they knew one thing was missing.
"We could not provide a peer group for Fred," Bette said. 
Then they found Mosaic, a place Bette said, "where Fred could be his own person." She said that, at Mosaic, Fred "felt perfectly free" and "had places to go and things to do"—opportunities that she and her husband could not give to him.  
"There was something he could be involved with every day," Bette said. "Mosaic provided things to do all the time. He could go swimming. He could go to the gym. He had places to go and things to do. And he loved that."
Plus, a bonus: "There was always somebody he could help," Bette said. Just as at home, it might not always have been appreciated, such as when someone stepped away from their cup of coffee only to come back and find that Fred had emptied the cup, washed it, and put it away, whether they were finished or not.
Fred lived at Mosaic's campus in Beatrice for 40 years until he died in 2019 in a tragic accident when he moved from where he was told to stay while he brother was trimming trees.
"He loved to help," Bette said. "He was helping the day he died."
Supporting Mosaic is important to them because, they said, they want others to be able to experience the kind of life Fred knew, and the contentment they knew.
"They gave us 40 years of not having to worry about Fred, 40 years of being able to see Fred whenever we wanted to," Bette said. "We'd like for other children and adults to have that opportunity, too," Bette said.