An Art Class Turns Into So Much More
It started as an idea over an introductory lunch with Mosaic in North Central Kansas' new community relations manager Nathan King and Ellsworth, Kansas longtime donor and volunteer Anita Hoffhines. They were brainstorming ways to continually keep the persons served in the day services program connected and engaged during the ongoing COVID-19 pandemic. Anita—who had recently begun to paint artistically and loved it—brought up the notion of holding a painting class.
But it had to be virtual because keeping people we serve safe and healthy is Mosaic's foremost concern.
"Because of COVID-19, it had been such a terribly isolating time for the people Mosaic serves," said Anita. "We're usually taking them out in the community, but now the community had to reach in to them because at that time, they were among the most vulnerable to get the virus."
While Anita purchased all the supplies such as canvases, a wide variety of color paints, brushes and palettes, she suggested Nathan contact Avery Kasper to lead the class: she was a regionally recognized artist, and she was also the art teacher at the local Ellsworth High School.
Avery said she was "so appreciative" of Nathan's invitation. "Art is an outlet for emotional or cognitive issues, and it helps to improve dexterity and relieve stress. I saw the class not only as a good learning opportunity for people at Mosaic, but also one for my students. I wanted them to learn more about interacting with everyone—to teach inclusivity. And they wanted that, too."
According to Nathan, "We all thought painting pictures of chickens would be fun and somewhat challenging at the same time, so when the class was finished, people served would feel really confident about their piece."
Avery and her class put together a step-by-step curriculum for an hour-long lesson that would enable everyone to complete their art piece. "It was something like, 'draw a circle here, paint that in, draw a line here,'" said Nathan. "Some would jump ahead a bit out of enthusiasm, and some needed their hand guided because of a specific physical trait. But overall, most were working independently. In the end, everyone was so happy with their work."
"It was wonderful," noted Avery. "The beaming smiles on their faces said it all."
What happened next was a mix of circumstance, luck and a bit of divine intervention. Also with Anita's suggestion, Nathan approached Sharon Haverkamp, a member of the area art council, about the possibility of displaying the artwork at the Council's Art Gallery. Sharon responded the gallery was normally fully booked a year in advance—but someone had suddenly cancelled, opening a spot between two other shows.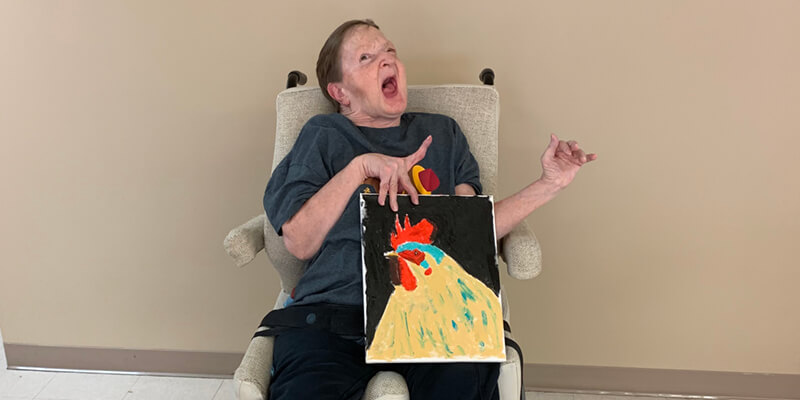 Sue Buchanan's art will be featured in thank you cards
The cancellation was so abrupt, in fact, the group had only 72 hours to put together the exhibit. Even in that short amount of time, it grew from not only the persons served artwork to include Anita's, Avery's and her students', and others' to become the aptly named, fully integrated "Ellsworth Community Art Show—The Benefit of Art Therapy." The presentation also displayed other artwork made earlier during the pandemic from persons served in North Central Kansas such as rocks painted to look like turtles, wind chimes and sun flowers. 
"I would donate the supplies again in a minute," according to Anita.
In addition to Avery expressing she would like to teach the class again, her students who helped with and participated in the original exercise have since started a pen pal group with persons served.
"We're talking with Sharon and the entire art council about doing an exhibit either quarterly or annually," said Nathan. "We're also entering pieces from the class and subsequent show in the state's Annual Interhab Conference's Art Awards to be held later this year. Others, like the painting done by Mosaic resident Sue Buchanan, 65, will be used for our thank you cards."
The love of art was the initial connective spark that brought everyone in the community together in so many caring ways. It was a perfect example of how we all—no matter who we are—should encourage, inspire and appreciate each other.