Local Businesses, Big Hearts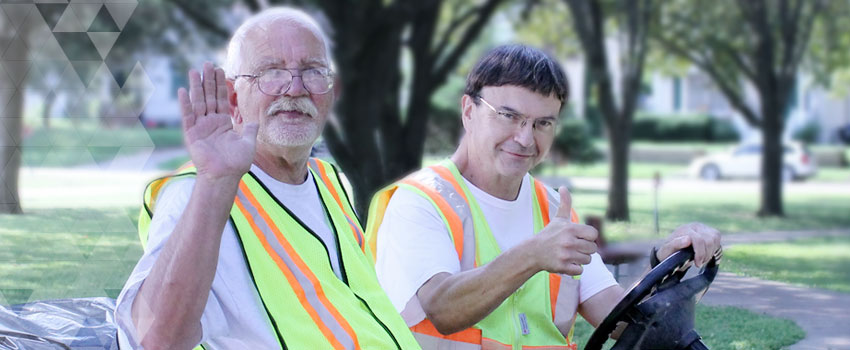 Mosaic works hard to help each person we support achieve their goals. Time and time again, that goal includes finding competitive employment.
Unfortunately, this goal can be hard to achieve.
Across the United States, less than 20 percent of people with disabilities are employed.
One of the things that we've found is that small businesses and local organizations can be fantastic partners in helping people with disabilities achieve their employment dreams.
People like John Elms, James "Monnie" Hall and Elena Yabrough.
John Elms is served by Mosaic in Southeast Kansas. He's worked for the City of Pittsburg Parks and Recreation Department for more than 14 years.
John loves his job and says, "at work, we're like a big family."
His former supervisor, Ken Robertson, says, "John has been and continues to be an inspiration to both myself and other co-workers. We cannot imagine a day without him in it.
How wonderful would the world be if everyone came to work with the same attitude and enjoyed each day as John does?"
Elena started receiving support from Mosaic in 1989 when she was 21. She is currently served by Mosaic in Liberal.
At Mosaic she learned, grew and eventually was hired by USD #480 the school district in Liberal, Kansas, where she has worked in the cafeteria for more than 17 years!
The district has recognized Elena for her longevity and dedication on several occasions.
Elena really enjoys being around the children and she stated that she would not want to work anywhere else. She is always working hard at trying to become better at her jobs.
Monnie, who is served by Mosaic in Central Iowa, is a small business owner himself. Last year Monnie started a wreath making business with the help of direct support professionals at Mosaic.
Monnie is involved in all aspects of his business, including wreath design, creation, supply shopping and and distribution. He and direct support professional Tanasha Taylor even launched a website to promote Monnie's work.
We're grateful for the small businesses and community organizations who employ and support the people we serve; and to John, Monnie and Elena for the work they do in their communities.
This post comes as part of the celebration of Small Business Saturday, which encourages people to support local businesses and their community. You can support Monnie's business by ordering a wreath online..