"I wish they would see ME!"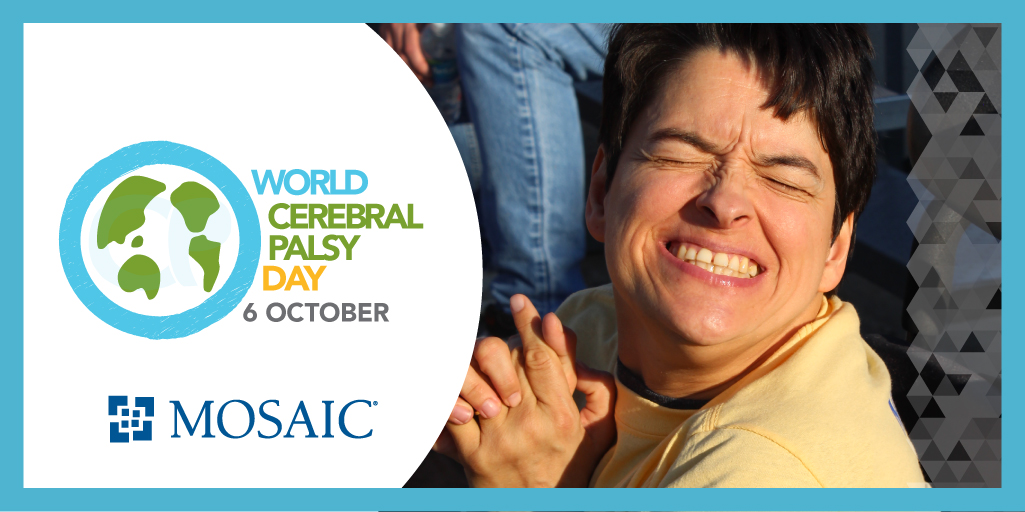 Today we celebrate World Cerebral Palsy (CP) Day. More than just an awareness day, today is an opportunity to celebrate and express pride in the lives and achievements of those with CP.
The World CP Day manifesto reads, in part, "We share the same hopes and dreams. The same interests and passions. We all have a similar hunger to explore thoughts and debate ideas. To contribute. We all have the same commitment to living a life of purpose and meaning."
Deb Arguello, who is supported by Mosaic in Central Iowa, echoed this sentiment.
"I think people don't know what to think or how to treat me," she said. "I wish they would see ME! I wish they would talk to me instead of my staff and treat me as the adult I am."
Deb has found a variety of ways to live a meaningful life. Her job at HyVee is just one example.
"I feel like I'm helping people, which is something I love to do," said Deb, who uses a communication device. "All my life, I've wanted to help people, so this means a lot to me. I feel very accomplished and proud of myself because I never expected to be able to have a job."
"This month marks my one-year anniversary at HyVee, so I'm pretty excited about that!" she said.
Deb, 47, said the job has also helped her achieve greater independence.
"I've learned how to be a good worker and how to work with others in the community," she said. "I've also learned how to do some problem-solving, which has helped me become more independent."
Deb has been with Mosaic for seven years and lives in a group home.
"I love Mosaic!" she said. "Before I moved here, I didn't get out into the community much with the other organizations I was with. I really like that each home has its own van. I have more staff helping me at Mosaic, as well."
In addition to working at HyVee, Deb started a CP support group.
While the group no longer meets, Deb said, "It was a group of people like me that have communication devices. I called it Happy Voices. Our goal was to teach each other how to better use our communication devices. We used to meet once a month. Happy Voices was up and running for a year, but unfortunately with so many different schedules, it was hard for people to get there."
Deb's motivation to start Happy Voices is yet another example of her desire to make a difference and help people.
"I wanted to help people with their communication devices because I know their struggle," she said. "I feel people with communication devices should be able to communicate better with their device. People don't take the time to listen to those who have communication devices. As people use their devices more, they become more comfortable talking with others."
One of her hopes is that people can overcome this perceived communication barrier with individuals with CP.
"I wish people knew how to talk to us," she said. "I wish they would try to get to know us more instead of thinking or seeing that something is 'wrong' with us."
Those close to Deb describe her as a champion for disability rights.
"I am proud of myself," Deb said. "I advocate for myself and others. It's an honor to hear that others see me as an advocate, too."
There are 17 million people across the world living with CP. Another 350 million people are closely connected to a child or adult with CP. It is the most common physical disability in childhood. CP is a permanent disability that affects movement. Its impact can range from a weakness in one hand, to almost a complete lack of voluntary movement. It is a complex disability: 1 in 4 children with CP cannot talk, 1 in 3 cannot walk, 1 in 2 have an intellectual disability, 1 in 4 have epilepsy. CP is a lifelong disability and there is no known cure. Learn more at worldcpday.org.